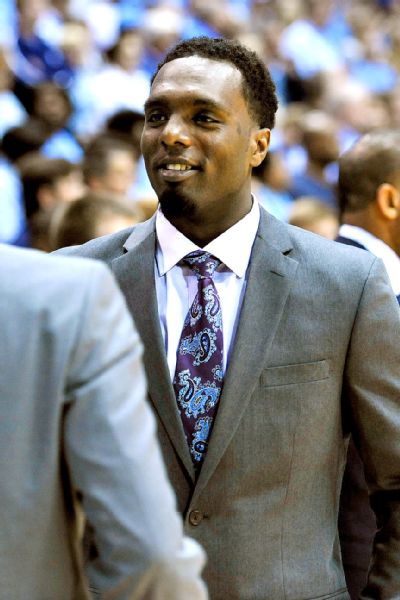 This is what PJ Hairston will be wearing on the bench the rest of the season.
PJ Hairston's Career At North Carolina Is Over
The next time we see PJ Hairston play will be professionally, as his career at North Carolina is done. There has been a lot of confusion over the Hairston case, as many in the media had been blaming the NCAA for dragging their feet. In reality, the NCAA never had a chance to rule on Hairston (and never will). North Carolina was conducting their own investigation, after which they concluded yesterday that they would not ask the NCAA to reinstate Hairston. Why would they not try? Presumably they think they're going to lose, and would prefer not to bring more light of day to the story.
From a purely basketball perspective, this is big news. Hairston was far and away the best player on UNC last season. With the rapid improvement of Marcus Paige, Brice Johnson and others, this UNC team could have contended for an ACC title and a 1 or 2 seed in March. It's not totally out of the question now, but the Tar Heels have to be considered a little bit of a long shot. They need a second shooter other than Marcus Paige. Leslie McDonald showed flashes of a decent shot in his season debut against Texas, but it's not unlikely that he'll regress back to last season's shooting form over a larger sample size.
I'm not going to stand in moral judgment of players. I hate when sportswriters get all self-righteous. We've all done dumb things. But these particular dumb acts by PJ Hairston could end up swinging the 2014 ACC title.
SMU Creeps Closer To An At-Large Bid
Depending on where you looked, SMU was either the favorite or the underdog at Wyoming. Pomeroy had them a 1 point favorite, though Vegas had them a very slight underdog. Either way, this win isn't a big surprise, but it's an important piece of a quietly solid non-conference performance by SMU. They don't have any wins over likely RPI Top 50 opponents, but their worst loss only came to Arkansas. Barring a big upset to Hofstra, they will finish non-conference play 11-2, and their computer numbers are solid. Assuming that they go 10-8 or 11-7 in AAC play, their RPI will be right around 50th in the country and they'll at least be in the bubble mix in February and March.
Wyoming is 7-4, but they're 0-4 against the Pomeroy Top 150. This is a transition year for them, as they should be better next year. Larry Nance, Jr is a player who should be better known, and if Wyoming can improve throughout this season and become a real Mountain West contender next season, he could finally break through onto the national radar.
Princeton Crushes Pacific
It's a slow college basketball night. I figured I'd talk briefly about the #2BidIvy movement. Could either Princeton or Harvard be the Ivy League's first ever at-large team? Both teams are 9-1, with their only loss coming on the road against a quality opponent (Princeton fell to Butler, Harvard fell to Colorado). Princeton even has the excuse that they were missing their best player (TJ Bray) for their loss, not that the Selection Committee will know or care. The problem (and this is the reason why the league failed to get a second bid when Harvard probably deserved it in 2011) is that these teams just don't have "quality" wins. Unless Harvard beats UConn, the Ivy League has a good chance of finishing the season without a single team earning a non-conference RPI Top 50 win.
If the Selection Committee looked at resumes in the rational, Sagarin PURE_ELO way, they'd recognize that a road win over a team like Penn State is harder to get than a home win over most teams ranked narrowly inside the RPI Top 50. But that's not how the Selection Committee thinks. So unless Harvard beats UConn, I just find it almost impossible to believe that the Ivy League will get a second bid to the 2014 NCAA Tournament.