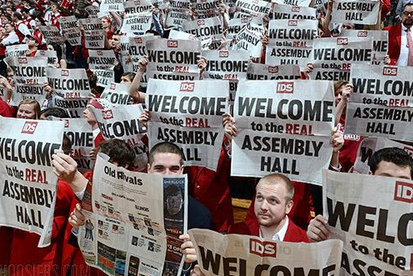 To all you Illinois fans out there: Indiana fans would like to talk to you about the name of your arena.
Illinois Offense Struggles Again
This was a game that Indiana really needed to win to stay firmly in the at-large race, to take care of business at home against an Illinois team that they should beat. In the end, this came down to yet another brutal Illinois offensive performance. The good news for Illinois is that they've won six straight games when scoring at least 1.00 PPP. The bad news for Illinois is that they've lost seven straight games when scoring
fewer
than 1.00 PPP, leading to their current six game losing streak.
What's been the primary cause of this bad offense? Terrible shooting. They were 5-for-23 on three-pointers here, dropping their season average to 30.5%. Over the last four seasons, Illinois is 1-13 in Big Ten play when finishing with an eFG% under 42.0%. They were at 37.9% here.
Where are Indiana's Tourney hopes? They look like a bubble team. They're 3-4 in Big Ten play with that Wisconsin win to go with bad losses against Northwestern and (maybe) Illinois. One big win isn't enough, but if they get to 9-9 in Big Ten play then they'll have to pick up a few more quality wins along the way. And if they get to 9-9, they'll enter the Big Ten tournament on the bubble.
Clemson Loses Its 57th Straight In Chapel Hill
There must be something in the Chapel Hill water. This game should have been close, but it wasn't, and Clemson kept up their remarkable streak of never winning in North Carolina (0-for-57). Clemson lost by 19 here, but it really should have been worse. They had a stretch of more than 18 minutes where they shot a combined 1-for-19 from the field. Midway through the second half they were in serious danger of setting the mark for the worst shooting performance in Division I basketball this season, though they managed to put that away with some cheap baskets in garbage time, which allowed them to drop their deficit from 31 points midway through the second half to 19 by the end of the game.
For North Carolina, this game was arguably better than any performance all season long besides the road win at Michigan State. And it's a win that they had to have, to pull themselves back to 2-4 in ACC play. They have their three big non-conference wins, but they're still going to have trouble making the NCAA Tournament if they don't at least get to 9-9 in ACC play. Without quality non-conference wins, Clemson is going to need to get to at least 10-8 in ACC play to have a good shot for an at-large bid. They're now 4-3 with two very tough road match-ups in their next three games (at Florida State, at Syracuse), so they could really use an upset in one of those two games.
Nebraska Wins Again
Nebraska is only 2-5 in Big Ten play, but they've been better than that record. They beat Ohio State and Minnesota and three of their five losses have come by six points or less, including a one point loss to Michigan. And even that 10 point loss at Iowa is nothing to be ashamed of. This Nebraska team is a solid, well-coached team. They play decent defense, and have a few offensive weapons as well. It was Terran Petteway who exploded for 35 points here. So this Nebraska team will very likely finish below .500 in Big Ten play, but this won't be the last Tournament team that they beat this season.
Of course, it's not a lock that Minnesota
is
a Tournament team. They're 4-4 in Big Ten play and 4-4 against the RPI Top 50, without a single RPI 100+ loss (this loss to Nebraska is their only arguably "bad" loss). It's a Tournament resume at the moment, but without much room to spare. If they get to 9-9 in Big Ten play, that should be sufficient. Their schedule over the next couple of weeks is a lot easier than it will be in late-February, so they need to take advantage of games against teams like Northwestern and Purdue.
UCLA Takes Care Of Business
By no means was California really outplayed here. Rebounds, points in the paint, turnovers and fouls were all relatively even. The difference was, California couldn't hit a jump shot. The Cal Bears finished 9-for-39 on jump shots, including 4-for-21 behind the arc. For comparison, UCLA shot 11-for-28 on jump shots, including 5-for-9 behind the arc. David Wear led the way with a career-high 18 points, including 2-for-2 behind the arc.
UCLA is increasingly looking like the second best team in the Pac-12. The problem is that they lost narrowly at home to Arizona and don't get the road match-up, which means it's going to be almost impossible for them to come back to win the Pac-12 regular season title. At 16-4 overall and 5-2 in Pac-12 play, with a 5-3 record against the RPI Top 100, they're definitely clear of the bubble for now. They have enough quality wins that an 11-7 Pac-12 regular should probably be sufficient for an at-large bid.
California is firmly on the bubble. They're 5-2 in Pac-12 play, with wins over Oregon, Stanford and Arkansas, along with bad losses to USC and UCSB. They're 4-4 against the RPI Top 100 along with those two RPI 100+ losses. To make the Tournament they'll need to get to at least 11-7 in Pac-12 play, and unless they get to 12-6 they'll likely need a win or two in the Pac-12 tournament.
Quinnipiac Sweeps Manhattan
Manhattan entered this season as the clear MAAC favorite, which makes it pretty surprising that Quinnipiac (not even considered one of the top contenders) completed the season sweep of Manhattan yesterday. It's hard to draw all too many conclusions from these games, I must say. Both were very close (yesterday's game went to overtime), and both featured a whole lot of free throw attempts (Quinnipiac attempted at least 40 free throws in
both
games), despite the fact that Quinnipiac isn't necessarily the greatest team at drawing free throws (they currently rank 3rd in the MAAC and 69th in the nation in FTRate). Interestingly, Manhattan leads the entire nation in FTRate, but took significantly fewer free throws in both games.
Even after this sweep, it's hard to argue that Quinnipiac is the league's best team. It's one of the four teams within one game of each other in the standings, but Quinnipiac has clearly the worst PPP differential of the bunch:
+0.14 Iona
+0.12 Manhattan
+0.12 Canisius
+0.03 Quinnipiac
Interestingly, Manhattan hasn't played a single game against either Iona or Canisius yet this season. They still have a home-and-home to play against both squads, beginning with the road game at Iona on Friday night. Keep an eye on that one. On a night of the week that's always very light for college basketball, that's a meaningful game for the MAAC.