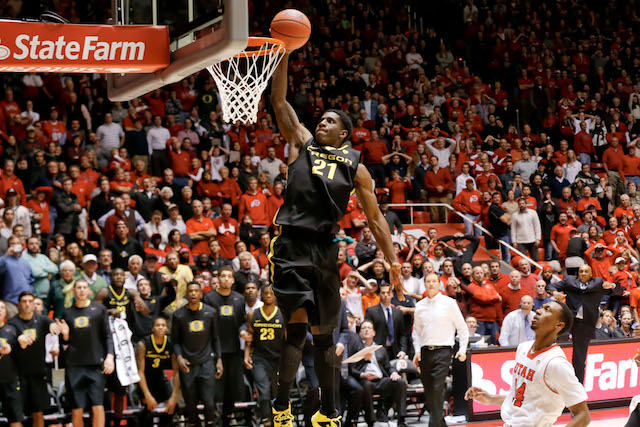 A great shot of the crowd as Damyeon Dotson scores the game-winning basket with 0.6 seconds to go.
Washington Smacks Down Arizona State
This game wasn't even really as close as the final score. The Huskies took a 17 point lead in the first half that they pushed out to 24 points in the second half. With Washington's foot off the pedal, Arizona State finished the game on a 13-2 run to make the final score seem more respectable. Keep in mind that this was a Washington team that came into this game 2-5 against the Pomeroy Top 200, with their best win coming over Montana.
Basically, what happened was that a defense ranked 286th in the country by Pomeroy held Arizona State below 0.9 PPP for only the second time this season (the other was their loss to Creighton). Arizona State's 40.4 eFG% was their worst shooting performance since February 9th. They were 2-for-14 behind the arc and Jahii Carson finished with 1 assist and 4 turnovers.
This was a bad game for Arizona State to stink so badly. They remain very firmly on the bubble, and a home loss to a bad team is going to haunt their resume all season long. They have wins over Marquette and UNLV, but unless they get to 11-7 in Pac-12 play they're going to have work to do in the Pac-12 tournament. A home game against Washington State on Sunday is now almost a must-win with a brutal road trip coming up after that (USC, UCLA, Arizona).
Gonzaga Crushes Saint Mary's
Was the disastrous week in Hawaii a fluke? This performance seems to suggest that it wasn't. Saint Mary's was never at all competitive in this game, just getting crushed in every facet of play. And this was not even a full strength Gonzaga team, as Sam Dower only played 7 minutes while recovering from an injury, and Kevin Pangos was also a bit banged up.
The WCC looks very likely to be a 1-bid league at this point. Gonzaga is in good shape, but St. Mary's is almost out of chances to earn an at-large bid. Unless they beat Gonzaga in McKeon Pavilion in their regular season finale, they almost can't afford to lose any more games. It will be their last chance in the regular season for a win over a likely RPI Top 50 team.
Gonzaga will reach Selection Sunday with a gaudy won-loss record, but without a lot of quality wins. So their resume will be an interesting one to debate. If they go undefeated the rest of the way they'll be in the discussion for a 2 seed, but with a bad loss or two they could also be a 7 or 8 seed. There's a wide spectrum of possibilities.
Michigan Steals A Win In Minnesota
Michigan was nowhere near full strength in this one. Mitch McGary is gone (potentially for the rest of the season), and Glenn Robinson III got knocked out of this game midway through and didn't return. Zak Irvin gave them a ton of quality minutes off the bench (he actually led Michigan with 15 points), and the two Hollins boys had a nightmare of a game for Minnesota. Austin Hollins finished 1-for-9 from the field, while Andre was 3-for-10 including a missed layup with under 15 seconds to go that effectively iced the game.
This Minnesota team is no longer coached by Tubby Smith, but it feels like so many of those Tubby Smith teams did. They have a lot of talent and the computers think they're good enough to be a Tournament team, but they're struggling to win the games that they're supposed to win and they're going to end up on the bubble in March. Or at least it seems that way. The only way they can avoid the bubble heading into the Big Ten tournament will be if they can get to 10-8 in Big Ten play, and that seems unlikely after this loss.
This win should ease the concerns that Michigan could miss the NCAA Tournament without Mitch McGary. Obviously the short term concern is hoping that Glenn Robinson will be okay soon. They do have three relatively easy games coming up, but their schedule gets filthy from mid-January to mid-February.
Utah Loses A Heartbreaker To Oregon
This was a brutal gut-punch loss for Utah. In regulation, they were able to hold for the final shot and Larry Krystkowiak waited until they were only around seven seconds left before calling timeout to set up a final play. They actually got a decent shot off of that but it didn't fall. The entire process played out again in overtime, but this time Damyeon Dotson stole the ball, dribbled the length of the court, and dunked the ball with 0.6 seconds remaining.
Oregon moves to 13-0, though it's probably the softest undefeated record of any of the seven remaining undefeated teams. It's come against a soft schedule (the only Pomeroy Top 50 opponent was the weird season-opener in Korea against Georgetown), and three of the wins have come in overtime. So they're overdue for their luck to turn soon. My bet would be on their next game, a tough road match-up at Colorado on Sunday.
Utah came into this game 11-1 without a bad loss, though without a big win either. A win here would have put them into the bubble conversation, only two seasons after that 6-25 debacle. But it was not to be. They head on the road next week to play the two Washington teams, and probably need to sweep those two games if they want to start to work their way back to the bubble.
California Beats Stanford
The Stanford Cardinal just lack depth after the Aaron Bright injury, and it was inevitably going to show itself once they got into Pac-12 play. In this game, their bench combined for zero points, collecting only one rebound and zero assists. The entire bench. Four of the five starters played between 36 and 40 minutes. And so Stanford loses their Pac-12 opener, still without any quality wins (and that loss to BYU is looking more and more like a "bad" loss). It's hard to see them turning this around and making the NCAA Tournament.
California, on the other hand, is starting to make an at-large case. They have this win and a win over Arkansas, along with a loss to UC-Santa Barbara. A 10-8 Pac-12 record will be enough to put them on the bubble, though they'll need a win or two in the Pac-12 tournament. If they get to 11-7 in Pac-12 play with a big scalp or two then they'll be in pretty good shape. By the way, Cal also gets a break in their schedule, getting to avoid the Utah/Colorado road trip. That trip is going to be a nightmare for teams this season, with little to gain (nobody is going to be particularly impressed with wins over Utah or Colorado on resumes). So getting to avoid it altogether creates an easier path to an at-large bid.