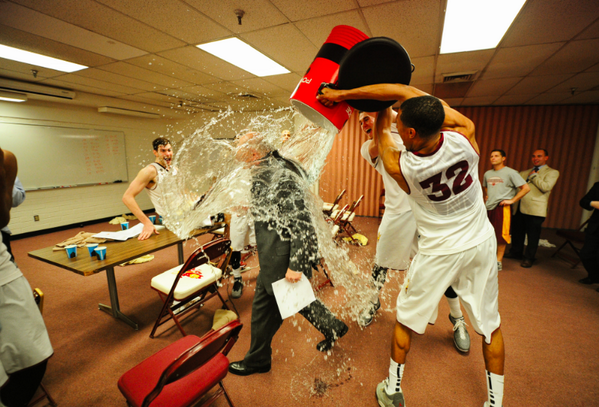 Herb Sendek gets doused in Gatorade after the big win.
Arizona State Upsets Arizona
On a Friday night Valentine's Day, in the middle of the Olympics with all sorts of NFL stuff going on, this game got pretty much lost in the media landscape, but it was fantastic. Not that this game was particularly well played, mind you... but it was very fun. Both teams shot under 60% at the line and both shot poorly from the field, particularly in overtime. But it was a three-pointer by Jermaine Marshall in the second overtime that gave Arizona State a real shot to pull off the upset, and then a block by Jordan Bachynski that sealed it.
It's a bit bizarre that both of Arizona's losses this season have ended on controversies involving fans rushing the court. When they lost to California, the fans rushed the court early and the refs refused to issue a technical foul for some reason (I talked about it at the time
here
). This game was even worse, as Jahii Carson blatantly held onto the rim too long after his final dunk... and
then
the fans rushed the court early. The reality is that both of those should have been called by the refs. The Pac-12 refs defending not calling the tech on the crowd rushing the court by saying "It was a dead ball" miss the point. First of all, that's still a penalty because Arizona had the right to quickly inbound the ball but didn't have the chance because there were fans everywhere. And second of all, just like the California game, the
bench
came onto the court as well. If the bench randomly came on the floor after a made basket in the first half, I doubt the "It was a dead ball" argument would have worked.
I've talked about this a few times since the Brandon Ashley injury, but where that injury hurts is not in the starting lineup (Randae Hollis-Jefferson is basically as good as Ashley is), but on the bench. Arizona is down to a six man rotation. But Arizona State did a really poor job of taking advantage of this fact. They didn't attack players in foul trouble, and all five of Arizona's starters were able to play at least 45 minutes in this game. Teams that are better able to attack the paint and get big men in foul trouble will be able to cause much more trouble for Arizona.
So in some sense, Arizona fans shouldn't worry too much about this loss. Even if they still had Ashley, they were bound to lose a couple of games on the road against teams like California and Arizona State. Nobody is going to go 18-0 in a major conference. And if the season ended now, Arizona would still probably be a 1 seed. But the concern is that Arizona still has discovered no bench. Even in a double overtime game, Sean Miller stuck with his starters for a staggering number of minutes rather than use his bench. And that's a significant concern against teams that have more of an interior offensive game and are not quite as dependent on outside jump shooting as Arizona State.
For the Sun Devils, this win is massive for their resume. The Pac-12 has had two safe NCAA Tournament teams for a while now (Arizona and UCLA), but Arizona State has been in a battle with California, Stanford, Colorado, Oregon and others to be the third and (possibly) fourth NCAA Tournament teams out of the Pac-12. They are now 8-4 in Pac-12 play and 7-5 against the RPI Top 100, with wins over Arizona, California, Oregon, Colorado and Marquette to go with iffy losses to Washington and Miami (Fl). Their RPI is 28th and their Sagarin PURE_ELO is all the way up to 20th. They have a tough remaining schedule, but even a 3-3 finish should lock them into the NCAA Tournament. If they finish 2-4 or worse then they'll have work to do in the Pac-12 tournament.
Indiana's Mosquera-Perra Suspended Indefinitely
It's been a rough ride for the once highly touted recruit Hanner Mosquera-Perra. He's got the size and athleticism to be a really good basketball player, but it hasn't come together for him so far, and there's a chance it won't come together for him again at Indiana. It's a blow to an Indiana team that only has one other true big man in the regular rotation (Noah Vonleh), and only one other regular over 6'7" (Jeremy Hollowell). Indiana's looking more and more like an NIT team.