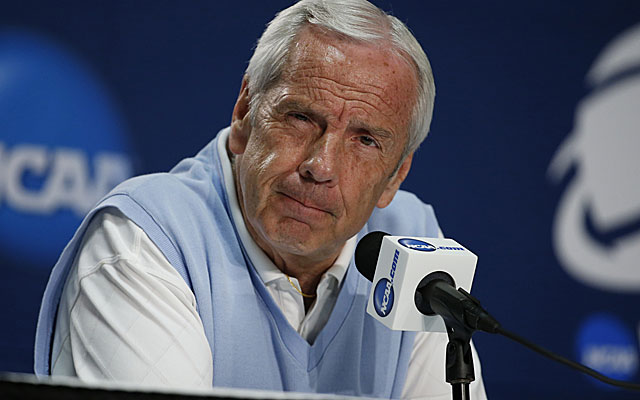 "Do I remember anybody talking about AFAM classes? Hmm... I don't think so..."
New Bracket Projection
If you missed it earlier in the week, my newest bracket projection is out. The next one will be posted November 16th, which will mark 17 weeks until Selection Sunday. Remember that the regular season doesn't start until November 14th this year, but the season will start with a bang. There are a ton of really good games just in the first week.
UNC Academic Scandal
If you've been on the internet in the last few days, you've read the #HotTaeks, so I'll spare you. But obviously this is a really serious problem for the university. Roy Williams was smart enough not to use his official university e-mail account, but it stretches credulity to believe he didn't know what was going on. And I wouldn't be surprised at all to see the Tar Heels receive some "lack of institutional control" penalties, although the football team looks more likely to get that than the basketball team. At this point, we have to just wait to see what the NCAA wants to do.
Houston's LJ Rose Out For Two Months
Kelvin Sampson is off to a solid start at Houston in terms of upgrading the level of talent in the program, but a lot of it won't be suiting up when the season tips off in a few weeks. LJ Rose, who is an awfully good pure point guard, will miss the next two months or so with a foot injury. Houston was going to have quite the uphill battle to the tourney bubble as it was, so this is obviously going to make that task even tougher.
Shawn Lester Leaves Charlotte
This story might not be particularly relevant nationally since Charlotte is unlikely to be in the bubble mix in February, but Shawn Lester was second on the team in points per game last season (11.9 per game) despite only making one start, and only finishing fifth on the team in minutes. Lester could be a real asset for a big program, depending on where he ends up.
DJ Johnson Will Likely Miss The Season
The 6'9" DJ Johnson averaged 3.5 points and 3.5 rebounds per game off the bench last season for Kansas State, but his foot injury will likely force him to redshirt this coming season. The Wildcats look like a prototypical bubble team this coming season (they're currently the last at-large team in
my projected bracket
), so even a little loss like this can make a big difference.