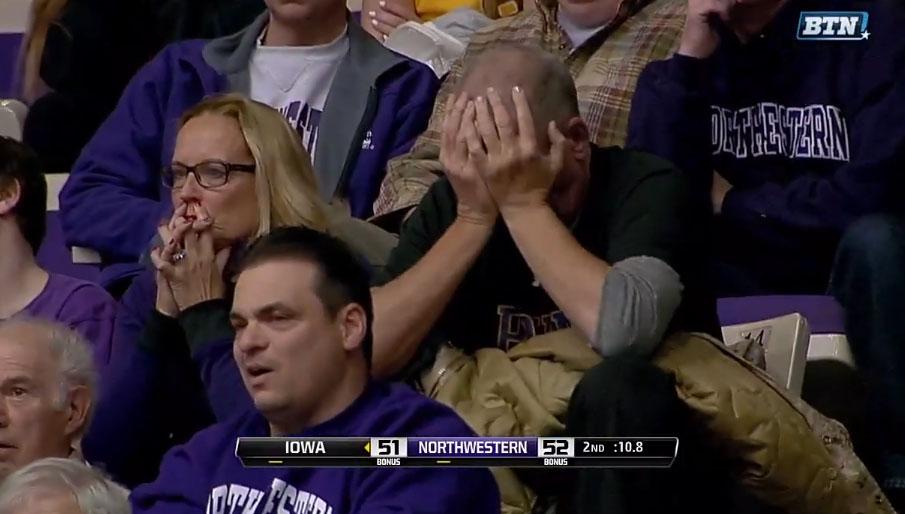 Doug Collins couldn't bear to watch the end of regulation
Indiana Routs Minnesota
Indiana is a team that lives and dies by the three-pointer, and they lived by it here, hitting a ridiculous 18 of them at a 56% clip. The 18 made threes are the most by any major conference team in a conference game this season, and the most by Indiana in any game in at least 17 seasons. Indiana is now hitting 47.1% of their three-pointers this season, which is good for fourth best in the nation. This season, if we look just at Pomeroy Top 200 opponents (to throw out the cupcakes), Indiana is 8-3 when shooting over 40% behind the arc but just 3-5 when shooting under 40%.
Indiana will likely make the NCAA Tournament if they win 3 of their final 5 regular season games. They can win just 2 out of 5 and be okay, but they'll want to avoid a one-and-done in the Big Ten tourney. They have a very manageable schedule to do that. But like I said in the previous paragraph, if those threes aren't falling they can lose to anybody. So they need to stay hot.
This is a big missed opportunity for Minnesota. They'll be in decent at-large shape if they can get to 9-9 in Big Ten play, but this loss drops them to 5-8. Considering the fact that they still have a home-and-home with Wisconsin and a road game at Michigan State to go, it's awfully unlikely that they're going to get to 9-9.
Wisconsin Rolls Illinois
This was a professional romp by Wisconsin. Illinois never posted a serious challenge here. Frank Kaminsky dominated in the paint with 23 points on 11-for-16 shooting. Wisconsin as a team had a massive 36-to-14 advantage in paint points
. Illinois also allowed Wisconsin to rebound 52% of their misses, which was why the Badgers ended up with 1.35 PPP
.
Wisconsin controls their own destiny for a 1 seed. If they win out they'll get one. But aside from the Big Ten tournament, they also have tough road gamest at Maryland and Ohio State still to come. So they'll get some serious tests.
Illinois had won four straight games coming in here. They're 7-6 in Big Ten play after this loss, with a 6-8 record against the RPI Top 100. That Baylor win is probably their best. Their RPI is 45th and their Sagarin ELO_SCORE is 46th
. If the season ended now that would be probably be a Tournament resume, though with little room to spare. A 3-2 finish in their final five games would put them in pretty good shape.
Northwestern Upsets Iowa
Iowa fans aren't sure what hit them this week. They went from thinking about second place in the Big Ten to worrying about the NIT after two straight upset losses. Jarrod Uthoff played well for Iowa, pouring in 25 points on 8-for-16 shooting, including the three-pointer that sent the game to overtime. But his teammates let him down, including a horrible 1-for-12 shooting day from star Aaron White.
Iowa is 6-6 in Big Ten play with wins over North Carolina, Ohio State (twice) and Maryland, along with this bad loss to Northwestern. Those four RPI Top 50 wins will help them on Selection Sunday, but their RPI has slipped out to 56th due to some poor scheduling by Fran McCaffery (their Sagarin ELO_SCORE is a more reasonable 41st
). Iowa will be pretty safely in the NCAA Tournament if they get to 11-7 in Big Ten play. But if they finish 10-8, which is looking more likely than 11-7 right now, then they'll need to win at least one game in the Big Ten tournament to avoid the NIT.
Stanford Falls To Colorado
Stanford is fading in a serious way. They've lost four of five, including bad losses to Washington State and now Colorado. Stanford fans will feel hard done by not getting a blocking foul on Chasson Randle's drive with around 20 seconds to go, but the reality is that most refs will give that kind of 50/50 call to the home team. And that's what happens when you leave a game to the final 30 seconds - you put your fate in the hands of the refs.
Stanford is still 50th in RPI and 7-6 in Pac-12 play, but an ugly 11-9 against the RPI Top 200 with their only quality win coming over Texas back before Christmas. They'll be in decent shape if they can get to 10-8 in Pac-12 play and win a game or two in the Pac-12 tournament, but they finish the regular season with the tough Arizona road trip, and the last thing they want to do is to head into Tucson needing a win in their season finale.
Andrew Chrabascz Out 2-4 Weeks
Chrabascz actually finished Butler's game against Villanova with the broken hand, but he is going to miss two to four weeks now. That will potentially leave him out for the Big East tournament, and if the injury goes long could even cost him an NCAA Tournament game or two. Chrabascz has established himself as perhaps Butler's best interior scoring option, so this is a serious injury.