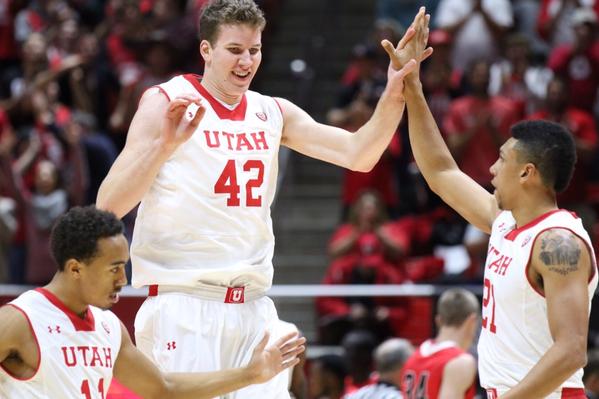 The Utah big man will return next season.

Jakob Poeltl Returning To Utah
This is huge news for a Utah team that was looking at something of a rebuilding season, and it's also surprising news considering the fact that Poeltl was considered a borderline lottery pick and is unlikely to improve on that very much with another season in college basketball. With Delon Wright and Dallin Bachynski gone, Utah seemed most likely to be a bubble quality team next season, but Poeltl makes them a likely NCAA Tournament team. For them to actually contend with Arizona again, however, Poeltl will need to take a significant step forward offensively and some of the younger players on the roster will need significant offseason improvements.
Justin Anderson Off To The NBA Draft
We saw this past season how the Virginia offense tailed off when Justin Anderson was hurt. The offense was still very good and significantly underrated by the media, but it was not anything like the top five offense in the nation that it was with a healthy Anderson. But they won't have Anderson at all next season. That said, while this drop's Virginia from being
the #1 team
in my projected bracket, they are still an ACC title contender and a very strong squad. The media will continue to be pacist and will underrate this Virginia team preseason. But sleep on them at your own peril.
Bobby Portis And Michael Qualls To The NBA Draft
Portis is a borderline lottery pick, so he was expected to leave, but Qualls is more of a prospect, and is likely heading off to the D-League in the fall. But the loss of both stars puts the next Arkansas season in serious doubt. They were a nearly certain NCAA Tournament team with both of them while I projected them as
an 11 seed
assuming that Qualls would be back. With both gone, they are likely looking at a preseason NIT projection.
Trevor Lacey And Kyle Washington Leave NC State
North Carolina State was ready for quite a bit of preseason media hype, but the loss of Trevor Lacey to the NBA Draft and Kyle Washington to transfer will change that. Still, this should be a Tournament quality team. The Lacey loss is significantly more important, and not just because he's the better player. The fact is that NC State was going to be loaded in the front court, led by Beejay Anya, Abdul-Malik Abu and Lennard Freeman. But in the backcourt, the Wolfpack don't really have a bench right now behind Anthony Barber and Terry Henderson, the transfer from West Virginia. Mark Gottfried is going to have to get a backcourt player or two this summer.
Illinois Lands Mike Thorne
The 6'11" big man from Charlotte was one of the most coveted transfers in the nation, and he'll be eligible right away for Illinois, where he'll have just one year of eligibility remaining. Thorne is a perfect fit for an Illini team with a clear Tournament-quality backcourt of Tracy Abrams, Kendrick Nunn, Jaylon Tate and a couple nice 2015 recruits. But this looked like a bubble team because of a front court that didn't return a single player over 6'7" who averaged double digit minutes per game this past season. Illinois was just narrowly out of
my preseason projected bracket
, but at this point I'd lean toward moving them into my next projected bracket.
UConn Lands Shonn Miller
Illinois wasn't the only potential bubble team to land a big graduate transfer in the past few days, as UConn picked up First Team All-Ivy forward Shonn Miller. UConn already had plenty of big bodies for next season, but they lacked offensive creativity, which is what Miller provides. Miller can play on the perimeter and be one of UConn's top scoring options, if not their leading scorer.
Olivier Hanlan To The Draft
Hanlan's impressive raw counting stats were driven by a high usage rate (a 32.1 shot%), and so his First Team All-ACC selection this past season was unjustified, but he was still far and away the best player on Boston College. Considering the fact that they were in the mix for last place in the ACC even with Hanlan, it's going to be a long season on Chestnut Hill.
California Picks Up Ivan Rabb
The 6'11" McDonald's All-American is the biggest recruit that California has landed in a long time, and gives significant hope to Bears fans after a frustrating season. Depending on where you look, this is a borderline Top 15 recruiting class that Cuonzo Martin has in place.
UNLV Lands Stephen Zimmerman
Zimmerman, a 7'0" McDonald's All-American, chose to stay with his hometown UNLV Runnin' Rebs. UNLV still waits on another hyped big man, however. 6'10" Christian Wood is still reportedly on the NBA Draft fence. If Wood comes back, this UNLV team probably projects to be an NCAA Tournament team. If Wood chooses to leave then UNLV's 2015-16 fate will likely come down to how much Stephen Zimmerman is able to live up to the hype as a true freshman.
VCU's Entire Recruiting Class Is Gone
Shaka Smart had a very nice 2015 recruiting class lined up at VCU, but with Shaka off to Texas that entire class has now decommitted. That's not to say that VCU fans need to panic. This sort of player movement is typical during a coaching transition. New head coach Will Wade will need to add some good pieces this summer to get the team back to the 2016 NCAA Tournament, but he'll really be judged on his 2016 recruiting class. If he can get that in place and keep positive momentum for the program then the future should still be bright for the Rams.
Marcus Foster To Creighton
Foster will have to sit out this coming season, and there were behavioral reasons that he was booted from Kansas State, but he's a huge talent if Greg McDermott can figure out a good way to use him. Foster was one of the most talented freshmen in the nation in 2013-14 before struggling a bit this past season.