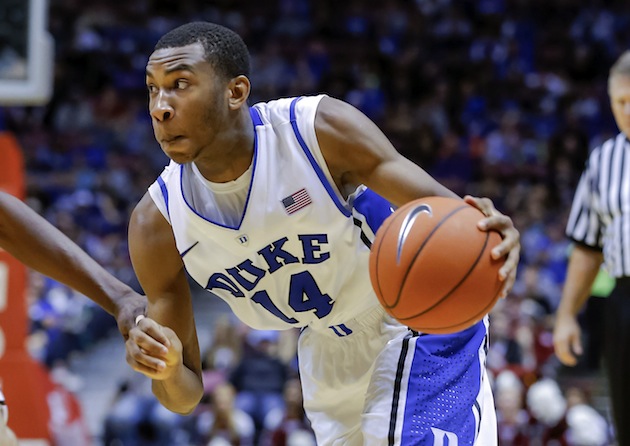 Rasheed Sulaimon could lock up #1 in the preseason polls for Maryland
Rasheed Sulaimon To Maryland
Sulaimon averaged 11.6 points per game as a freshman at Duke in 2012-13, though he plateaud after that and was actually down to 7.5 points per game as a junior before being booted off the team for (allegedly) an alleged sexual assault (Sulaimon denies that the sexual assault allegation is the reason why he was booted, but he hasn't given an alternative reason). That said, he's still a significant addition for Maryland and will be eligible right away. The media hype for Maryland was already nearing a fever pitch, and this addition might lock them up as the media preseason #1:
— Myron Medcalf (@MedcalfByESPN) May 11, 2015
That said, as I've been warning for months now, Maryland's luck in close games this past season (12-1 in games decided by six points or fewer) is wildly unsustainable and means that they are certain to be overrated preseason. And there were even more signs of "luck" in Maryland's success last season than their record in close games, such as leading the Big Ten in FT% defense in conference play. So is this a Top Ten team preseason? I think so. Sulaimon helps provide the two-way wing player that they lost in Dez Wells, though it remains to be seen if he's actually an upgrade over Jared Nickens, who is a better scorer than Sulaimon. It's not impossible to think that Sulaimon will come off the bench next season. That said, having a player as good as Sulaimon potentially come off the bench is a sign of a team with a ton of depth. Maryland will, at the very least, be very much in the Big Ten title hunt.
Florida Hires Michael White
Michael White was a logical choice, and one of the names initially suggested as Billy Donovan's replacement. He has a lot of SEC experience, having played at Ole Miss and then being an assistant there for seven seasons, and he's had a successful run as head coach of Louisiana Tech. The criticism of him for not making the NCAA Tournament are a bit silly since he's won at least a share of the Conference USA title in each of the past three seasons. I've talked about this many times before, but one-and-done tournaments are crapshoots. You don't judge a coach based on a few lucky tournament wins, you judge a coach on season long success, like regular season titles. And White had Louisiana Tech so good these past couple of seasons that they've actually been on the edge of the tourney bubble out of a bad league.
That said, White is still an unproven head coach at the major conference level. So it's not like Florida just landed Bill Self, or even Rick Barnes. There's risk, as there always is with a coach moving from a mid-major to a major. But the first task for White is to hang onto Florida's recruiting class and to try to find some summer additions to get his team back to the NCAA Tournament.
Antony Grady To Wichita State
Wichita State has perhaps the best backcourt in the country in Ron Baker and Fred Van Vleet. And while they have a lot of good young front court prospects, they didn't have a single front court player with significant proven Division I success. That changes with the addition of Anton Grady, an all-around tremendous player for Cleveland State this past season. He will plug right into Wichita State's starting lineup and, barring any offseason injuries or transfers, will make Wichita State a certain Top 25 team preseason. They could even sneak into the Top Ten.
Caleb Swanigan Decommits From Michigan State
Less than a month ago, the
addition of Caleb Swanigan
made Michigan State a potential preseason #1 team in the nation. He was the second McDonald's All-American in their 2015 recruiting class. But now he's gone, and while the rumors of him going to Purdue are so far unverified, the real story here is that Swanigan never signed his letter of intent, which would have locked him into Michigan State and kept him from playing for another team this coming season. Players "committing" but not formally signing their letter of intent is an increasingly popular strategy by top commits, and it's easy to understand why. It gives them the flexibility to change their mind, knowing that the door will always be open for them wherever they want to play.
Marcquise Reed To Clemson
Reed scored 15.1 points per game for Robert Morris this past season, earning NEC Freshman of the Year. He has to sit out next season, but he will have three years left and will provide Clemson with something that they have lacked for almost the entirety of the Brad Brownell era: an efficient scorer. He can create his own shot and get to the hoop while also hitting 41% on threes, while the best shooter in the Clemson regular rotation this past season was at 34%.
Oregon Picks Up Dylan Ennis
While they're not yet quite Iowa State, Oregon has been very aggressive in the transfer market under Dana Altman, and Villanova transfer Dylan Ennis is just the latest. Ennis, who averaged 9.9 points per game this past season, is a graduate transfer eligible to play immediately. Ennis will provide Oregon with something that they lacked this past season, a true point guard, and give the Ducks a proven backcourt scorer as well. Oregon was already a likely Tournament next season, but this addition puts them in a good position to be Top 25 preseason.
Terrence Samuel Leaves UConn
Terrence Samuel was a regular contributor off the bench for UConn this past season, but his transfer might be good news for UConn fans if it's a sign that Sterling Gibbs is going to choose the Huskies as his transfer destination. If Gibbs does come, it would've meant a significant decrease in playtime for Samuel, who isn't anywhere near the player that Gibbs is. So stay tuned.
Horizon League Adds Northern Kentucky
The Horizon League was looking for a tenth team, and they got it in Northern Kentucky, just that latest team to bolt from the Atlantic Sun. Northern Kentucky began the transition from Division II to Division I in 2012, and this coming season will be their last where they are ineligible for the NCAA Tournament. This move won't matter much for postseason implications for a while, as Northern Kentucky is a long way as a program away from contending for a Horizon League title, but it could presage additional Horizon League expansion down the road.