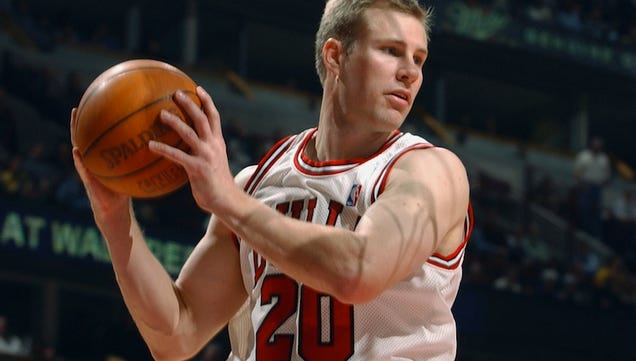 Fred Hoiberg Will Be The Next Chicago Bulls Coach
Hoiberg had been the expected hire even before the Bulls officially fired Tom Thibodeau. There are quite a few names bouncing around for the Iowa State job, and I'll discuss the team again when they pick a coach, but there's no question that this Cyclones program sits at a precipice. Hoiberg had a unique ability to bring in talented transfers for one or two years at a time and to put together teams that could challenge the traditional Big 12 powers for conference titles on an annual basis.
But while the next coach will walk into a roster that has a good chance to be Top Ten in the preseason polls it will also be, as Hoiberg's teams have generally been, very senior heavy. There aren't a lot of young players in the program, and the next head coach will have to do a Hoiberg-level recruiting job to have Iowa State back contending for the Big 12 title again in 2016-17. And that's when we'll find out if the new hire is a success or not.
Pittsburgh Adds Another Grad Transfer
Having already added Rafael Maia and Sterling Smith, Pitt has now added a third graduate transfer in Alonzo Nelson-Ododa, from Richmond. As a junior this past season, the 6'9" Nelson-Ododa averaged 6.6 points, 5.1 rebounds and 1.7 blocks per game. Don't expect Nelson-Ododa to start for Pitt next season, but he fills a need. Pitt had one scholarship available for this coming season, and Nelson-Ododa provides front court depth, particularly
defensive
front court depth, a significant problem this past season.
With Rafael Maia and 7-foot monster Rozelle Nix (a Juco transfer), Jamie Dixon has numerous new options. Pitt finished in 11th place or worse in the ACC this past season in defensive 2P%, defensive eFG%, block% and DR%. They should be significantly better next season.
Nick Marshall, Memphis Recruit, Will Reclassify To 2015
The 6'11" recruit Nick Marshall was considered a significant 2016 recruiting addition for Josh Pastner, and he will arrive on campus a year early. With the Lawson brothers, that makes this an impressive recruiting class, though recruiting hasn't ever really been the problem during the Pastner tenure at Memphis. Regardless, Memphis will be a better team next season than this past season, and with Marshall and the Lawson brothers joining Shaq Goodwin and Austin Nichols, the Tigers should have an athletic, long front court. But will it be enough to get them back to the NCAA Tournament? Maybe.
UConn Lands Terry Larrier
Larrier only averaged 6.6 points and 3.0 rebounds per game as a freshman at VCU this past season, but he's considered a significant talent, and one of the highest rated recruits that Shaka Smart ever landed. He will have to sit out this coming season, but in the long run that's probably a good thing for UConn. The Huskies have already added Sterling Gibbs and Shonn Miller as one-year graduate transfers for this coming season. Larrier will fill in the void when those two players leave, and the year off will give him a year to improve his game before playing games that count in the AAC.
Shaqquan Aaron Chooses USC
The Louisville transfer will have three years left to play at USC, though he'll have to sit out this coming season. Aaron averaged just 1.3 points per game as a freshman this past season, but he was a highly touted recruit out of high school and will have significantly less competition for playing time at USC. Expect him to be a significant contributor.
Georgia Tech Lands James White
White averaged 11.9 points, 6.6 rebounds and 1.7 blocks per game for Arkansas-Little Rock this past season, and he will join Georgia Tech as a graduate transfer with immediate eligibility. Georgia Tech's impressive front line lost both Demarco Cox and Robert Sampson to graduation, but White will join Nick Jacobs as two significant newcomers alongside the well-established Charles Mitchell. Of course, the concern with Brian Gregory's Georgia Tech teams is never defense or rebounding, but efficient offensive scoring. And as White was not even a particularly efficient scorer in the Sun Belt (a 45.3 FG%), I don't think this transfer moves the needle too much on next season's expectations.
Johnathan Williams III To Gonzaga
I talked
a few weeks ago
about the fact that Gonzaga has been putting the pieces in place to have a strong backcourt for the future and that it was time for them to figure out their front court post 2015-16. The Zags will have a ridiculous front line of Kyle Wiltjer, Przemek Karnowski and Domantas Sabonis in 2015-16, but will likely lose all three at the end of the season. And that is where Johnathan Williams will step in. Williams will have to sit out the 2015-16 season, but he will have two seasons of eligibility after that. The 6'9" Williams averaged 11.9 points and 7.1 rebounds per game for Missouri this past season.
Oklahoma State Adds Chris Olivier
The graduate transfer averaged 13.0 points and 5.3 rebounds per game for Eastern Illinois this past season. Travis Ford, in his perpetual need of front court talent at Oklahoma State, thought he had Washington's Jernard Jarreau coming in, but Jarreau changed his mind and flipped to Tulane a few weeks ago. Olivier will be his replacement. If the Cowboys make the NCAA Tournament, it will likely be because Olivier became a quality Big 12 starter. If he is not a significant contributor, they are likely going to miss the NCAA Tournament again, and Travis Ford has a reasonable chance of being fired.
Dwight Coleby To Kansas
Coleby averaged 5.4 points and 4.8 rebounds per game as a sophomore at Mississippi this past season. Those aren't huge numbers, but he was a fairly efficient player in limited minutes (16.5 minutes per game), so there's no reason to think that he can't be a big contributor for Kansas down the road. He will sit out the 2015-16 season and will have two years of eligibility remaining after that.