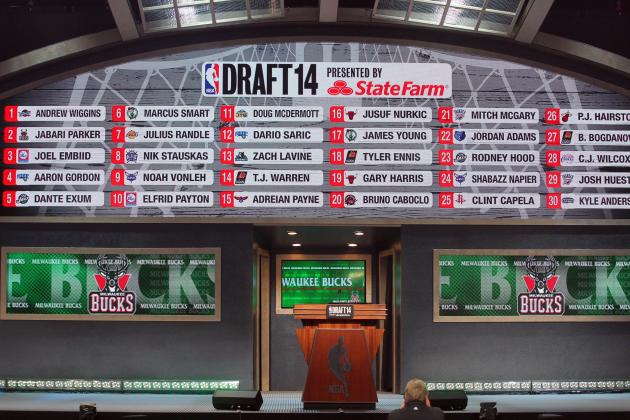 My NBA Draft Preview has become an annual tradition. Last year's
is here
. I figure that I watch gratuitously large amounts of college basketball, so I might have a few insights to add to coverage of the draft, which is tomorrow.
That said, I don't have any strong opinions on players who did not play in college (I'm including Emmanuel Mudiay on that list). But let's be honest, unless you're an international scout or Fran Fraschilla, you don't have strong opinions on the foreign players either.
That's why everybody's opinion on Kristaps Porzingis is that he's got the highest ceiling in the draft or that he's going to be another European bust. Since none of us have actually watched a full game that he has played in, we're incapable of opinions more nuanced than that.
Anyway, as always I've broken down guys into three categories: Guys invited to the Green Room, guys certain to be drafted but who weren't invited to the Green Room, and borderline second round/undrafted guys. Let's do this:
Green Room Guys:
Karl Anthony Towns
- It's odd to say that a guy is "underrated" who might go #1 overall, but this is more about me saying that the Towns/Okafor debate shouldn't really be a debate. Jahlil Okafor was more valuable to Duke in 2014-15 than Towns was to Kentucky in 2014-15, but that was primarily due to Kentucky being so much deeper. And more importantly, Towns is a more skilled player with much more room to grow.
For example, an Okafor defender will point out that he shot 66% from the field compared to 58% for Towns. However, Okafor did most of his work by physically dominating smaller opponents, while Towns did much more of his scoring away from the basket. A full 70% of Okafor's shots were taken at the rim, with only 30% taken in the mid-range. In contrast, only 54% of the shots Towns took were at the rim. We saw this shooting talent at the free throw line, as well, where Towns hit 81%, compared to 51% for Okafor. Throw in the fact that Towns had a higher assist rate, lower turnover rate and a higher FTRate and you have the fact that Towns was a more efficient, more versatile offensive player than Okafor. And I don't think anybody questions that Towns, the defensive anchor in the paint of perhaps the best defense in NCAA basketball history, is the better defensive player.
In addition, history says that guys who physically dominate smaller players in college have more trouble adjusting to the pros, where defenders are so much bigger and stronger than the average college defender. I'm not saying that Okafor is another Jared Sullinger, since he's two inches taller and more skilled, but we haven't exactly had a lot of successful players come out of college in the past fifteen years who score primarily in the NBA by physically overpowering their post defender.
To me, if you want to argue who might end up being the best player in this draft if it's not Towns, I'd bet on D'Angelo Russell. Russell has got a ton of upside, though he's also a more risky pick than Towns. He's being currently projected to go somewhere between the third and fifth pick on Thursday night, which seems about right to me.
Myles Turner
- If Turner turns into a superstar in the NBA, we all know what the narrative will be, which is that Turner was misused by Rick Barnes, just as Kevin Durant was. That said.... while narratives are always over-simplifications, they're not always fundamentally wrong. If we break down Turner's game, there's a whole lot more Karl Anthony Towns in him than you might think. For one thing, while Turner shot only 46% from the field, he was mostly firing off jump shots. 24% of his shots were threes, which he hit at only a 27% clip. In the NBA, he'll either start shooting those with more accuracy (the Khawi Leonard model) or his coach will stop giving him those shots. In fact, only 25% of the shots Turner took were at the rim, and he hit his mid-range jumpers at a similar rate (39%) to Towns (43%).
Like Towns, Turner is an excellent interior defender, and he's good at beating his defender to draw fouls. He's not the prolific offensive rebounder that you'd like in a big man, but that is at least partially offset by how far Turner often played from the hoop and how many other big men Texas had who could get after the offensive glass. Myles Turner is far from a sure thing, but he's got "multiple All-Star game" upside, which is fantastic value late in the lottery, when he's expected to go.
Willie Cauley-Stein
- The big warning sign for Cauley-Stein is the fact that as an offensive player he basically did not develop at all in three seasons at Kentucky. Over three seasons, the only measurable area that he improved was at the free throw line, which is something... but not much. He was actually a smaller part of the offense (a lower shot%, lower usage rate, and lower eFG%) as a junior than as a freshman. Unless some NBA coach can figure out the key to Cauley-Stein's offensive woes, he's going to be a zero offensively in the NBA.
And I know what you're saying: Who cares about the offense, he's the best defensive player we've ever seen in college basketball! And my answer is: Ehhhh.... no. During that goofy Kentucky/Kansas blowout back in November, Jay Bilas announced on national television that Cauley-Stein was the best defensive player in the country, and the narrative stuck. He basically locked up National Defensive Player of the Year before Thanksgiving. But if you break down his game, that narrative begins to fall apart. What made Cauley-Stein unique was that he was a 7-footer who would go out on the perimeter and aggressively defend smaller players. That's great, but he could get away with that because he had Karl Anthony Towns or Dakari Johnson standing in the paint behind him ready to swat anything that came near them. That caused perimeter players to fear driving on Cauley-Stein not because of what Cauley-Stein could do, but because of what the guy behind him could do. And when Cauley-Stein didn't have help, he tended to get blown by. Cauley-Stein did on occasion make a spectacular rejection from behind after being beaten off the dribble, but that's not exactly the foundation of a great NBA defender.
Cauley-Stein is certainly a good defensive player, but the idea that he's going to go on the perimeter and defend NBA guards seems far-fetched, to say the least. And once he's no longer an elite defensive option, the fact that he's such a zero offensively makes him a really low-upside pick in the lottery.
Rondae Hollis-Jefferson
- Hollis-Jefferson is the type of player who might slide on draft night, but he is going to be in the Green Room, and he's being projected somewhere around the 15-20th pick in the draft by pretty much every mock draft site. My question about Hollis-Jefferson is what exactly do you think he's bringing to the table? He made the Pac-12 All-Defensive team this past season, and he's good defensively, but he's certainly not considered a really elite defender. He was generally guarding the second or third best player on the opponent on an Arizona team filled with strong defenders and within a program that always plays strong team defense.
Offensively, you're not getting much from Hollis-Jefferson. Every starter on Arizona other than Kaleb Tarczewski took more shots on the court than Hollis-Jefferson, and his jump shooting was as bad as a sophomore as it was when he was a freshman. He took 18.6% of his team's shots while on the court, and the majority of those were taken at the rim (the highest fraction of shots taken at the rim of any of Arizona's top nine minute earners). There's just nothing in his profile that suggests a possible NBA star.
Late 1st/Early 2nd Round Guys:
Terry Rozier
- This is a high-risk/high-reward pick, but that's precisely what you should be going for late in the first round and beyond. Rozier's efficiency stats weren't particularly great in 2014-15, but that's because he had to shoulder so much of the load. Louisville had basically four guys who could score (they literally had a game where only four guys scored), and Rozier was the primary offensive playmaker. Opposing defenses were geared to stop him, and he was particularly heavily used late in shot clocks and in games to force offense.
To put numbers behind that: Not only did the fraction of his team's shots Rozier took while on the floor rise from 23.0% in 2013-14 to 29.3% in 2014-15, but the fraction of his own shots that he took in the final five minutes of games went up from 6.0% in 2013-14 to 12.5% in 2014-15. In 2013-14, Rozier took just 4.6% of his team's shots in the final five minutes of games (in contrast, Russ Smith took 28.0%). In 2014-15, Rozier took 26.1% of his team's shots in the final five minutes of games, the highest on the team. Yet despite all of this, his efficiency didn't really go down much. He dropped from 37% to 31% on threes, but stayed flat at 39% on mid-range jumpers. His turnover rate rose 45%, which is why his ORtg dropped, but again, is that a surprise considering his new role?
Rozier has the chance to be an explosive scorer off the bench for an NBA team for a bunch of years. That's great value at this stage in the draft.
Cliff Alexander
- Alexander is the NBA Draft version of buying a stock when it's really low. Alexander was basically a consensus Top Five recruit in the 2014 recruiting class, but off court issues kept him from playing for a big chunk of the year. And even when he did play, Bill Self played hardball with him to try to help him develop. Despite the fact that Alexander was across the board a better player than Jamari Traylor, Self consistently gave Traylor more playing time. Of course, we've seen this before. "His coach benched him for big chunks of games! If he can't play for his college team how can he play in the pros!?" was also the argument used against Jabari Parker a year ago. Some coaches can get away with benching a young player to help him develop, and some can't. Coach K and Bill Self can.
The fact is that Alexander is physically a monster. His offensive game is a work in progress, but he's only 19 years old and played only 491 minutes in college ball (just 34% of the minutes that Kansas played as a team this season). But in terms of tools, Alexander showed himself to be a dominant rebounder, and a strong defensive player (though with occasional mental lapses). Being only 6'8" might hold him back from ever being an NBA star, but he's got the highest ceiling of any player with a realistic potential to drop into the second round.
Jordan Mickey
- Jordan Mickey and Jarell Martin are being perceived as basically identical prospects. They're both big guys, they were both sophomores, and they both played for LSU. Just about every mock draft has them sitting a few spots apart from each other, somewhere in the late first or early second round. Yet the thing is, this isn't how drafts work. Martin is the far more skilled and productive offensive player and he's two inches taller, making him much more likely to contribute to an NBA team right away. Mickey, on the other hand, is a long term prospect at best.
Mickey is a fairly good rebounder, but not a great one. He led the nation in blocks per game, but that was in large part due to playing so many minutes (he was only 38th in the nation in block%), and shot blocking isn't a skill that usually comes along into the NBA when you're only 6'8". But Mickey is a poor shooter and was not an offensive creator in college, so you're basically just drafting him because you think a 6'8" guy will be a huge shot blocker in the NBA. That's a dicey use of a draft pick.
Chris McCullough
- McCullough is being drafted almost entirely on what he did in high school, which is a huge red flag. He tore his ACL midway through his freshman season, and hasn't had nearly enough time yet to get healthy. And even when he did play as a freshman, he didn't do much, scoring 9.3 points per game on 47% shooting. Most of his offense came at the rim, and 34% of his made baskets at the rim came on putbacks of offensive rebounds. So if you take McCullough, you're taking a big guy coming off a serious injury who is extremely raw offensively. He's almost a certainty to play in the D-League in his first professional season. I could see taking him as a late second round flyer, but not as a potential first round pick.
Everybody Else:
Michael Frazier II
- Frazier is being projected as a late second round pick at best, and many mocks don't include him at all. Yet the reality is that Frazier has a chance to end up the best outside shooter in this entire class. He shot only 38% on threes as a junior, but that was after 47% and 45% his first two seasons, and his career 85% free throw shooting (including 87% this past season) suggests he's a strong all around shooter who simply went through some slumps as a junior. If we're all going to excuse RJ Hunter's 30% three-point shooting as a junior to call him the best shooter in the class (as many draft analysts are), then we can't condemn Frazier for only hitting 38% this past season.
Frazier isn't totally stuck as a jump shooter, and he did show the ability to pump fake and to get to the hoop and draw fouls at Florida. Whether he will be able to do that in the pros is another story, but even if he's just a guy that you stick in the corner and who will hit 40%+ on threes, that's something that can provide real value in the NBA for the next decade. Considering how many second round picks don't even ever play in an NBA game, that makes him a great value pick.
Briante Weber
- There's risk here considering the fact that Weber tore his ACL, and there's always a chance that a guy is going to lose his athleticism after an injury as bad as his was. There's a chance that Weber will never again be the same player that he used to be. But the consensus on Weber is that he won't even get drafted, and in the late second round or as an undrafted free agent you're not getting anything close to a sure thing. You have to take a flyer with upside.
What does Weber bring? He led the nation in defensive steal percentage all four years he was in college. He's simply the most terrifying perimeter defender that college basketball has seen in a long time. Part of those stats are due to #HAVOC, but Weber's stats blow away every other player who has suited up for Shaka Smart. You can't dismiss his stats when he forced steals on a staggering 8.9% of defensive possessions as a senior (and 7.4% for his entire college career). In comparison, his top teammate in VCU's 2014-15 starting lineup was JeQuan Lewis with a 3.9% steal rate. In fact, the best steal percentage by any Shaka Smart starter ever at VCU (not including Weber) was Darius Theus's 5.4% in 2012-13. Weber did better than that in all four seasons that he played.
By the way, Weber was VCU's offensive creator this past season as well. He can pass well, dribble well and for his career hit 77% on free throws (which means more than a small sample size three-point percentage that vacillated from season to season between 23% and 41%). Weber has the potential to be an NBA starter someday, and a pretty good one at that.
Aaron Harrison
- You can probably throw Andrew Harrison in here, too, though at least Andrew has shown the ability in spurts to beat his man off the dribble and to score at the rim and create for others. Aaron Harrison is a spot-up shooter who can't shoot. His 79% free throw shooting suggests that there's some potential there, but he shot just 47% on two pointers and just 33.5% on three-pointers despite a massive sample size of 361 attempted three-pointers. More importantly, Aaron Harrison has shown no improvement in any part of his game over his
three
two seasons at Kentucky.
If you're drafting Harrison, your basic argument is that guys historically have not developed a lot under John Calipari, who specializes in taking in superstar recruits and not spoiling them over six months. Perhaps some NBA coach will see something and be able to find some way to get back the Aaron Harrison who was a consensus Top Ten recruit out of high school. But Harrison doesn't show a lot of physical projection, and watching a lot of him over the past two seasons he seems like the type of guy who simply peaked physically early and doesn't have much room to grow as a player.
JP Tokoto
- Tokoto is likely to be drafted (most mocks have him going in the first half of the second round), but I'm not exactly sure what the precedent is for a player like him becoming a success in the NBA. First of all, Tokoto is a horrible shooter. You'll see his 3P% listed as 38% this past season, but that's a small sample size fluctuation. He attempted only 32 three-pointers as a junior, and for his career was at 26.6%. He also shot just 43.5% on two-pointers as a junior, including a horrific 31% on mid-range jumpers. His career 54.4% free throw shooting is a testament to his poor shooting (teams would often play Hack-a-Tokoto late in games).
The argument for taking a flyer on Tokoto is that he could be a good defensive player. But even that is based on projection more than anything he has done in three years at North Carolina. He's physically gifted, and can put some fantastic dunks in during practice, but he was never a shut-down perimeter defender, and isn't big enough to guard front court players in the NBA. If you're taking a perimeter guy on defensive skills, why not take Briante Weber, who was both a better defensive
and
offensive player in college than Tokoto?