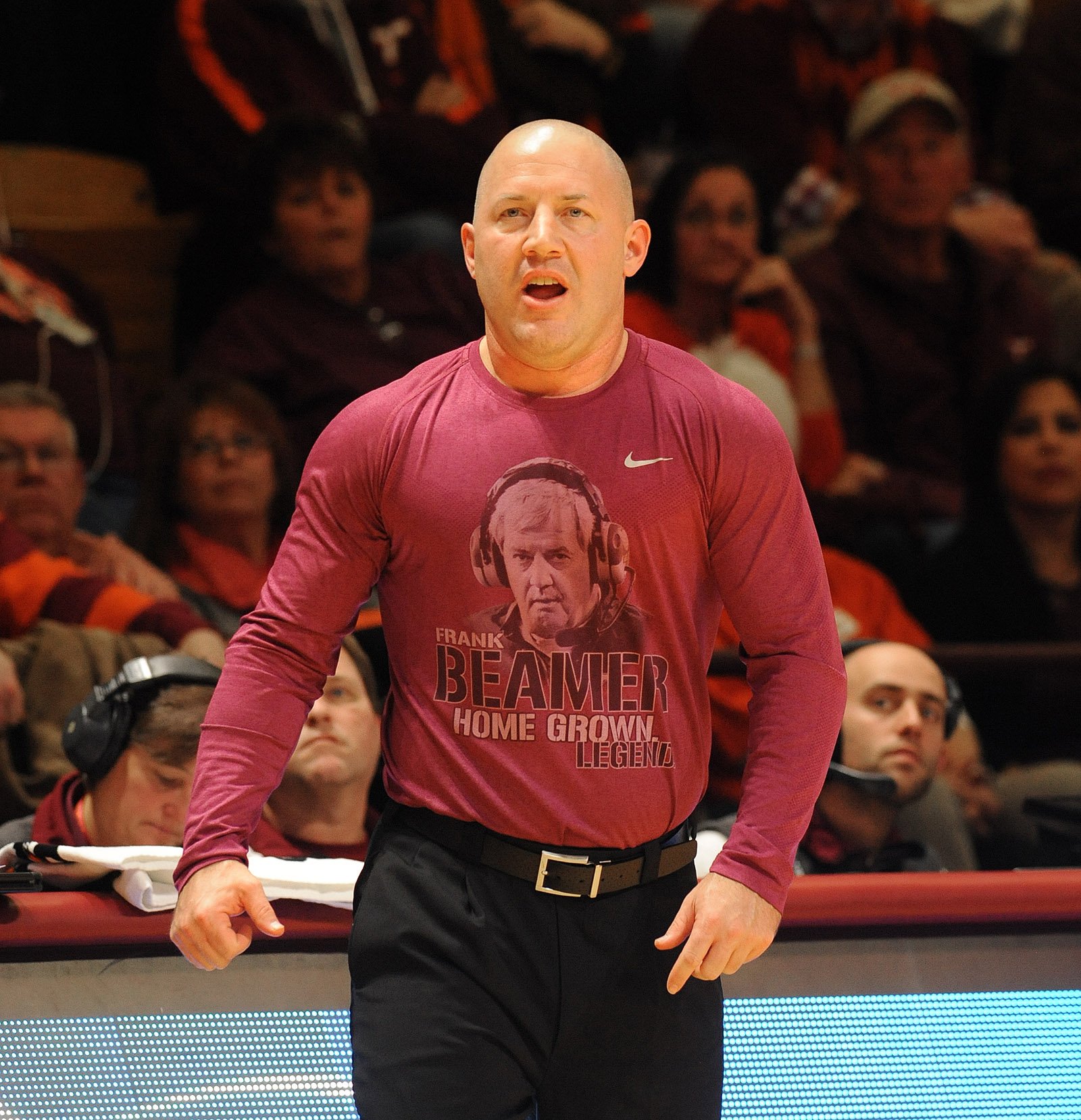 Buzz Williams honored Frank Beamer's final home game as Virginia Tech head coach.
New Bracket Projection
I made two changes to my projected bracket this week. Iowa moved in as an at-large team, replacing Oklahoma State. Meanwhile, Bucknell replaced Lehigh as the new Patriot League favorite.
Down Goes #1
This wasn't anywhere near the upset that the media is making it out to be. Vegas had the spread at 6.5 points and Pomeroy gave Northern Iowa a 30% chance of the win. Why? Because it's hard to win on the road against a bubble-quality team (which Northern Iowa probably is), particularly when your best player is out injured. It's why top tier Power 5 teams really should never schedule road games against quality mid-majors until the Selection Committee starts properly valuing the difficulty of homecourt advantage (which won't happen anytime soon).
Why did North Carolina lose this game? I honestly don't think Marcus Paige was a big factor. The Tar Heels still had 17 assists on 26 made baskets with only 12 turnovers. What really held them back offensively was ice cold 5-for-18 shooting behind the arc. The bigger problem for the Tar Heels was defensively, where 11 of Northern Iowa's 24 made baskets were layups or dunks. The Panthers scored 1.06 PPP, which is the most that a non-Power 5 opponent has scored in a non-conference regular season game against North Carolina since Belmont scored 1.14 PPP in a win over the Tar Heels on November 17th, 2013. Wes Washpun led the way with 21 points and 8 assists.
In the end, there's no reason for North Carolina fans to panic. If Marcus Paige comes back and they win the ACC then nobody will remember what happened in November. But the defensive shortcomings could be the difference between winning or losing the ACC if they aren't cleaned up. As for Northern Iowa, a single game isn't convincing evidence that they're more than a bubble team, but if they do end up on the bubble in March then a win over North Carolina is going to look awfully nice on their resume.
Illinois Falls Again
In defense of Illinois, they are shorthanded. Tracy Abrams, Kendrick Nunn and Jaylon Tate are all out hurt. But Abrams is done for the season, while Nunn and Tate are both going to remain out for a significant period of time. And these results for Illinois are just flat out ugly. They are 1-3 with losses to North Florida and Chattanooga, with the one win coming narrowly at home over North Dakota State. They don't even look like a Top 100 team, let alone a team that can compete for an NCAA or NIT bid.
Chattanooga, meanwhile, already has victories over Georgia and Illinois, and looks like the clear favorite in the Southern Conference. Those wins aren't going to set the college basketball world on fire, but they could be the wins to push them to something like a 14 seed in March.
San Diego State Is Upset
San Diego State scored 1.10 PPP against Utah, but other than that game they have been a mess. Their offense was just bad here. They committed 16 turnovers and had an ugly 34.8 eFG%. Overall this season they are turning the ball over on 22% of possessions and have a 45.5 eFG%, with just 0.94 PPP against a relatively soft schedule.
San Diego State should improve, in large part because their inconsistent backcourt is very young. Trey Kell and Jeremy Hemsley (a combined 3-for-13 shooting with 3 assists and 6 turnovers here) will eventually adjust and play better. The problem is that with the Mountain West down, San Diego State has to build their Tournament resume in non-conference play. They'll get a chance for a quality win or two in Las Vegas next week, and they'll also get Kansas at home on December 22nd, but that could be it for potential RPI Top 50 victories.
Dayton Defeats William & Mary
Dayton newcomer Charles Cooke took over in the second half, pouring in 18 point by himself. As a team, Dayton hit 69% of their two-pointers, scoring 20 points in the paint and 1.33 PPP overall. This William & Mary team had already won at NC State this season and looks like a Top 100 squad, so this is a solid victory for the Flyers.
Dayton moves to 3-0 on the season, but are going to take a significant step up in quality of opponent next week, starting with Iowa. The Atlantic Ten will be a multi-bid league this season, but Dayton will not want to enter conference play without a quality win or two.