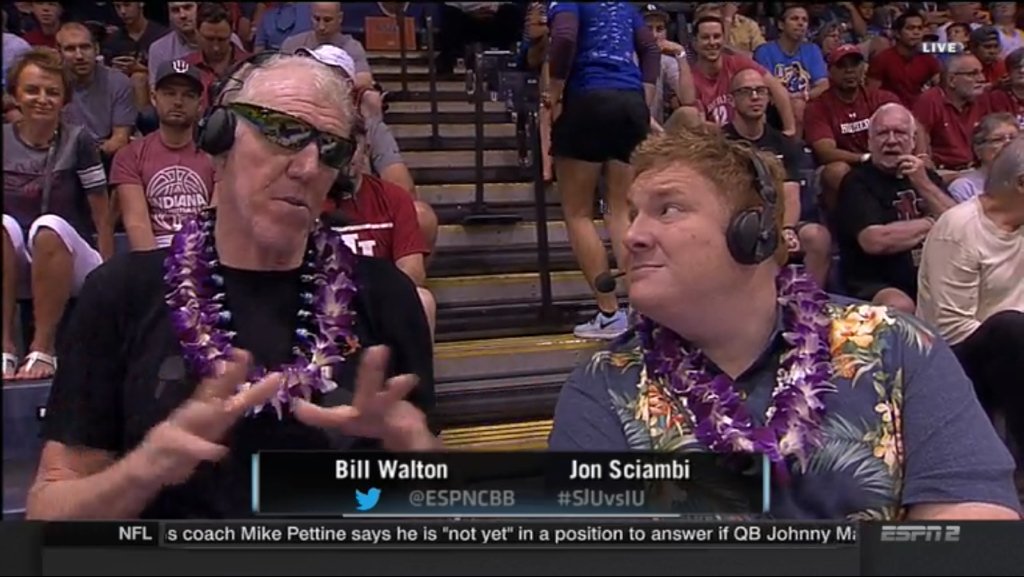 "I just got lei'd this morning" was an actual line Bill Walton spoke during this broadcast.
Kansas Had A Very Nice Day
Wayne Selden was the star as Kansas won the Maui Invitational over Vanderbilt. Selden poured in 25 points on 8-for-11 shooting, and had plays like this:
Vanderbilt will feel that they missed a gigantic opportunity against a short-handed Kansas team, but I think they have to come out of this Maui Invitational feeling that they proved that their high preseason ranking was deserved. The Commodores are explosive on both sides of the ball, and are even a dark horse contender to Kentucky. And if anything, they only lost this game because their 3P% defense regressed (Kansas hit 8-for-16 here, after Vanderbilt had an unsustainable 19.5 3P% against coming into the game).
But for Kansas, this game ended what was a fantastic day for the fan base, in large part because...
Cheick Diallo Ruled Eligible
For all the sturm und drang over the Cheick Diallo eligibility debate, it's going to turn out to mean basically nothing. Kansas did pick up a loss to Michigan State, but they played like a Top 5 team in the nation despite no Diallo and despite missing Brannen Greene with a suspension. In the end, if they win sweep the Big 12 titles in March, a loss or two in November simply will not matter. And in my opinion, Kansas is now (with the addition of Diallo) the best team in the nation.
Texas A&M Impresses
Texas is probably an NCAA Tournament team, but Texas A&M was never really in difficulty here. They had a small to mid-sized lead for almost the entire game. It was hard for either team to get into their offense with the quick whistles (56 fouls were called and the teams combined to make more free throws than field goals), but Anthony Collins did impress and covered for a mostly quiet Alex Caruso.
The Aggies are now 5-0, though this is their first win against a non-cupcake. If they play this well the rest of the season then they'll contend for second place in the SEC, though one game in the Bahamas isn't proof of anything. They'll take a step up in talent against Gonzaga later today, and then should have one more quality opponent in the Bahamas.
Texas will play Washington in the Bahamas later today, fewer than two weeks after playing them in China, which is kind of weird. Regardless, Texas needs a win to avoid dropping to 1-3. They have talent, and Shaka Smart will have this team playing better later in the season, but they can't fall too far behind the curve in non-conference play.
Tory Miller Did What?
Colorado's Tory Miller, uh, bit a guy:
UConn Stifles Michigan
The Wolverines could not get their offense going in the Bahamas. They hit a putrid 24% of their jump shots, finishing with a 39.3 eFG%. The fact that Michigan rarely commits turnovers meant that they still managed to score 0.92 PPP, but the Wolverines don't have the defense to win many games when they're scoring less than a point per possession. Daniel Hamilton was the best player on both ends of the court for UConn, finishing with 16 points, 9 assists, 9 rebounds, and 2 steals.
It's still early this season, but UConn and Cincinnati do appear to be separating themselves from the rest of the field in the AAC. Picking a favorite this early on will be difficult, but this is a different type of UConn team than we've seen in recent vintages. There is no Kemba Walker or Ryan Boatright type player to carry them late in games, but this is also a much deeper team than Kevin Ollie has ever had. They easily go ten men deep.
As for Michigan, there's no huge shame in losing to UConn or Xavier, but it means that they are 0-2 against non-cupcakes, and it also means that they're in the consolation bracket in the Bahamas, stuck playing a bad Charlotte team later today. John Beilein's team does not yet seem to be showing significant improvement over last season, despite returning their entire regular rotation.
Indiana Falls To UNLV
This probably wasn't as big of an upset as most people thought it was. I currently have UNLV projected as
an at-large team
, while Indiana's #13 ranking was clearly too high. Still, Indiana was a mess here. They were a white hot 11-for-20 on threes and
still
only scored 0.95 PPP. How did they pull that off? Turnovers on 30% of possessions and a brutal 10-for-24 shooting on layups did them in. As for UNLV, Patrick McCaw (20 points, 6 assists, 5 steals) is a fun player who can become a really good player if his outside shot gets more consistent.
Indiana fans are panicking, but their team is not as bad as they've looked in Maui. They're still a Tournament-quality team, and they're still in the mix for a Top 4 finish in the Big Ten. UNLV, meanwhile, is not just building their at-large resume but also throwing their hat in the ring to be a contender in the Mountain West this season. The conference is wide open.
UCLA Drops To Wake Forest
UCLA's shaky start to the season continued here. They did beat UNLV by 2 points, but they lost to Monmouth, were smoked by Kansas, and now lost to a Wake Forest team that is unlikely to make a postseason tournament. What they struggled with in a big way here was Wake Forest's size in the paint. The Demon Deacons have several different strong shot blockers, and though they only blocked 4 shots here, UCLA finished an ugly 19-for-40 on layups.
As for Wake Forest, earning a 2-1 record in Maui is really nice, though it remains to be seen just how impressive these wins over Indiana and UCLA will look at the end of the season. Mixed with a blowout loss to Vanderbilt, a loss to Richmond, and narrow wins over UMBC and Bucknell, and I don't really see the argument for why Wake Forest is playing like a bubble team yet. They should improve whenever Codi Miller-McIntyre gets back, though. They have an underrated and tricky game coming up on Monday at Rutgers.