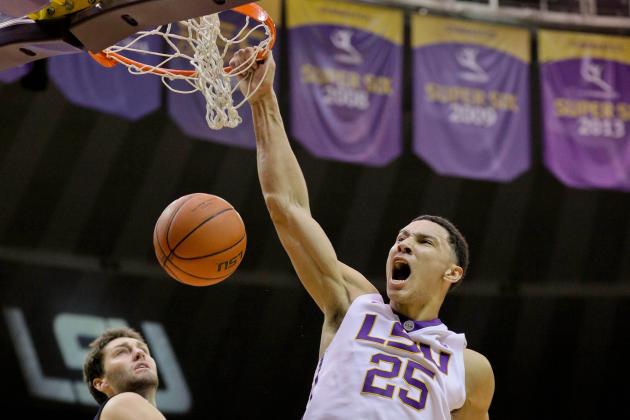 "Do I have to do everything around here?"
Louisville Hangs Tough At Michigan State
This is one of those games that helps build resumes, but doesn't tell us too much about the merits of these two teams. In fact, despite losing this game I think Louisville has to come out of it feeling really good. They shot a poor 4-for-17 behind the arc and still only lost by four points on the road at a Michigan State team that might be the best team in the country. Damion Lee exploded for 20 points and 5 steals, Trey Lewis poured in 16 points, and they only committed 11 turnovers as a team. All in all that's a nice performance.
Michigan State's toughest non-conference games are all behind them now, and they now have a good chance to reach Big Ten play with an undefeated record. They'll lose some games in conference play, of course, but they are probably the favorites to take it, and to earn a 1 seed in March.
As for Louisville, their only two non-conference games against RPI Top 100 opponents will be basically involuntary games - this game in the ACC/Big Ten Challenge and their rivalry game against Kentucky. So now unless they get an upset in Rupp Arena they'll enter ACC play with zero "quality" wins. That's just poor scheduling. This Louisville team is really good, but Rick Pitino did his team no favors with this schedule.
Wisconsin Upsets Syracuse
You would have figured that a poor shooting Wisconsin team (30.4 3P% and 46.4 eFG% for the season) would struggle against the Syracuse zone, and they did, but Syracuse was undone by an absolute lack of size inside. The DaJuan Coleman situation is difficult, because he played five minutes in the first half here but then was never seen again. He's obviously not totally healthy, but without him Syracuse has no depth (a six man rotation) and their front line is completely undersized. Wisconsin annihilated Syracuse on the glass, rebounding 46% of their own misses (Syracuse rebounded only 15% of theirs). For the season, teams are rebounding 37.3% of their misses against Syracuse, which makes Syracuse just the 319th best defensive rebounding team in the nation. Ethan Happ led the way with 5 offensive boards as he finished with 18 points and 15 rebounds. Nigel Hayes did a little bit of everything with 14 points, 12 rebounds, and 6 assists.
Wisconsin was due to finally have a team not shoot the lights out against them (Wisconsin's 41.7 3P% against is still 333rd in the nation), and they collect their first win of the year against a team likely to make the NCAA Tournament. Syracuse was overrated in the Top 25 polls, but this will still be a win that looks nice on Selection Sunday.
Syracuse already has a couple of nice wins, so this loss isn't devastating to their non-conference resume. A win at Georgetown on Saturday would make Syracuse fans forget this result altogether. But if they don't get DaJuan Coleman back healthy and effective, it's hard to see how they can win consistently in the ACC.
Ben Simmons's Ridiculous Day
Ben Simmons has had some big stat lines this season, but he had easily his best performance of the season last night against North Florida, pouring in 43 points, 14 rebounds, 7 assists, and 5 steals. Perhaps most impressive was that he did it efficiently (something he often hasn't done this season), hitting 15-for-20 from the field and only committing a single turnover. Not a single one of his made baskets came outside the paint, but against most opponents this season that won't matter because he'll be able to get into the paint at will.
Duke Routs Indiana
It probably wasn't the most surprising result of the night that Duke's offense ran through Indiana's defense, but this was ridiculous. I can look up 20 years of efficiency data, and not once in those 20 years did Duke score more against a major conference opponent than their 1.53 PPP here. In fact, the last time
any
major conference team score greater than 1.5 PPP vs
any other
major conference team was Ohio State vs Wisconsin on March 6, 2011 (and Wisconsin had the excuse of Ohio State's otherwordly 14-for-15 three-point shooting there).
Duke was great across the board, hitting 48% of their threes, 57% of their twos, and a team total of 17 assists to only 6 turnovers. The breakout star was Brandon Ingram, the stud one-and-done freshman who had been quiet for much of the early going this season. Ingram had a career-high 24 points, including 4-for-6 behind the arc.
Aside from the Brandon Ingram performance, I don't think we really learned too much here. Indiana hasn't looked good in the early going, but I still think they're an NCAA Tournament team. With the way they can score, they only need a halfway decent defense to be a Top 25 team. To be fair, at this point it's hard to expect "halfway decent" from the Indiana defense.
Roosevelt Jones Lifts Butler Over Cincinnati
In a really good game that got lost on a night with the ACC/Big Ten Challenge, both teams finished with a flurry during what was a very fun finish. Butler almost had a catastrophic failure as Tyler Wideman fouled Octavius Ellis on a tip-in when Butler was up by 3 points with under 4 seconds to go. Ellis hit the free throw to tie up the game. Roosevelt Jones, however, was having none of that:
For the game, Kellen Dunham was the star for Butler, pouring in 24 points on 7-for-13 shooting. This win also assures Butler something good out of non-conference play. As well as they're playing they certainly look like an NCAA Tournament team, though they seem a step below Villanova and Xavier in the Big East.
Cincinnati, despite not having a great win (George Washington is the best team they've beaten) has been fantastic early on. They lost this game on a buzzer beater, but they'll have a few more chances for quality wins before AAC play starts. A home game against Iowa State in a few weeks is probably their best chance to build their resume.
Iowa Tops Florida State To Seal The Challenge
The ACC/Big Ten Challenge came down to the last game, which was this one. And it ended up in overtime after Iowa bungled their final offensive possession in regulation. In overtime, the game came down to a pair of Xavier Rathan-Mayes slips on the court. The first time he slipped, the refs bailed him out with a foul, and he hit one of two free throws to put Florida State up by 1 with 42 seconds to go. But after Peter Jok hit a three-pointer to put Iowa back in front, the second Rathan-Mayes slip did not get a bailout call, and Jarrod Uthoff was able to hit four straight free throws down the stretch to seal the win for both Iowa and the Big Ten Conference.
Peter Jok has emerged as more of a scoring force this season, and he led all scorers with 24 points here, including the three-pointer that put Iowa in the lead for good. As a whole, Iowa has quietly been a very good team early on this season. They haven't gotten the credit for it in the human polls yet, but eventually they're likely going to work their way into the Top 25.
Florida State drops to 0-2 against the Pomeroy Top 150. They are playing better than that stat would suggest, but they just haven't been able to win a close game yet. The Seminoles have a tricky game against VCU coming up on Sunday.
Utah Wins An Ugly Game Over BYU
Utah led this game by 24 points in the first half, but it was all downhill (for both teams) after that. On one hand, Utah nearly blew this game, allowing BYU to get as close 6 points. And on the other hand, BYU got dirty, making the game overly physical, and culminating with this from Nick Emery:
Nick Emery Flagrant Two foul on Brandon Taylor - ESPN Video
It will remain to be seen how all of the extra-curriculars in this game will be dealt with and if more players than Emery will end up suspended (assuming Emery is suspended), but the bigger problem for BYU really is that they just haven't been that good so far this year. There's no shame in a loss at Utah, but they also lost at Long Beach State, and their best win has come at home over Belmont. The margin for error just isn't very big for WCC teams, so they can't afford to let too many non-conference chances slip away.
In an ugly game, the one bright spot was Jakob Poeltl, who had another monster game (26 points on 11-for-16 shooting with 13 rebounds and 5 blocks). He was a defensive monster as a freshman last season, but this season he has added a much more complete offensive game, and is quietly a player who should be in contention for National Player of the Year. He's taken the step forward you want to see of a future NBA Draft lottery pick in his sophomore season. And with Arizona losing Kaleb Tarczewksi for at least a couple weeks of the Pac-12 regular season (and perhaps more), is the door possibly opened for Utah to win the Pac-12?
Tulsa Bounces Back
After two straight losses, including an ugly home loss to UALR, Tulsa needed a win here, and they got it. And this is a nice win, coming on the road against a likely bubble team. That said, the real story of this game was the continued absence of the injured Phil Forte. Forte has attempted more than six three-pointers per game over his college career and hit them at a 39% clip. Without Forte, Oklahoma State as a team shot 2-for-19 behind the arc here. The Cowboys only scored 0.89 PPP overall.
A game against Oregon State is Tulsa's only remaining game against a realistic RPI Top 50 opponent before AAC play begins, though they will get plenty of chances to build their at-large resume in conference play. They will have home-and-homes with UConn, Cincinnati, and SMU.
Oklahoma State, in contrast, hasn't played at all like an NCAA Tournament team this far this season. Getting Forte back will obviously help quite a bit, but even if they win every single non-conference game remaining they are still going to enter Big 12 play without a strong non-conference resume. The Big 12 is really strong, though, so a 10-8 or better conference record probably gets the Cowboys into the NCAA Tournament regardless of what they have done so far.