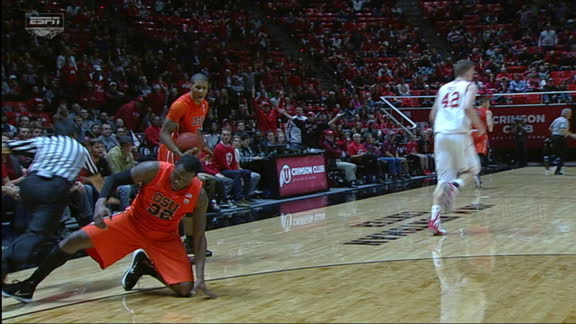 wut
Wisconsin Finally Steals A Win
All four of Wisconsin's Big Ten losses had come by six points or fewer, and they were desperate to finally win a close game. And it looked like they were going to lose another game due to a late cold shooting stretch, as they failed to hit a shot from the field between 7:58 and 0:28 to go. But they overcame Michigan State's dominant rebounding (they rebounded 47% of their misses, compared to 28% for Wisconsin) with a tight whistle (28 Michigan State fouls led to a 36-to-16 advantage in attempted free throws). Michigan State got themselves caught in a trap and turned it over, giving Wisconsin the chance to take the lead. This is what happened next:
Wisconsin needed a win like this to get back into the bubble conversation. They have wins over VCU and Syracuse, along with bad losses to Western Illinois, Milwaukee, and Marquette. Their RPI is 90th, but they'll be able to get that number up near 50th if they can get to 10-8 in Big Ten play, which realistically is where they need to get to have a shot on Selection Sunday. They enter a crucial stretch, as Pomeroy has their win percentage in each of their next three games between 49% and 55% - these are the types of toss-up games they need to win to make up ground.
There is going to be some panic over Michigan State over two straight losses, but you can't think that way. The difference between a 1 point win and a 1 point loss here matters for the standings and for their resume, but it doesn't say much about how good this team will be in the future. A more real concern is the availability of Tum Tum Nairns, who
missed this game
and will likely miss a few more games. But Michigan State might have the deepest roster in the nation, and their upcoming schedule is more favorable. They should be able to get back on track.
Virginia Falls Again
Virginia's paint defense has not been the same this season, and they were exploited yet again by Florida State. 12 of Florida State's 15 made two-pointers came in the paint, and they worked their way to the line for 26 free throw attempts. The Seminoles scored 1.05 PPP, meaning that all five ACC opponents have scored greater than 1 PPP against Virginia, after they allowed just 0.88 PPP in ACC play last season.
The silver lining for Virginia is that a big part of this loss was just poor jump shooting. They hit just 27% of their jump shots. Despite this slide in ACC play, they are still rated 9th in Pomeroy and 15th in the Sagarin PREDIDTOR. Their ACC title hopes are probably doomed, but they are still likely heading for a strong NCAA Tournament seed in the 2-4 range.
Florida State has gone in large part with the ups and downs of Dwayne Bacon this season, and he led the Seminoles in both points (18) and rebounds (9) here. This win could be crucial for a team that might end up on the bubble in March. For now they have wins over Virginia, VCU, and Florida, along with a bad loss to Hofstra. If they can get to 10-8 in ACC play, they should be safe for an at-large bid.
Oregon State Loses After A Moment Of Madness
This game was a classic Bubble Battle. Both of these teams are very likely to be on the bubble in March. And this game was tied with 3 minutes to go when Jarmal Reid lost his mind and did this:
Reid was right in his initial disapproval of the foul, but that doesn't matter. That technical cost his team a crucial point and possession of the ball, and gave Utah their first lead of the game. It will also lead to what you have to assume will be a multi-game suspension. His team drops to 2-3 in Pac-12 play with a crucial home series against the Los Angeles schools up next, before the Arizona road trip.
Utah had lost three of four to open up Pac-12 play after a strong non-conference performance that included wins over Duke and Texas Tech with zero RPI 50+ losses. Considering the strength of the Pac-12, the Utes should be in great shape on Selection Sunday if they can get to 10-8 in conference play. They head on the trickiest road trip in the Pac-12 next: The Washington trip. It's tricky because both games will be close to toss-ups, but any loss will be a "bad loss" and they'll get no credit for winning. Those are not the types of trips conducive to building an at-large resume.
Iowa Continues To Roll
Iowa showed no letdown after their great road win at Michigan State. Michigan was shorthanded here, still missing Caris LeVert, but this Michigan team had just knocked off Maryland without him. Iowa needs to hit jump shots, and they hit 10-for-22 behind the arc here. Jarrod Uthoff, who is getting himself on the periphery of the National Player of the Year discussion, led all scorers with 23 points.
At this point, Iowa probably is the favorite for the Big Ten regular season title. They have a huge game to stay in that position next Sunday, when Purdue comes to Iowa City. Michigan, meanwhile, will hope to finally get Caris LeVert back, but they head into a much easier stretch of schedule. Minnesota, Nebraska, Rutgers, and Penn State are their next four opponents.
Colorado Tops Oregon
After tying this game up with just over 4 minutes to go, Oregon failed to hit a shot on their next four possessions. Colorado hit enough free throws down the stretch to hold on. Free throws were key all night, as Colorado had a 14 point advantage at the line, allowing them to overcome hot 12-for-21 three-point shooting from Oregon. They Ducks got 4-for-8 three-point shooting from Tyler Dorsey (including two in the final minute as Oregon was trying to catch up). Colorado got a nice balanced effort, with three different players scoring in double figures off the bench.
Colorado looks like a prototypical bubble team, so this win could be crucial in March. They have no bad losses, but this is their first win against an opponent likely to finish inside the RPI Top 50. They should get several more Top 50 wins in conference play, and their win-loss record will be good, so the difference on Selection Sunday will come down to a strong conference record and a strong RPI. Those goals go hand-in-hand, as a 10-8 Pac-12 record will likely give them an RPI close to 40th, which should get them in.
Oregon falls to 3-2 in Pac-12 play with a key week coming up, at home against the two Los Angeles schools. A sweep would keep them on pace for a strong seed, but a loss or two, with the Arizona road trip up next, could start making the Oregon at-large resume look a little shaky.