Conference USA
There probably isn't a lot of doubt over who is going to win Conference USA next year. The race could be put in doubt, however, if the NBA takes too many players away. The Tigers lose All-American Rodney Carney to graduation, but their next 8 players in terms of minutes per game and points per game were all freshmen and sophomores last year. The two best, however, are both testing the draft waters - Darius Washington, Jr. and Shawne Williams. For now, this prediction will assume that both of those players stay, and Memphis will also bring in an excellent recruiting class due to the fact that the city of Memphis had an inordinate number of top high school players this past year. John Calipari landed many of them, including Willie Kemp (rated the 6th best point guard in the nation by both Scout.com and Rivals.com), Pierre Niles (rated the 94th best player in the nation by Rivals.com), and Tre'von Willis (rated the 37th best shooting guard in the nation by Rivals.com). Memphis is clearly built for the future, and should run away with Conference USA.
The key challenge to the Tigers will by UAB, which will dearly miss its constantly-pressing coach Mike Anderson. The Blazers lose their top two scorers in Marvett McDonald and Demario Eddins, but still return pretty good talent at most positions. They also have a very deep recruiting class, with no real studs, but four three-star players (as rated by both Scout.com and Rivals.com). Rivals.com actually names the Dragons as the 23rd best recruiting class in the country. There should be a very large drop=off, however, to the next teams in CUSA. UTEP was very senior laden last year, and loses its top four starters. Houston returns much of its most talented players, but a huge key to whether they can compete for an at-large bid could be whether rising-sophomore Lamar Roberson (5 ppg, 2 rpg, 1 bpg) takes it to the next level with his inside game. Of course, they're only playing for third with Memphis and UAB running away with this conference:
1. Memphis
2. UAB
3. Houston
4. Tulsa
Mid-American Conference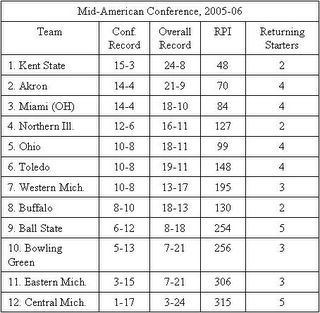 Kent State won a solid MAC this past year, but could be in for a long year after the loss of their three top scorers. Omni Smith (8 ppg, 2 rpg, 1 apg) needs to become a real star for the Golden Flashes to compete at the top of the conference next year. With Kent State probably out of the picture, the next team in the pecking order appears to be Akron, which returns a ton of excellent guard play and their top 5 scorers and passers from the past year. The biggest problem for the Zips will be inside, where they graduate their only two centers and with no stud-recruits with size. This puts even more pressure on 6'7" Romeo Travis (14 ppg, 7 rpg, 52% shooting) to dominate inside. Another team returning four starters is Miami of Ohio, although their one loss is leading scorer William Hatcher (14.3 ppg).
There are other teams to look out for in the MAC. The Ohio Bobcats could finally be ready to take the next step after falling under all the pressure of being the chic sleeper pick this past year. They lose leading scorer Mychal Green (12.7 per game), but return every other key player. Expect them to be fighting for the lead in the tough East division of the MAC. As always, senior-heavy teams have a huge advantage, and there are two such teams in the MAC that should be considered sleepers - Toledo and Ball State. Meanwhile, Western Michigan will have a junior-heavy team, and also features the top recruiting class in the conference (including David Kool, one of the top 5 rated guards out of the state of Michigan). Expect them to be in the thick of things in 2008, but for now Akron should be considered the preseason favorites to win the MAC:
1. Akron
2. Miami (OH)
3. Ohio
4. Toledo
5. Kent State
Missouri Valley Conference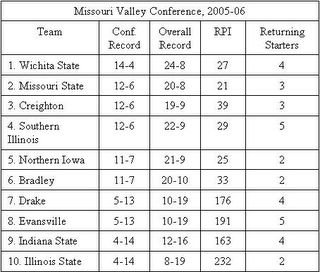 The Missouri Valley Conference was the darling of the Big Dance in '06, and is looking forward to the chance to prove that it's really becoming a major conference now and in the future. The conversation for next year obviously starts with the defending champs, Wichita State. They return four starters, but the bigger issue is their one loss - star center Paul Miller (13 ppg, 7 rpg). With not too much size remaining on the roster, the Shockers may depend on star recruit Arbry Butler of Arkansas. The other Sweet 16 team from the MVC is hit even harder, as Bradley loses three of its top four scorers to graduation (a combined 39.2 ppg). It could get even worse if their best player, 7-foot center Patrick O'Bryant (13 ppg, 8 rpg), decides to go pro. In other words, the two most successful teams in '06 will probably be making way for other Missouri Valley teams in '07. At the top of that list could be Southern Illinois, which probably returns the most talent of any team in the league. They return their top nine scorers, and are led by rising-senior guards Jamaal Tatum (15 ppg, 3 rpg, 3 apg) and Tony Young (12 ppg, 2 spg, 84% FT shooting, 38% 3-point shooting).
Two other teams returning a lot of talent in the MVC will be Missouri State and Creighton. Missouri State will be led by star guard Blake Ahearn (16 ppg, 3 apg, 94% FT-shooting). Creighton loses star Nate Funk and his 16 points per game, but returns center Anthony Tolliver (13 ppg, 7 rpg, 2 bpg) while bringing in a solid recruiting class that features guard Isaac Miles and power forward Kenny Lawson. Of the teams that didn't make the tournament this past year, the most likely to break out is Evansville, which returns its top 5 scorers and top 6 rebounders. All in all, no one should expect the Missouri Valley to be as good next year as it was this past year. However, the conference's success should put them in good position to nail a few at-large bids again, as the selection committee won't shy away from bubble teams just because they're not from one of the traditional power conferences. Southern Illinois is the most likely team to not need the at-large bid in the MVC, but expect the conference to be clogged at the top yet again:
1. Southern Illinois
2. Wichita State
3. Missouri State
4. Creighton
5. Northern Iowa
6. Evansville
7. Bradley