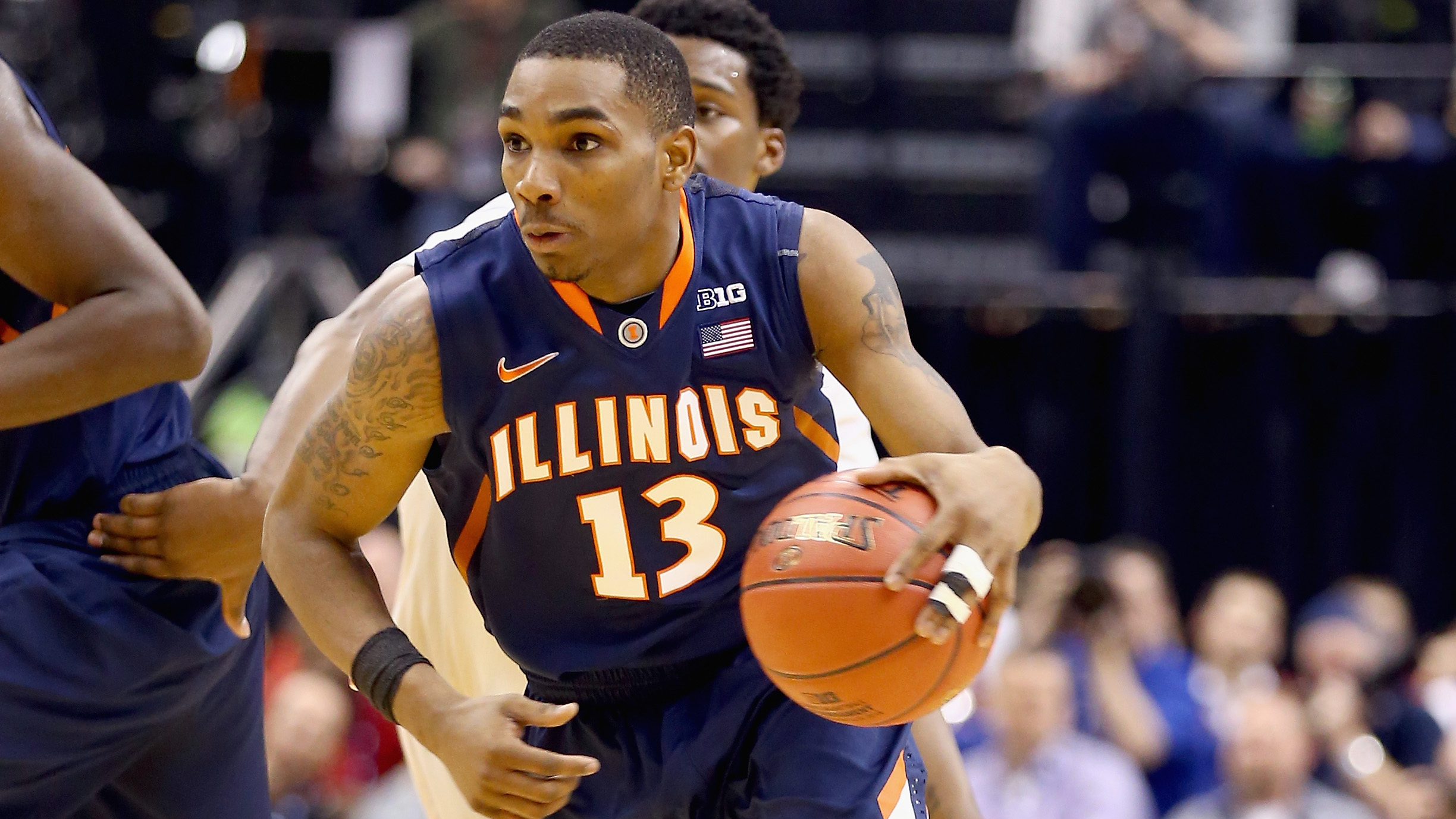 Tracy Abrams will be watching the 2014-15 season from the bench.
It's not a particularly eventful time of year, but it's time to catch up on some news from the last couple of weeks. The Tracy Abrams news, in particular, is really significant. College basketball doesn't ever register nationally in mid-September, but you'll be glad you knew about this news when November rolls around.
Tracy Abrams Gone For The Season
Illinois was primed for a really nice season. John Groce has a trio of transfers getting eligible in order to make this perhaps the most talented Illini squad since 2005-06 (the last season of Dee Brown and James Augustine). But a torn ACL for Tracy Abrams will be a significant blow. Abrams is no All-Big Ten player, but he has been the starting point guard for the Illini in all three of his seasons on campus, and the team does not have an obvious point guard replacement.
The best option for the Illini at the point might be Ahmad Starks, one of the incoming transfers (from Oregon State). Groce might choose to abandon a traditional point guard role altogether. Either way, this is really tough news for a program that hasn't made a Sweet Sixteen since 2005.
Martez Walker Suspended
With all of the focus on domestic abuse this past week in the NFL, Texas guard Martez Walker picked a bad time to allegedly beat up his girlfriend (not that there's ever a good time to beat up your girlfriend). For now, Walker is just suspended indefinitely, and it might be some time before we get a more concrete timeline for his return.
Martez Walker is far from the most important player on the Texas roster (as a freshman this past season he averaged 4.7 points and 2.3 rebounds per game), but I've
talked before
about the gratuitous depth Texas has in the front court and their thin backcourt. They really don't need Walker to be gone for a significant period of time.
Miami's Davon Reed Out For 4-6 Months
Davon Reed will not return until conference play, and could miss most of the season for the Hurricanes. Reed didn't do a ton as a freshman (6.6 points per game), but he is a talent who was expected to play a significantly bigger role this coming season. In my
most recent bracket projection
, I had Miami in the Field of 68 but not by much (a 10 seed). An offseason injury is always bad news for a potential bubble team.
Michigan State's Kenny Kaminski Heading To Ohio
The off-court issues that forced Tom Izzo to kick Kenny Kaminski off the Michigan State roster are a concern, but Kaminski is more talented than the type of player that Ohio normally lands. If he can keep focused on basketball, he can be a significant asset in the MAC. Kaminski will likely have to sit out next season, but next season is going to be all about rebuilding for new Ohio head coach Saul Phillips anyway.