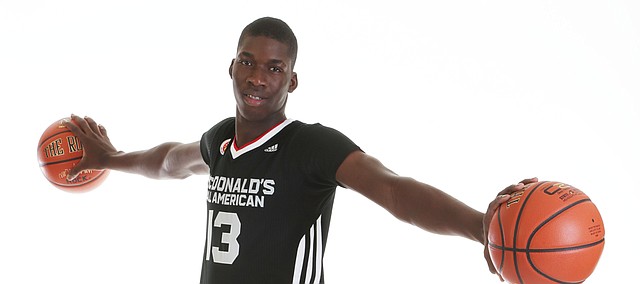 Cheick Diallo makes Kansas a plausible preseason #1 team in the nation
We're finally done with NBA Draft decisions, but there are still a few big prospects available for offseason additions, and I'm going to start today's Morning News post with some of those:
Cheick Diallo To Kansas
We entered yesterday with two consensus Top Ten recruits left available, and one of them was taken off the board. Diallo chose Kansas over Kentucky and other schools, and he gives Kansas another exciting front court option. Aside from Perry Ellis, the other Kansas front court returners were relatively mediocre this past season (Landen Lucas, Jamari Traylor and Hunter Mickelson), but Diallo joins Carlton Bragg in the 2015 recruiting class to give Bill Self a ton of options. Kansas will likely be the Big 12 favorite again next season, and with teams like Virginia and North Carolina suffering NBA defections you can make the case for Kansas being in the mix for #1 in the country preseason.
Brandon Ingram To Duke
The 6'8" forward joins Duke just a few days after they added Derryck Thornton, giving Coach K two new blue chip recruits to replace his one-and-done defections. Duke's only front court returners are Marshall Plumlee and Amile Jefferson, but Ingram joins 6'10" blue chip recruit Chase Jeter as well as 6'9" Sean Obi (11.4 points per game for Rice in 2013-14). That is five good options, which will be plenty for Coach K. Teams with so many new pieces are always a bit of a question mark, so it's tough to project Duke ahead of Virginia and North Carolina, but the Blue Devils will have to at least be a part of the preseason ACC title conversation.
Malik Newman Selects Mississippi State
This was already a poorly kept secret when I did my last Morning News post, but it's official now. We knew that Ben Howland was going to have to completely rebuild this Mississippi State roster, and this is his first big signing. The McDonald's All-American chose the Bulldogs over schools like Kentucky and Kansas. That said, one stud recruit by himself doesn't make this an NCAA Tournament team. This is just the first big piece of what will probably be several as Ben Howland gets comfortable in Starkville.
Nick Nostkowiak To Iowa State
Nostkowiak originally committed to Marquette when Buzz Williams was there. A point guard, Nostkowiak will presumably be the backup to Monte Morris next season. But he's good enough that he should play significant minutes off the bench as a true freshman, despite Iowa State's perimeter depth. And while I doubt too many will pick Iowa State preseason to win the Big 12 (I currently have Kansas as the projected favorite), the Cyclones will certainly be in the mix.
Mychal Mulder To Kentucky
John Calipari only has three high school players signed in his 2015 recruiting class (though two of the three are McDonald's All-Americans), but he added a big Juco recruit here in Mychal Mulder. Mulder is a shooting guard and will presumably be a contributor off the bench this coming season. It's not a program-changing addition, but after losing seven guys to the NBA Draft the fact is that Kentucky needs depth. And Calipari still has at least three more scholarships to hand out, though the options available are starting to dry up.
Sterling Gibbs Leaves Seton Hall
This seemed inevitable, even after Sterling Gibbs insisted he was coming back for another season. It's no secret that stud 2014 recruit Isaiah Whitehead and the other freshmen in that 2014 recruiting class clashed badly with the upperclassmen this past season. Gibbs and Whitehead visibly yelled at each other on the court, and Jared Sina transferred out even before the season came to a crashing halt. Gibbs is a stud, though, and is good enough to be a key player on any roster. He'll be highly sought after on the transfer market. Meanwhile, Isaiah Whitehead had better turn into a star next season, or he's likely going to get Kevin Willard fired.
Eli Carter Leaves Florida
It's been a tumultuous offseason for Florida, and it could get worse as the rumors swirl about Billy Donovan and the Oklahoma City Thunder job. Eli Carter seemed to always be carrying an injury at Florida (after originally transferring from Rutgers), but when he played he was a key contributor. The Gators now only return two backcourt scholarship players with playing experience at the Division I level (Kasey Hill and Chris Chiozza). Brandone Francis and KeVaughn Allen give them two talented backcourt additions, but the Gators are likely going to lack offensive playmakers unless Kasey Hill can develop an outside shot this summer.
Mark Tollefson To Arizona
Arizona has gotten in the graduate transfer game, picking up 6'9" Mark Tollefson from San Francisco. Tollefson led San Francisco with 14.0 points per game, and with a 38.9 3P% and a 60.3 eFG% he has the outside shot to be a an efficient (if likely low-usage) scorer in the Pac-12. He joins Ryan Anderson, Dusan Ristic and Kaleb Tarczewski to give Arizona now four proven front court players. 6'10" Charles Comanche and 6'8" Ray Smith also join as part of their 2015 recruiting class. Arizona was already the Pac-12 favorite, and this addition just means that the gap between them and the field is growing.
Shannon Evans Chooses Arizona State
This always seemed to be the likely destination for Shannon Evans, who decided to leave Buffalo after head coach Bobby Hurley took the Arizona State job. Evans will have to sit out the 2015-16 season, but he'll be a key player for the Sun Devils for the two seasons after that. It will be interesting to see how Evans is balanced with Tra Holder, the incumbent starting point guard for Arizona State, who also will have two seasons of eligibility left after 2015-16.
Anthony Collins Joins Texas A&M
Collins was South Florida's starting point guard this past season, and he'll be eligible immediately to use his final year of eligibility. And he's a good fit with a Texas A&M team that is likely heading to the NCAA Tournament. Collins will likely take the starting point guard job next season. Alex Caruso was something of the de facto starting point guard this past season, though he's not really a pure point. Alex Robinson is more of a true point guard, but he was awfully inconsistent as a true freshman. Collins will lock that position down.
Jernard Jarreau Leaves Washington
Jarreau was not a big scorer, but he started 21 games this past season as Washington's best defensive big man aside from Robert Upshaw. With Nigel Williams-Goss already gone as a transfer, this has been a fairly bleak offseason for the Huskies, who seem unlikely to make a serious at-large run next season.
Tulsa Adds Junior Etou
Once a hyped prospect, Etou was relatively ineffective despite starting 31 games for Rutgers this past season. He will hope to turn things around at Tulsa. He'll have to sit out the 2015-16 season, but it's the 2016-17 season where he'll be needed anyway. Tulsa's top seven minute earners this past season were all juniors, so they're going to be stacked for a tourney run next season but will be in desperate need of reinforcements the year after.
Manhattan Adds Zavier Turner
Turner will not be eligible for 2015-16, but he is a significant addition. He earned MAC Freshman of the Year honors at Ball State after averaging 12.1 points and 3.7 assists per game. It's expected that Tyler Wilson will move into Manhattan's starting point guard role in 2015-16, but he'll only have one more year of eligibility after that, so Turner is likely Manhattan's starting point guard of the future.
Memphis's Nick King To Alabama
Nick King averaged 7.2 points and 4.8 rebounds per game off the bench for Memphis this past season. He'll have to sit out the 2015-16 season, but has a real chance to be a starter with two years of eligibility remaining to start 2016-17. Nobody expects anything of Alabama in Avery Johnson's first season, but he is starting to put together his 2016-17 roster.
Tennessee Picks Up Ray Kasongo
Kasongo was originally an Oregon commit, but was denied admission and had to go the Juco route. Rick Barnes didn't have a ton of scholarships to work with, but I believe he still has one left, as he tries to put together a roster that could plausibly earn an at-large bid in his first season.