This is the first installment of the Mid-Major previews. These will be more in-depth than the Small conference previews, specifically because these conferences will be vying for at-large spots. As such, the previews will go several spots deep. The number of spots that will be predicted will depend on how many at-large spots the conferences will be attempting to get (in other words, the Missouri Valley will have more spots listed than the West Coast Conference). The stats are all the same as in the Small Conference previews: Conference records are regular-season only. Overall records and RPI ratings are against D-I teams only, and include all tournaments except for the NCAA and post-season NIT. The Returning Starter category defines a "starter" as one of the five players with the most minutes played per game. This stat does not account for players who may start games but get less minutes than their replacement, or players who may go pro early. All of that is done for consistency, so all stats in the Excel tables are purely objective, without needless speculation. With that said, let's start again at the bottom of the alphabet with the MWC, WCC and WAC:
Mountain West Conference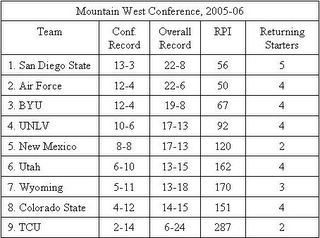 From the looks of the above Excel table, San Diego State seems to be in excellent shape. The team had an excellent season, running through a very strong MWC, with their five top minute-per-game men all returning. But that, of course, ignores the NBA draft, which could decimate the Aztecs. Star forward Marcus Slaughter (17 ppg, 11 rpg) has signed with an agent and will not be back for his senior season. Meanwhile, leading scorer (and Mountain West player of the year) Brandon Heath has announced that he is "testing the waters" of the draft. For now, these predictions will assume that Heath will return for his senior season. If he decides to go, however, San Diego State's Mountain West ranking will drop in the next set of predictions. That said, San Diego State still has some pieces left to try to repeat as conference champ. A key player for them will be Mohamed Abukar (14 ppg, 5 rpg, 49% shooting), and how well he can fill in for Slaughter.
A key opponent for the Aztecs will be Air Force, which had an outstanding defense this past year under first-year coach Jeff Bzdelik. The Falcons lose their best player in Antoine Hood to graduation (15 ppg, 4 rpg, 3 apg), but return all of their other key players. They should feature four senior starters next year, and experience is always so important in winning a conference title. Along with a pretty solid recruiting class (no stars, but a lot of decent quality and size), the Falcons could be the team the beat come the winter. Unfortunately for the Falcons, there will be a bunch of other teams that will see improvement next year. BYU returns a lot of experience as well, although the key could be 6'11" rising-sophomore star Trent Plaisted (14 ppg, 7 rpg, 52% shooting). UNLV loses its best player in Louis Amundson (14 ppg, 9 rpg), but brings in an outstanding recruiting class of guards, featuring Marcus Lawrence (ranked the 14th best point guard in the nation by Scout.com) and Troy Cage of Louisiana. Another team on the rise is Utah, which has a very good young core in rising-junior Johnnie Bryant (13 ppg, 3 rpg, 83% FT shooting) and 7'1" rising-sophomore Luke Nevill (12 ppg, 7 rpg, 53% shooting), as well as star recruit Daniel Deane (ranked as one of the top 35 power forwards in the nation by both Rivals.com and Scout.com). Finally, a sleeper team might be Colorado State, which received a break when star 7'0" center Jason Smith (16 ppg, 7 rpg, 2 bpg) opted against heading into the NBA draft. That means that the Rams will return their top 7 scorers from this past year. That said, Air Force probably has the best coach in the Mountain West and probably has too much experience and talent to not win the conference next year:
1. Air Force
2. BYU
3. Utah
4. San Diego State
5. UNLV
6. Colorado State
West Coast Conference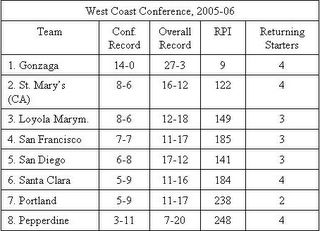 The big question for Gonzaga is how they will replace Adam Morrison who, presumably, will leave school early to go pro. They also need to replace J.P. Batista, who was an integral part of their NCAA run. So, a lot of pressure will fall on the top remaining inside players, Sean Mallon (7 ppg, 5 rpg, 51% shooting) and 6'11" Josh Heytvelt (9 mpg, 3 ppg, 2 rpg, 1 bpg). A key addition, therefore, will be 7'1" Will Foster, rated by Scout.com as one of the top 10 seniors in the state of Washington. The strength of the Zags, however, will be at the guard position. Rising-senior Derek Raivio (11 ppg, 3 apg, 2 spg, 91% FT shooting) and rising-junior Pierre Marie Altidor-Cespedes (4 ppg, 3 apg, 48% shooting) lead a backcourt full of talent. In addition, the Zags have an outstanding recruit in guard Matt Bouldin, rated by Scout.com as the 9th best shooting guard in the nation, and by Rivals.com as the 45th overall prospect in the country. As for the top competition for the Zags, it could be St. Mary's, which finished 2nd in the conference despite fielding a very young team. Brett Collins (12 ppg, 4 rpg, 46% shooting) and Diamon Simpson (8 ppg, 7 rpg, 2 bpg) will lead the young Gaels. A key could be if they can get improved play from their set of 7-footers, Reda Rhalimi and Blake Sholberg. With no big-time recruits, however, it's hard to imagine St. Mary's taking this title away from a Gonzaga team that will continue to be very talented.
Another team that could be improved next year will be Loyola Marymount, which came close to pulling the upset over Gonzaga in the WCC tournament finals this past year. They will be led by 6'8" Matthew Knight (16 ppg, 10 rpg, 52% shooting), who could give them enough size to hang with Gonzaga on the inside. Another good team will be San Francisco, which returns its two best players in Armondo Surratt (14 ppg, 3 rpg, 5 apg) and Alan Wiggins Jr. (14 ppg, 8 rpg, 2 bpg, 53% shooting). The Dons also managed to sign one of the top forwards from the state of Tennessee, Joe Watkins. Another team that could appear on the radar will be Pepperdine, energized by the signing of Blake Wallace, rated by Scout.com as the 23rd best small forward in the nation. Add him to their outstanding freshman class that was led by Michael Gerrity (14 ppg, 3 rpg, 3 apg, 2 spg), and the Waves will be a team ready to contend by 2008. For now, however, the predicted top of the WCC should be:

1. Gonzaga
2. St. Mary's
3. San Francisco
4. Loyola Marymount
Western Athletic Conference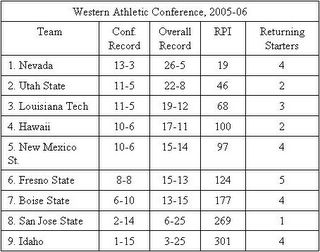 The WAC had a real bottleneck at the top in 2006. In the end, Nevada was the class of the field, and would be in excellent shape if Nick Fazekas sticks around for another year. Unfortunately for the Wolf Pack, that's probably wishful thinking. So, Nevada will need big improvement out of 6'9" forward Demarshay Johnson (5 ppg, 4 rpg, 55% shooting) if they are going to try to replace Fazekas. They might also receive help from an excellent recruit, 6'8" Matt LaGrone of California. Utah State also had a very good year, earning one of the last at-large bids to the tournament. Unfortunately, they lose a lot of size with the graduations of Nate Harris and Cass Matheus (combined 13.7 rpg). The Aggies, therefore, will depend on good guard play from Jaycee Carroll (16 ppg, 4 rpg, 3 apg, 45% 3-point shooting) and David Pak (8 ppg, 5 apg), as well as several good recruits. Those two teams could receive solid competition from a New Mexico team that had a top-100 RPI despite having a very young roster. The Aggies (I don't think someone thought this out before inviting Utah State to join the conference last year) will have a lot of size, featuring Tyrone Nelson (18 ppg, 9 rpg, 55% shooting). They will only get better on the inside, with the signing of Hatila DeSouza, the top-rated center from the state of Arkansas.
Those are not the only teams that will compete for the conference title, however. A lot of teams will be improved next year, and we could have another bottleneck. Louisiana Tech returns star Paul Millsap (19.6 ppg, 13.3 rpg - the national leader), who will be paired with an excellent Juco transfer, 6'10" center Shawn Taylor. This is, of course, assuming that Millsap returns for his Senior year - if he goes pro then Louisiana Tech will have a precipitous drop in the next WAC rankings. A final team to look for will be Fresno State, which returns its entire roster, including star forward Quinton Hosley (19 ppg, 9 rpg). In the end, look for the senior-heavy Louisiana Tech Bulldogs to be the early favorites to steal the conference title from Nevada, but also look for several teams to contend for at-large spots:
1. Louisiana Tech
2. Nevada
3. Fresno State
4. New Mexcio State
5. Utah State