Big West Conference
Pacific has been the Big Dog in the Big West for a long time, but they might struggle at points next year. Their three leading scorers from this past year (as well as the only three players to average over 30 minutes per game) will all graduate, so next year's team should be expected to be weaker than the team that took Boston College to double overtime. The next team in line, however, will not be the reigning runner-up, UC Irvine. That team also loses its top two scorers. Cal Poly, on the other hand, is poised to make a serious run at a conference title. A school not necessarily known for its basketball team will return 11 of its 12 top scorers, including Derek Stockalper (13 points, 7 rebounds, 41% from 3-point last year). Without a doubt, the Mustangs will be improved in '06-'07. The only problem is that even a substantial improvement might not be enough. Their RPI of 278 is too far away from a conference title, even in a weak conference like the Big West. They had zero victories over teams in the RPI top 150 all year. So, while Cal Poly will be better, they probably will not pose a threat to Pacific. So, if none of those teams are going to win the conference - who will it be? The best answer is Long Beach State. Led by rising-senior Aaron Nixon (15 points, 5 rebounds, 3 assists per game), the team is going to be extremely senior heavy. The team's top nine scorers and rebounders will all be seniors next year. That's not a typo - the top
nine
. In other words, this team is going to have a ton of experience, and a pretty good core of talent for a Big West squad. The
Long Beach State
49ers ended 2006 on a roll, and should carry that momentum all the way through next year to the Big West title.
Horizon League
The Wisconsin-Milwaukee program, built by Bruce Pearl, has had a great run in the past few years. But as with most runs, this one is probably coming to an end. They lose all five starters to graduation, and will be in a re-building mode next year as they attempt to prove that they can win without Pearl's kids. The logical heir to the Horizon crown is Butler, a top 100 RPI team this past year which received an at-large bid to the NIT where the Bulldogs knocked off Kent State. They lose three starters but will still have excellent talent at the guard position. Rising-junior A.J. Graves (13 ppg, 2 apg, 82% FT shooting) could be a star, Bruce Horen and Avery Sheets both return 10+ points per game, and the Bulldogs also signed three excellent high school guards. If they can get some production out of rising-senior center Brian Ligon (6'7", 245 pounds, 2 ppg, 3 rpg), they could be tough to beat. Three other teams that could threaten for the title are Loyola Chicago, UW-Green Bay and Wright State. Both Loyola and Wright State return their best player - Blake Schlib (19 ppg, 5 rpg, 4 apg, 47% shooting) and Dashaun Wood (18 ppg, 5 rpg, 5 apg, 2 spg), respectively. UW-Green Bay returns even more, having zero seniors on the roster this past year. A perennial contender in the Horizon league, Green Bay was clearly in a rebuilding mode this past year. Rising-senior point guard Ryan Evanochko (16 ppg, 4 rpg, 5 apg) will lead the team's young core back towards the top of the conference, but they probably don't have enough talent to pull off the win in 2007. Their outstanding freshman class this past year should be confident about winning a conference title before they graduate. Until then, however,
Butler
gets the nod as the preseason favorite.
Ivy League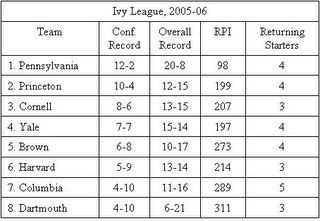 UPenn dominated the Ivy League yet again in 2005-'06, so the question is whether anyone can challenge them in 2006-'07. Eric Osmundson (10 ppg, 3 apg) will be missed, but Penn hangs on to the best player in the Ivy League, Ibrahim Jaabar (18 ppg, 3 spg, 53% shooting, 38% 3-point shooting), for one more year. In addition, the Quakers add the two highest-rated recruits in the Ivy League, power forwards Justin Reilly and Andreas Schreiber, who should allow Penn to dominate in the low post. Their chief competition, as per usual, will be Princeton. Though the Tigers lose their top scorer (Scott Greenman - 10.8 ppg), that's not so important in a Princeton-style offense. The Tigers have so many interchangeable parts that they actually return eleven guys who averaged 2.0 points per game or more this past year. If Noah Savage (10 ppg, 37% 3-point shooting) can get loose on the outside, Princeton could possibly get around Penn's superior size. Battling to get towards the top will be the other usual suspects, such as Harvard and Yale. Brown could be a darkhorse team with an outstanding rising-junior class led by Keenen Jeppesen and Damon Huffman (both averaged 11 ppg). But none of that should affect the winner of the conference, which is more than likely going to be
Pennsylvania
, with its superior talent and size. This past year was a down year for the Ivy League, but with so many top players returning the league should be better in 2007. Expect Penn to be a real tough out in the first round of the '07 tournament.
Metro Atlantic Athletic Conference
Any discussion about the MAAC conference begins with Iona and Manhattan. Manhattan won the regular season crown in 2006, but Iona was probably the better team, while giving a good name to the MAAC with some good out-of-conference games (including wins at Iowa State and Fresno State). Unfortunately for the Gaels, they were a very senior-heavy team in 2006. They lose four key starters and need backups like Gary Springer (6 ppg, 5 rpg, 49% shooting) and Jon Kelly (7'0", 270 pounds, 2 ppg, 1 rpg, 61% shooting) to rise up with their new playing time if Iona is going to get back to the tournament. Manhattan, on the other hand, is not hit nearly as hard by graduations. Jason Wingate will be a tough loss, but the team should be in good hands with the outstanding rising-junior class of C.J. Anderson, Jeff Xavier and Arturo Dubois (all averaged 15.0+ ppg). The only issue for Manhattan should be ball-handling, with their two top point guards (Wingate and Kenny Minor) leaving for graduation. If anyone is going to crash the two-horse race, the most likely candidate will be the third-best team in 2006, Marist. Returning all four players averaging double-digits in points per game means that they'll be able to score. A key could be whether 7-footer James Smith (12 ppg, 6 rpg, 1 bpg, 50% shooting) can become a real force inside. Another team to watch for will be Siena, which loses top scorer Antoine Jordan (17.1 per game), but returns every other player on the roster. Meanwhile, they sport what is probably the top recruiting class in the MAAC, highlighted by 6'7" forward Edwin Ubiles. That said, there's nothing to suggest that this conference is going to leave the hands of Manhattan Coach Bobby Gonzalez and Iona Coach Jeff Rulen. With the most returning talent, expect
Manhattan
to be the preseason favorites to win the MAAC conference in 2007.