Atlantic Coast Conference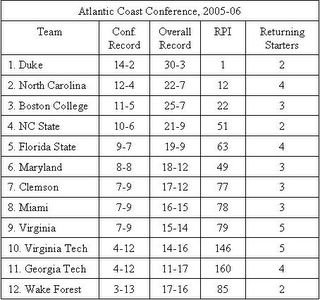 Looking around the Internet, the most popular preseason ACC pick is North Carolina, and it's not hard to figure out why. The Tar Heels were one of the top teams in the nation for the last month or two of the season before having their tournament derailed by the juggernaut that was George Mason. And they return six of their top scorers, including All-American Tyler Hansbrough. The Heels also bring in a draft class considered by both Scout.com and Rivals.com to be the best in the nation. That class includes three McDonald's All-Americans - Brandon Wright, Wayne Ellington and Tywon Lawson, who Scout.com believes are the #1 ranked power forward, shooting guard and point guard, respectively, in the country. The Heels bring back so many good players, however, that not all of these guys can start. Expect Bobby Fraser (6 ppg, 4 apg) to continue to handle ball-handling duties with Ellington. Meanwhile, Wright should star on a front like with Hansbrough and Reyshawn Terry (a combined 33 ppg and 14 rpg). You have to wonder how Roy Williams will have time to get playing time for guys like Danny Green, a McDonald's All-American back in 2005 who was a productive scorer in limited minutes this past year. To sum it up: The Heels will be a national title contender next year.
Of course, no ACC discussion can get far without talking about Duke, the team with 7 of the last 8 ACC Tournament titles. Unfortunately for the Dukies, they lose three starters, including a Naismith winner and another All-American. Of course, what would a Duke recruiting class be without three McDonald's All-Americans of their own - Gerald Henderson (Wayne Ellington's high school teammate - expect to hear Dick Vitale mention this 85,000 times before Duke plays UNC next year), Jon Scheyer and 7'1" Brian Zoubek. Also, Duke does still return Josh McRoberts and DeMarcus Nelson, who should provide experience and additional talent alongside the recruits. Some people want to write Duke off with the loss of Redick's scoring and the Landlord's defense, but when you keep in mind that they had so many McDonald's All-Americans that one of them only got to play 2.5 minutes per game last year (Eric Boateng) you remember that Duke has more talent in its 12th man than most schools can ever hope to have in their best player. They will be a top team next year, and they will compete for a conference title.
Another team to consider is Boston College, which got about as far as any ACC team can ever go last year (to the ACC Tourney finals, where they lost to Duke of course). The Eagles take a big hit in the graduation of Craig Smith, who was clearly the bedrock of the team. They need one of their other two potential centers, John Oates or Sean Williams, to fill in the void. Williams clearly oozes athletic talent, but he needs to refine his skills before he can be a real force inside. The Eagles will return some solid senior talent, however, in Jared Dudley (17 ppg, 7 rpg) and Sean Marshall (11 ppg, 37% 3-point shooting). However, even if all of these players improve, they still will not completely fill in for the losses of Smith and Louis Hinnant. While those losses aren't as big as Duke's losses, they also can't replace talent like Duke or UNC. There are no McDonald's All-Americans coming in to save the day. It's hard to see Boston College improving next year.
A team that many expect to improve is Florida State. The four top scorers on the team were juniors or younger this past year. However, both Al Thornton (16 ppg, 7 rpg) and Alexander Johnson (13 ppg, 7 rpg) are considering the NBA draft. The latest rumors are that Thornton will stay and Johnson will go, so this is what BaskeballPredictions will assume for now. This puts extra pressure on star 7'0 recruit Jonathan Kreft to come in and provide an inside presence. If Kreft and Diego Romero (4 ppg, 3 rpg) cannot hold their own on the inside, it's hard to see the Seminoles being able to win this conference. The big men of UNC and Duke will throw them around the floor. If, however, Leonard Hamilton can get solid production inside, he clearly has the athletes to hang on the wings and in the backcourt.
A sleeper team in the ACC could be Virginia, with underrated coach Dave Leitao. The Cavaliers had a very young team this past year that was expected to get crushed, but they hung tough and actually got within shouting distance of the Bubble with a 7-9 record in the ACC. Better yet, the Cavaliers bring everybody back as long as Sean Singletary (18 ppg, 4 apg, 2 spg) keeps his word and sticks around for another year. So, Virginia expects to bring back its top 8 scorers off a team that already competed well in the ACC, and also brings in a pretty good recruiting class led by the athletic Jamil Tucker (Scout: 18 SF, Rivals: 18 SF). It's not a Duke or UNC-level recruiting class, but it's quite possible that Virginia actually returns more talent than Duke. They're certainly not the type of team that should be underestimated as a real threat to steal the ACC title. That said, it's hard to see anyone wresting control of the ACC out of the hands of UNC and Duke quite yet:
1. North Carolina
- Clearly the team with the most talent at the start of the year. They return almost everyone from a team that toyed with the Top 10 all year, and also bring in what is widely considered to be the top recruiting class in the nation. Plus, they're playing with a chip on their shoulder after doing a poor job of defending their title in the NCAA Tournament. This team will definitely get quite a few #1 votes in the first AP poll in the fall, if not the #1 ranking altogether.
2. Duke
- Yes, Redick and Williams leave. But this is Duke, and Coach K is still the coach. They have far too much talent to not have a chance to win any game that they enter. Teams like Virginia and Boston College will be good teams, but they just don't have the talent to match up on a day-to-day basis at every position.
3. Virginia
- The sleeper in the ACC. They could steal some wins from teams looking past them, atleast early in the year. The major question will be whether the Cavaliers can continue to win when they have a good record and everyone is gunning for them. This team, as currently constituted, hasn't had to play any real pressure-packed games yet.
4. Boston College
- Can't slip this team too far in the standings. They do return almost everyone from this past year's team, and have a lot of talent all around. Not only do they have some solid recruits, but they also have guys like Sean Williams who played little last year but have tons of pure talent. This team has the potential to finish even higher in the final conference standings.
5. Georgia Tech
- Another sleeper team in the ACC. The Yellow Jackets were a bad team this past year, but they return all five starters. On top of that, they have one of the top recruiting classes in the nation - that features two McDonald's All-Americans. In other words, Georgia Tech will be in the rare situation (at least for an ACC team) of having a player start one year and have to be benched the next year. You have to wonder not only how they will find enough playing time for everyone, but also whether there will be enough experience and leadership on the team. There will be no seniors receiving any significant playing time, and that is definitely an issue to watch for as games take on more pressure and the team feels more expectations.
6. Maryland
- Gary Williams loses his top two scorers (Nik Caner-Medley and Chris McCray - a combined 31 ppg) to graduation, but this will hardly be a rebuilding year. The Terrapins will have a solid core of the three-rising seniors D.J. Strawberry, Ekene Ibekwe and Mike Jones. The Terps also have a solid recruiting class that should help fill in some holes in the lineup. Along with a Top 20 recruiting class, this is definitely a team that expects to get back to the NCAA tournament next year.
7. Florida State
- The Seminoles will be very talented and athletic next year. But their future is really dependent on how many players they lose to the NBA. They can survive and contend without Alexander Johnson, but if they will be in trouble if they lose Al Thornton also. At this point, it's hard to predict, so BasketballPredictions is placing them seventh, as a team that has an excellent shot at the tournament but probably won't contend for a conference title.
8. NC State
- The Wolfpack could move up these standings if they sign John Calipari as their new coach. If not, they will probably end up with a downgrade over eternally under-appreciated Herb Sendek. The Wolfpack also lose three of their top five scorers to graduation, including star Cameron Bennerman (14 ppg, 3 rpg, 84% FT-shooting). They have a good recruiting class by their standards, but it's hard to see NC State being nearly as good as they were this past year.
9. Clemson
- The Tigers will be good, but there's just no argument that anyone could make regarding this team as an NCAA tournament team. As such, it's hard to place them any higher than 9th in the ACC.
10. Wake Forest
- A rebuilding year for a team that could be good in the near future. The Deamon Deacons graduate their top 4 scorers, including star Justin Gray (18 ppg, 4 rpg, 4 apg). Their top returner only scored 5.6 ppg last year, so they certainly don't return the type of talent to win many ACC games. However, they do bring in a Top 20 recruiting class, so expect this team to rise up the standings after struggling a lot in the early season. And expect them to finish even higher in 2008.
11. Virginia Tech
- The Hokies return all five starters, but they still don't quite have ACC talent. As they start getting more ACC-caliber recruits, expect them to be able to compete at a higher level in conference.
12. Miami
- A surprise team this past year, the Hurricanes should take a step back next year. The graduation of Robert Hite along with the NBA entry of Guillermo Diaz means that the Canes don't return a single double-digit scorer. You need to be able to score a lot of points to succeed in the ACC, and Miami is not going to be able to keep up next year.