The first major conference preview for 2007 is here, and there will be a few more wrinkles to these that were not available for the smaller conferences. First of all, almost every team will be dealing with players potentially leaving early in the draft, so there will be a lot more discussion of those issues. For the sake of these previews, BasketballPredictions will make it clear who it is assumed is staying, and who it is assumed is leaving. If a player is not mentioned, then it is to be assumed that they're staying. BasketballPredictions will be on the very cautious side - so many players who are listed as staying will inevitably decide to go pro later. There will be an update to the BP65 (the BasketballPredictions bracket predictions) after the NBA draft, taking into account these changes. Another change will be that a lot more high schoolers will be coming in that are high up on recruiting lists, so abbreviations are in order to make the statistics quicker. The two sources that will be used will be Scouts.com and Rivals.com, and the rankings used will be both national rankings and positional rankings. So, for example, a comment saying "John Doe (Scouts: 14 PG, Rivals: 56)" would mean that Scouts.com has John Doe as the 14th best point guard coming out of high school, and Rivals.com has Doe listed as the 56th best overall player in the nation. The final added wrinkle will be that standings will be listed all the way through. Every team will be ranked, since almost every major conference team has at least some hope of qualifying for the NCAA tournament at the beginning of the year. That all said, let's start up at the end of the alphabet with the conference featuring 2 Final Four teams and the defending National Champion, the SEC:
Southeastern Conference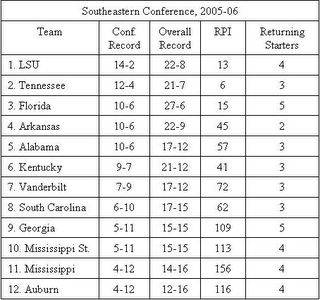 Any discussion of the SEC has to begin with the defending National Champions, Florida. It's interesting that in a certain way, winning a National title is actually a bad omen for the future. There's a reason that repeat champions are so rare. The top players will get so much television exposure that their draft ratings shoot up, and they suddenly realize that they can make a lot more money going pro. Another factor pushing players to the NBA is the fact that they no longer have anything to prove. For example, the odds of Joakim Noah going pro are markedly higher than they before the tournament. Now that he's been named tournament MOP, what exactly does he have left to achieve at the collegiate level? The day after the championship, Dick Vitale named Florida one of the top 2 teams for next year, due to the fact that their whole starting five is returning. Few people doubt, however, that Florida will have a different lineup next year. Noah, Corey Brewer and Al Horford are the most likely to go pro. For now, BasketballPredictions will assume that Noah goes pro, but Horford and Brewer will stay. This prediction is probably overly-cautious, so don't be suprised to see Florida drop in the post-NBA draft BP65. That said, if Florida is this lucky, they will be a force to be reckoned with next year. Not only will every other player who had 15 or more minutes played per game be back, but Florida also has (as usual) a solid recruiting class. Scouts.com ranks it 23rd in the nation, on the back of 6'10" Marreese Speights (Scouts: 9 C, Rivals: 25 PF). Even though no one seems to be able to agree what position he's going to play, he should expect to be one of the prime candidates to replace Noah (who also is listed as a PF/C).
Of course, Florida will receive plenty of challenges in the SEC including LSU, fresh off a trip to the Final Four. LSU loses only Darrel Mitchell (17 ppg, 4 rpg, 4 apg) to graduation, and got good news when Glen "Baby Shaq" Davis announced that he'd stick around for atleast one more year. Expect, however, for Tyrus Thomas (12 ppg, 9 rpg, 3 bpg, 61% shooting) to go pro. He hasn't announced his decision yet, but for the time being BasketballPredictions will assume that he's leaving. LSU will also have a harder time replacing their losses, as they have a relatively weak recruiting class. A more likely challenge to the Gators could be Tennessee, which was revived this past year by first-year coach Bruce Pearl. The Vols lose two starters in C.J. Watson and Andre Patterson, but manage to return their leading scorer (Chris Lofton - 17.2 per game) and 6'10" Major Wingate (11 ppg, 4 rpg, 56% shooting). They also bring in an excellent recruting class, highlighted by Duke Crews (Scouts: 10 PF, Rivals: 28) and Wayne Chism (Scouts: 18 PF, Rivals: 10 PF) on the inside, and 6'5" Marques Johnson (Scouts: 12 SG, Rivals: 23 PG) on the outside. Both services name the Vols as one of the top 20 recruiting classes in the nation.
Another team on the rise is Arkansas, which finished a surprising 2nd in the SEC West. The Razorbacks don't lose too much to graduation and expect to have a very solid recruiting class (Scouts: 14, Rivals: 22) led by Michael Washington (Scout: 20 PF, Rivals: 6 PF), Stefan Welsh (Scouts: 20 SG) and stud Juco transfer Sonny Weems. The Razorbacks would be in excellent shape for next year... if Ronny Brewer decides to stick around. Unfortunately, the rumors are that he's already picked out an agent and that the official announcement is only a formality at this point. So, expect Arkansas to take a step back without their leading scorer. Another team that is always a threat in the SEC is Kentucky. The biggest loss to graduation for the Wildcats is Patrick Sparks (10 ppg, 3 apg, 39% 3-point shooting), while they should retain their outstanding rising-junior class. Rajon Rondo is going to the NBA, but for now it looks like Randolph Morris (13 ppg, 6 rpg) and Joe Crawford (10 ppg, 4 rpg, 36% 3-point shooting) will be returning. Meanwhile, it's no surprise that Kentucky's recruiting class is considered top-20 in the nation with guys like Jodie Meeks (Scouts: 17 SG, Rivals: 34), Derrick Jasper (Scouts: 12 PG, Rivals: 35) and 6'9" defensive specialist Perry Stevenson (Scouts: 16 PF, Rivals: 15 PF). Also working in the favor of the Wildcats is that they're Kentucky - don't expect them to go 9-7 in conference any time again in the near future.
The final team to be considered for the conference title is Alabama, and only because their players seem intent on sticking around for one more shot at a title. In recent days, published reports suggest that all three of their potential NBA draft-seekers (Jermareo Davidson, Richard Hendrix and Ronald Steele) are going to eschew the draft. They don't have any big-time recruits, but several quality players below the radar. Their biggest loss to graduation is Ronald Davis on the inside, and in response the Tide have brought in Avery Jukes (Rivals: 24 PF) and Demetrius Jemison (Rivals: 32 PF). Mikhail Torrance (Rivals: 29 PG) is also worth noting. Now, with all of the SEC title-hopefuls covered, let's get to the actual standings:
SEC East:
1. Florida
- If Noah is their only graduation, this team will be extremely tough to beat. It wouldn't be too surprising, however, if a few more Gators go after hearing just how high they could go in the draft.
2. Tennessee
- Expect big things out of a Tennessee team fighting for respect after being considered the worst #2 seed by many, followed by a 2nd round defeat to Wichita State. Besides, Bruce Pearl's coaching system is just too good for this team to fail with talent like Lofton and Wingate.
3. Kentucky
- The Wildcats will be improved, but right now the top of the conference is just too stacked to move them up a spot. Assuming Rondo is their only player to declare early, the Wildcats will have a lot of young talent. This team has the potential to do special things if Tubby Smith can put all of the pieces together.
4. Vanderbilt
- It's always a bad decision to think that the top 4 places in a division will remain unchanged, but Vanderbilt just has too much going for it to move it down a spot. Not only do they return their top 3 scorers, but they also have a solid under-the-radar recruiting class, led by Jermaine Beal (Rivals: 19 PG) and JeJuan Brown (Rivals: 26 SF). This is clearly another team on the rise.
5. Georgia
- Finally, a change in the standings. The Bulldogs should rebound next year with their top 12 scorers returning. The team will have more experience and will almost certainly be improved. Unfortunately, the top of the conference is just too good for them to realistically hope for anything better than 4th in the SEC East.
6. South Carolina
- Arguably the biggest surprise in the SEC this past year, the Gamecocks made a serious run at the NCAA tournament. Unfortunately, they lose three of their top six scorers, including star 6'6" guard Tarence Kinsey (16 ppg, 5 rpg, 2 spg). With no big recruits coming in, expect South Carolina to be the only team in the SEC East (other than perhaps Florida) to not improve in 2007.
SEC West:
1. LSU
- Expect the Tigers to take a step back next year, but not too big of a step. Thomas and Mitchell will not be easy to replace. In fact, the Tigers should probably be dropped out of the top spot in the division, except for the fact that Big Baby should really be a dominant force. If he struggles or gets hurt, however, expect a new champion of this division.
2. Alabama
- The Tide have to be thrilled that Davidson, Hendrix and Steele are saying the right things and expect to be back next year. Chuck Davis will be a big loss, but those three will be good enough to lead Bama to a lot of wins next year. Besides, all they need is for one of their excellent recruits at the power forward position to step up, and they'll be markedly improved from this past year. Expect Alabama to pose a very serious threat to LSU.
3. Arkansas
- The only other team in the SEC West with a reasonable shot at the title. The Razorbacks will probably lose their best player in Ronnie Brewer, but they have a good enough recruiting class to keep them in tournament contention, at the very least.
4. Mississippi State
- Returning your top two scorers is always a good sign for a team, as is signing an excellent recruit (Jarvis Varnado - Rivals: 20 PF) to solidify your front line. Expect the Bulldogs to be improved in 2007. Unfortunately, they probably lack the overall talent to be a likely tournament pick.
5. Auburn
- A very young team whose top five returners in terms of mpg and ppg were 4 freshmen and a sophomore last year. The Tigers also bring in some more young talent, with 6'4" shooting guard Kelvin Lewis (Rivals: 86). Yet another team that will be improved next year - although the lack of a real senior presence on the floor at most times will probably lead to a lot of close, tough losses. Look for Auburn to be a real tournament threat in 2008, however.
6.
Mississippi
- It's hard to see why this team should be too successful next year. They do return four starters, but none of them are superstars. And without any blue-chip recruits, it's hard to see the Rebels having enough talent to hang with the big boys in the SEC.