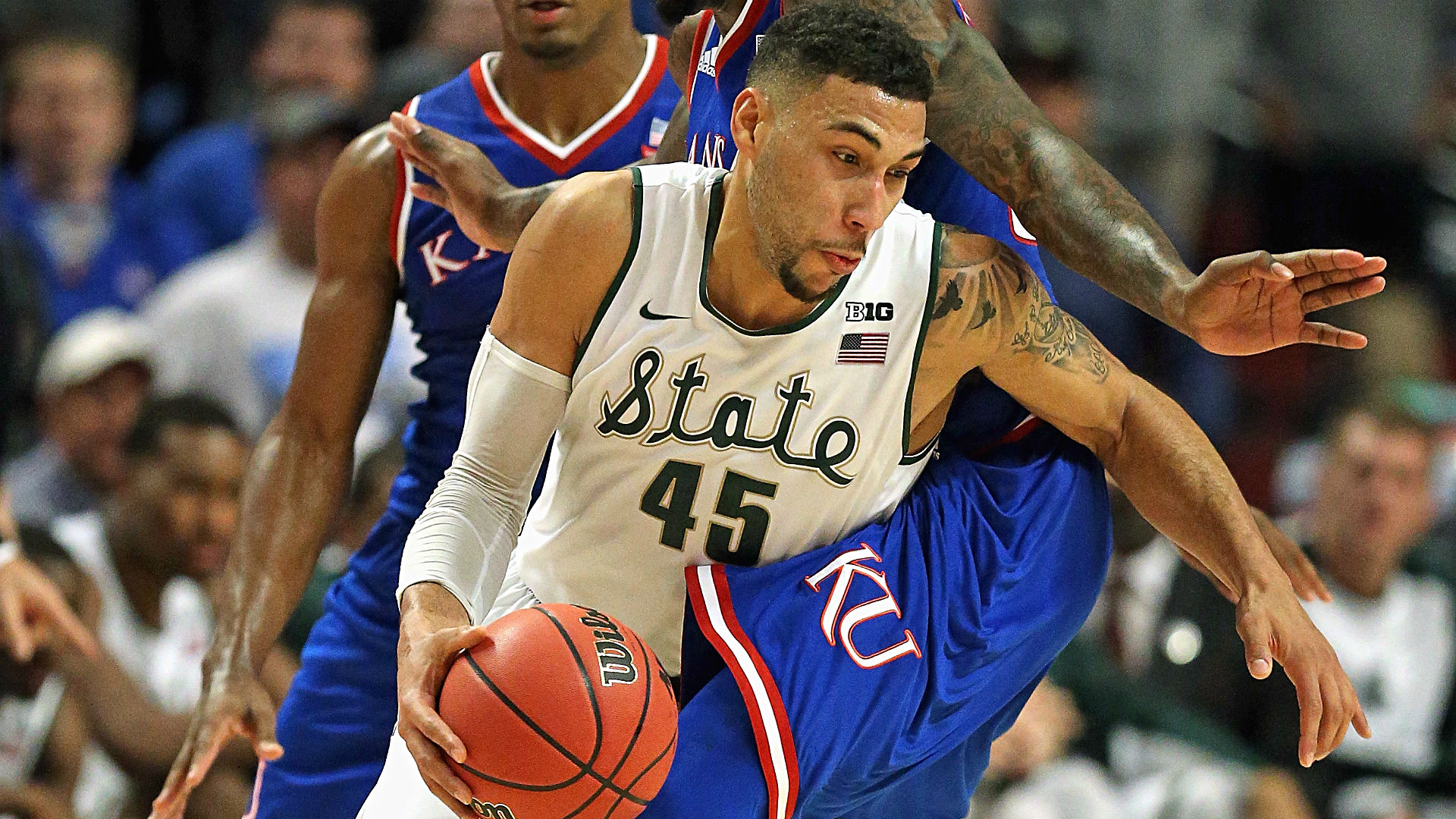 It was Valentine's Day for Michigan State last night
Kentucky Looks Very Efficient In Dispatching Duke
Watching Tyler Ulis dominate Duke was a reminder of just how silly it was that he had to sit on the bench late in games last season in lieu of the Harrison twins. He's such an efficiency monster. He had 18 points, 6 assists and just 1 turnover here, while Kentucky as a whole committed just 9 turnovers. It was that efficiency which allowed them to overcome significant foul trouble for Skal Labissiere and Marcus Lee (both players fouled out after a combined 35 minutes played). Kentucky looked great defensively as well, completely shutting down Grayson Allen (6 points on 2-for-11 shooting). Duke got possibly a career-best performance from Marshall Plumlee (12 points, 10 rebounds, 6 blocks) but it didn't matter. This game was never really in too much doubt.
Jamal Murray was the Kentucky freshman with the biggest impact vs Duke.
This is the type of game that matters for resumes in March, but we shouldn't overreact to it. Duke is going to play better another day. You can't panic because you lost a game to Kentucky. The good news for them is that they go right back to Madison Square Garden this weekend to face VCU and then either Wisconsin or Georgetown.
Denzel Valentine's Triple Double Powers Michigan State
Kansas fans will surely bemoan the absence of the still-suspended Cheick Diallo, and maybe he would have made the difference in this game, but the story was Denzel Valentine. Valentine had a 29 point/12 rebound/12 assist triple double, ending up responsible for 22 of the 28 made baskets that the Spartans had. And perhaps the most impressive stat? Just 1 turnover. While Valentine stole the show, this game was also a coming-out performance for freshman Matt McQuaid, who poured in 9 points, including a pair of big three-pointers in the second half. This is an awfully deep Michigan State roster.
As for Kansas, the reality is that they probably need Cheick Diallo to win the Big 12 and earn a 1 seed. But the good news is that if Diallo becomes eligible and they win the Big 12, they'll likely get that 1 seed. What happened here will be a distant, long-gone memory by March.
Maryland Holds Off Feisty Georgetown
Maryland went 12-1 in games decided by six points or fewer last season, a run of luck that can't possibly continue this season, and why I think they were overrated preseason. However, they're off to a 1-0 start in such games this season, as they held off a ferocious D'Vauntes Smith-Rivera down the stretch. Maryland scored on their final nine possessions to pull this one out. While Georgetown put all five starters in double-figures, Maryland rode Melo Trimble's 24 points (including a ridiculous 13-for-18 at the free throw line). Whether Maryland could have a 32-to-12 advantage in free throw attempts in a road game is a good question, but this Maryland team does do a great job of forcing contact, so they'll be spending a lot of time at the line this season.
Georgetown, despite the loss, at least proved that the loss to Radford was likely a fluke. This was a significant missed opportunity, but they will get a chance on Friday to collect a big win over Wisconsin at Madison Square Garden. One player who really stood out in this game was 7-footer Bradley Hayes, who barely played last season but outplayed the highly touted Diamond Stone here.
Wichita State Goes Down
Fred VanVleet was clearly not himself physically in this game. His ankle was bothering him, and he finished with just 3-for-10 shooting and 3 assists. VanVleet will heal, but the concern here is two-fold. First, Wichita State's depth was not impressive. Established stars Ron Baker and Anton Grady did their parts, but nobody else on the roster made an impression. They are going to need more bench production. Second, Wichita State's margin for error is so small in the Missouri Valley Conference, and they need to collect their quality wins when they can if they're going to earn a good seed on Selection Sunday. Tulsa has a good chance to end up in the RPI Top 50.
Speaking of Tulsa, this is a great way for Frank Haith to get his second season underway. Tulsa returns their entire starting lineup from last season, and seven of their top eight minute earners this season are seniors. This is their chance to get to the NCAA Tournament for only the second time since 2003. And less than a week into the season they already have a big scalp.
Dayton Smokes Alabama
Dayton was a 10 point favorite and they've been the better program in recent years, but this was still an awfully impressive domination. They led by 16 points at halftime and quickly pushed the lead over 30 points by midway through the second half. And they did it without fluky shooting (Dayton was a reasonable 9-for-21 on threes). They were just better in every facet of the game, from paint scoring to rebounding to turnovers.
Dayton was considered a likely NCAA Tournament team preseason, and this result certainly backs that up. The competition will get tougher next week, though, as they'll take on Iowa on November 26th. As for Alabama, this is actually a fairly experienced team, but not a team that has a lot of experience winning. Avery Johnson deserves some time to get his own recruits in place. This season might be rough for his team.
Jalan West Done For The Season
In a crushing blow to Northwestern State's hopes in the Southland, Jalan West is done for the season with a torn ACL. West averaged 20.0 points and 7.7 assists per game last season while also making the Southland All-Defensive team. Without him, Northwestern State's chances of realistically challenging Stephen F. Austin appear over. So far, Northwestern State has had to play one game this season without West, and they lost to an NAIA team. The question now is whether West asks for a medical redshirt to come back next season (which he'll surely get if he asks for it) or if he goes to play professionally overseas or in the D-League.
Valparaiso Wins Again
Coming on the back of an impressive 25 point demolition of Iona, Valparaiso picked up a quality win on the road here at Rhode Island. It's too early to take computer ratings seriously, but Valparaiso is playing like the type of team that could make an at-large run. They have balanced scoring and a strong defense (0.83 PPP allowed so far this season), so there's no one easy way to beat them. As always, it's incredibly tough to earn an at-large bid out of a league like the Horizon, but Valparaiso is doing the right things so far.
Rhode Island's dream season has turned into a nightmare. After losing EC Matthews for the season, they lose this game in a heartbreaker. On the last play of the game they got exactly what they wanted - a wide open three-pointer for sharpshooter Four McGlynn - it just didn't fall. They will lick their wounds against Cleveland State on Saturday and then hope to finally collect their first nice win of the season in Cancun.
Oklahoma Tops Memphis
Oklahoma wasn't supposed to have this much trouble with Memphis, but the Tigers exploited their lack of front court depth, finishing with a 23-15 offensive rebounding advantage and a 38-34 advantage in paint points. What Oklahoma does have a lot of, however, is Buddy Hield, who might be the best player in the nation. Hield put his team on his back, pouring in 30 points (on 9-for-19 shooting), along with 8 rebounds, 3 assists, 3 steals, and 2 blocks. In the end, a road win at Memphis is a good performance, but a real weakness in Oklahoma was exposed here, and we will see whether Lon Kruger can find a solution.
As for Memphis, Josh Pastner's seat will get very warm if he can't get his team back to the NCAA Tournament this season. This was a huge opportunity that they just couldn't finish off.
Villanova Rolls Nebraska
Nebraska actually led this game by seven points at the under-8 timeout in the first half, but nothing much went right for the Cornhuskers after that. Villanova had a 65.0 eFG% in the second half and finished off what ended up an easy victory. After the past couple of years, however, fans and the media are going to be skeptical of Villanova's blowouts until they do it consistently against elite teams. Their first chance to do that this season will be December 10th, when they take on Oklahoma.
As for Nebraska, it's hard to know what to make of them so far. They blew out a cupcake and then got blown out by a team that has a good chance to be in the mix for a 1 seed on Selection Sunday. So we can say that Nebraska is somewhere between the best and worst team in the country... helpful, I know. If Nebraska is going to improve over next season it will need to happen offensively, and they scored just 0.89 PPP here. We'll see next week how they look in their second chance against a quality opponent.
Xavier Pulls Away From Missouri
Xavier was able to show their depth during this victory. Missouri made it a strategy to not allow Jalen Reynolds to beat them, and so the Xavier star was held to 0 points on 0-for-2 shooting. Instead it was guys off the bench like James Farr (15 points and 14 rebounds) and JP Macura (16 points on 4-for-5 shooting) who carried the production load. Missouri did have an early second half lead, but a 31-15 run from Xavier put this one away.
We'll have a much better idea of where this Xavier team is on Friday, when they play at Michigan. They looked good here, but this Missouri team just might not be much of a test.
Colorado Escapes Auburn
This is one of those games that is just difficult to judge in November. We know that Bruce Pearl has upgraded the talent level at Auburn, but it's hard to know just how close Pearl is to turning this into a Top 100 team. So is Colorado winning on the road at Auburn an impressive performance, or is it a shaky performance that Colorado needed hot outside shooting (8-for-15 on threes) to escape a bad Auburn team? At this point we just don't know.
One thing we do know is that George King has made a massive sophomore leap for the Buffaloes. He averaged 1.5 points and 1.5 rebounds per game as a freshman in 2013-14, but after taking a redshirt season in 2014-15 he is pouring in 20.5 points per game so far this season. If Colorado is going to make a serious at-large run, King's emergence will be a big reason why.