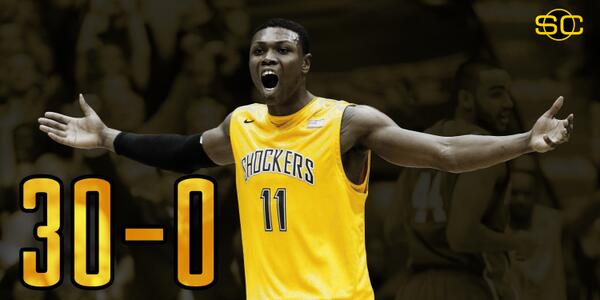 Congratulations to Wichita State for becoming the first team in Division I history to go 30-0 in regular season play.
Minnesota Knocks Off Iowa
This was a game between two fairly desperate teams. Minnesota absolutely had to win this game or risk potentially falling off the bubble altogether. Iowa is safely in the NCAA Tournament, of course, but they came in with four losses in eight games, with all coming down to the final minute, and the fan base has been in meltdown mode. For example, enough fans abused Zach McCabe on twitter a few days ago that he called out his own fan base and then quickly deleted his twitter account.
This game wasn't a defensive clinic. The two teams combined for 1.31 PPP, which is the highest combined offensive efficiency in a Big Ten game since Wisconsin and Ohio State combined for 1.33 PPP on March 6th, 2011. Minnesota's 11-for-19 three-point shooting was probably the difference in this game, thought neither team could really stop the other.
Minnesota's resume is pretty straightforward. They're now 7-9 in Big Ten play and 4-7 against the RPI Top 50. I've said all season that if they get to 9-9 in Big Ten play they should make the Tournament. At 8-10 they'll need a win or two in the Big Ten tournament. If they fall to 7-11 they'll almost certainly be headed to the NIT.
I
predicted
after Iowa's last game that the panic in the fan base would get worse before it will get better. So here we are. The reality is that Iowa is still a really good team. Sagarin still has them in the top ten, while Pomeroy has them 12th. Remember, we generate narratives about teams "knowing how to win" close games, but it's total garbage. Iowa has the same probability of winning their next tight game as any other team.
St. John's Falls At Home To Xavier
Both of these teams have been teetering near the bubble for a couple of weeks now. This was just an ugly performance all around for St. John's, from the 2-for-16 three-point shooting to the 54% free throw shooting to the 0.82 PPP, their worst offensive performance of the entire season. Xavier was at least able to get the ball inside, outscoring the Johnnies in the paint 38-22.
Xavier desperately needed this win after having lost five of their previous eight games. This win gets them back to 9-6 in Big East play and 8-7 against the RPI Top 100. Those two numbers sound great on the surface, but the Big East is not viewed highly in the media this season, and Xavier only has a single RPI Top 50 win (Cincinnati). They're 41st in RPI and 40th in Sagarin PURE_ELO, so they're in the Field of 68 at the moment, but not by much. If they can go 2-1 in their final three games, that should be enough to send them Dancing. Anything less than that and they'll have work left to do in the Big East tournament.
The Johnnies had won 8 of 9 Big East games, but now have lost two straight to drop right back to 8-8 in Big East play. During that streak they collected a few nice wins (Creighton, Georgetown, Providence and Marquette), but they're still only 5-9 against the RPI Top 100 with a pair of RPI 100+ losses. They just dug themselves such a big hole with the poor start to their season (on January 17th they were just 1-5 against the RPI Top 100) that the margin of error for St. John's down the stretch was always going to be very small. With a Sagarin PURE_ELO that is now 58th, it's likely that St. John's would be an NIT team if the season ended now. To get back into the Field of 68, they probably need to win their final two regular season games. If they don't, they'll have a lot of work to do in the Big East tournament.
Clemson Suffers A Brutal Loss To Wake Forest
Clemson is feeling this season getting away from them. They've lost four of six, with an 0-3 record in games decided by five points or less over that stretch. Their defense, which has been their strength under Brad Brownell, struggled here. Wake Forest hit 67% of their two-pointers and had an almost two-to-one free throw attempt advantage (25 to 13). Clemson didn't do much with their free throw attempts anyway, hitting only 39%.
Clemson is still in the Top 50 of the Pomeroy ratings, but they have an NIT resume at the moment. They're only 10-10 against the RPI Top 200 with an RPI and Sagarin PURE_ELO that have both slid out of the Top 70. They do close with three winnable home games, but unless they win all three they're going to enter the ACC tournament with significant work left to do.
It's hard to know entirely what to make of this Wake Forest team. When Jeff Bzdelik took over four years ago, the roster was completely decimated, and the few decent players he had were off-the-court knuckleheads that needed to be kicked off the team. But every season since then the team has gotten better, and this year's team is pretty young. I've said a few times, and still believe, that Wake Forest is primed to make a run at an at-large bid next season. The problem is, there is no university where the relationship between coach and fan base is more toxic, and it seems unlikely that Bzdelik will get another season. For this season, there's not much left for Wake Forest to do but play spoiler, and they certainly played the role of spoiler here.