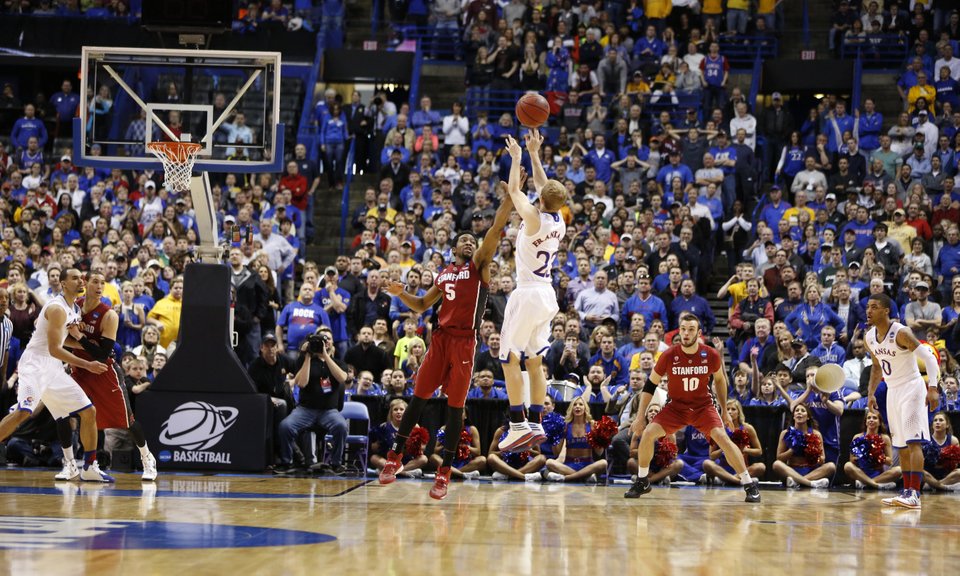 Conner Frankamp's 12 points (4-for-7 on 3s) against Stanford nearly saved Kansas from tourney elimination.
Conner Frankamp Leaves Kansas
This is a fairly stunning transfer with the season about to begin, particularly considering what a fan favorite Frankamp was after the scoring spark he provided off the bench as a freshman. It's also a concern for a Kansas team that already lost Naadir Tharpe to transfer, meaning that Frank Mason and Wayne Selden are the only Jayhawks who can play in the backcourt who got meaningful NCAA minutes last season. Mason was very streaky last season, and with Frankamp gone the only other point guard option for Kansas is true freshman Devonte Graham. If either Mason or Graham struggles or gets hurt, Kansas will have a ball handling problem.
The good news for Kansas is that their chief rival in the Big 12, Texas, also is very deep in the front court while lacking depth in their back court. We could see some awfully big lineups when those two teams match up. This also cracks the door open just a little bit wider for other Big 12 contenders like Oklahoma, West Virginia and Iowa State.
Keith Thomas Ineligible For St. John's
There has been an under-the-radar academic scandal at Westchester Community College that has actually caused
the entire basketball program to be suspended
. It's knocked out the eligibility of a bunch of their transfers to Division I schools. The latest to go down is Keith Thomas, an athletic 6'8" wing who was set to play for St. John's. The Johnnies are a team that has a whole lot of roster turnover, and they're now awfully thin in the front court. Don't be surprised to see a lot of lineups with four backcourt players and Chris Obekpa expected to handle the paint by himself.
Omar Calhoun Out For A Few Weeks With A Knee Injury
This doesn't look too serious for UConn on its face, as Calhoun shouldn't miss more than a handful of games. But the once hyped recruit continues to struggle with injuries and setbacks, and UConn fans have to really wonder if he'll ever live up to his potential.
Drexel Loses Major Canady For The Season
Drexel was
my preseason favorite in the Colonial
, but this is an injury that will hit their depth. Canady was raw as a freshman, but he was athletic and an offensive creator, and he played more minutes last season than any backcourt returner. It's a tough break for a program that lost Damion Lee for nearly all of last season. They can't catch an injury break, it seems.
Zack Lofton Booted From Minnesota
The new transfer to Minnesota had averaged 11.3 points per game for Illinois State last season. This might be a loss that hurts the Gophers more in 2015-16 than in 2014-15, though. He wasn't going to start over Andre Hollins or Deandre Mathieu this coming season, but both of those two will be seniors. Richard Pitino is going to need significant production next season from a 2015 recruiting class that is very heavy on guards.