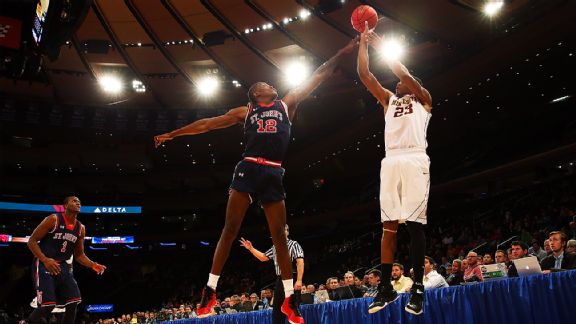 Lookin' good, Chris Obekpa.
Happy Thanksgiving everybody. We've got a great day of games ahead, so hopefully you'll have some time in between courses of food to get in front of the television.
Georgetown Wins A Thriller
The story pregame was the health of Dorian Finney-Smith and Eli Carter and whether they would play at all, but both Gators players actually played effective over approximately 30 minutes. The problem, instead, was in the paint, where they had nobody who could physically handle Josh Smith. Chris Walker has been maddeningly ineffective, and didn't even play late in regulation or overtime. It was again the walk-on Jacob Kurtz who had to eat significant minutes for the Gators.
Eli Carter had a chance to win this one in regulation, but was rejected just before the buzzer by a fantastic LJ Peak block. In overtime, the two teams combined to hit seven of the last eight shots from the field, including D'Vauntes Smith-Rivera's clutch game winner. Smith-Rivera also collected all three of his assists in that overtime period.
Obviously you don't want to draw conclusions about teams or conferences from one point overtime results, but this result also impacts the upcoming schedules for both teams. Georgetown now gets a shot at Wisconsin while Florida is stuck playing a bad UAB team. If Georgetown can somehow pull that upset, they'll move from marginal NCAA Tournament team to Big East title contender in fewer than 48 hours. The Gators, on the other hand, have to take heart from last season's team, which also struggled in non-conference play before pulling things together in SEC play.
Butler Defeats North Carolina
How does Butler defeat North Carolina? Well, poor North Carolina shooting (4-for-16 on threes) helped, but the real answer was rebounding. North Carolina was overly aggressive on defense all day and constantly put themselves out of position for weak side rebounds, allowing Butler to collect 29 offensive rebounds for a 52.7 OR%. To put that in perspective, only two Division I teams all of last season managed to bring down 30 or more offensive rebounds against a Division I opponent. The only team to rebound more than 50% of their misses against North Carolina last season was Duke, and they did it at Cameron Indoor.
It's easy to say that this game means that Butler was significantly underrated... except for two things. First of all, we already knew this team was talented. I had them in
my most recent bracket projection
as a 12 seed. But more importantly, I think this result was more about North Carolina playing poorly than anything else. The Tar Heels need to prove that this performance was a fluke, or that #5 ranking will look really silly later in the season.
Both of these two teams will play their second game later today. Butler will take on Oklahoma while North Carolina will face UCLA.
Arizona Wins Ugly Over San Diego State
This is the type of San Diego State game we're going to get used to this season, but this also might be something of a typical Arizona game as well. The Wildcats are a good offensive team, but they lack an explosive go-to scorer, and when the San Diego State defense clamped down they didn't have anywhere to turn. Stanley Johnson led the team with 18 points, but he was 4-for-14 from the field and did most of his damage at the line.
This game degenerated down the stretch. In the final nine minutes, San Diego State committed as many turnovers (3) as made field goals. Before Trey Kell hit his goofy four-point play, the Aztecs had scored a total of three points over the previous 12 possessions.
San Diego State needed this win a lot more than Arizona did. This is almost certainly their last chance for a win over a Top Ten team before Selection Sunday. In a down Mountain West, they're going to need an incredibly gaudy won-loss record to be in the discussion for a 1 or 2 seed on Selection Sunday. The margin of error will be much larger for an Arizona squad that can afford to lose a few Pac-12 games without putting their 1 seed seriously at risk.
Oklahoma Grinds Out A Win Over UCLA
Oklahoma won this game despite an odd pairing of statistics. Oklahoma was the jump shot happy team, launching 44 jumpers and hitting only 25% of them. UCLA, in comparison, launched only 28 jump shots and outscored Oklahoma 38-to-20 in the paint. But when Oklahoma got in the lane they got to the line, and they hit their free throws at a higher clip, ending up with a 14 point advantage there. And that was enough to deliver them the win.
This was the first competitive game of the season for either team, so it's a mistake to draw any real conclusions about either team from it. Oklahoma will face Butler next while UCLA will face North Carolina. And, of course, both of these teams will have one additional game to play before leaving the Bahamas. So we'll know a lot more about these two teams in a couple of days.
Cameron Biedscheid To Iona
It's been a long road for Cameron Biedscheid. He averaged 6.2 points in 17.4 minutes per game as a freshman at Notre Dame in 2012-13. He then redshirted the 2013-14 season, but decided midway through to transfer to Missouri, expecting to be eligible for the second semester of the 2014-15 season. But before the season started he transferred again, and now he's heading to Iona, where he'll appeal for a waiver to still play at the end of the fall semester. If he does gain that eligibility, Iona will immediately become the
heavy
favorite in the MAAC. I already had them as the conference favorite in
my most recent bracket projection
. Even if he isn't allowed to play this season, he'll be a big weapon for the next two seasons for the Gaels.
BYU Loses A Hearbreaker
Between their fast tempo, their explosive offense and their poor defense, BYU is a lock to lead the nation in crazy, fun basketball games. In regulation, Tyler Haws managed to get himself a really good look for the win but it just didn't fall. BYU's offense fell apart in overtime, though, committing more turnovers (2) than made field goals (1). A boneheaded turnover by Rapheal Davis allowed BYU to tie the game late, but AJ Hammons hit a hook shot for the win.
Chase Fischer's fluke shooting from the day before (10-for-13 behind the arc) crashed back to Earth here (2-for-11 behind the arc), but Tyler Haws (32 points on 9-for-19 shooting) was the best player on the court for either team. Purdue got a more balanced effort, including a breakout game from freshman Vince Edwards (25 points on 7-for-9 shooting, with 9 rebounds).
BYU lost a pair of heartbreakers in Maui, and they'll leave the tournament with only a useless win over Chaminade. They still have Utah, Stanford and UMass ahead, but their resume is going to be shaky at best heading into conference play. They're going to need a gaudy WCC record to earn an at-large bid. Purdue, on the other hand, really comes out of Maui looking like a Tournament team. With the Big Ten so wide open, though, Purdue could realistically find themselves anywhere between 3rd and 10th in the final conference standings, so their season is going to be difficult to project.
Minnesota Collapses Late
The Gophers seemed to have this game in hand. They led by nine points at halftime, and had somewhere between a five and ten point lead for most of the second half. But in the final 12 minutes of the game, Minnesota shot a horrendous 2-for-19 from the field, with six turnovers. St. John's wasn't exactly an offensive juggernaut either, but ever so slowly they pulled ahead in this game. Minnesota didn't just shoot poorly in this game either, by the way. They also allowed St. John's to pick off 15 steals.
Minnesota is not a team with a huge margin for error this season. They're a bubble team at best, and a win over St. John's could have potentially turned into an RPI Top 50 win. But instead, it's a missed opportunity. They'll play Georgia next, but then will not play another likely RPI Top 100 opponent until conference play. A lack of quality non-conference wins means that the Gophers probably need to get to at least 10-8 in Big Ten play to go Dancing, and that's going to be really difficult for them.
The Johnnies are now 4-0, but this was their first game against a team with a pulse. They'll get a much stiffer opponent next in Gonzaga. A win against the Zags is the type of result that could vastly change the trajectory of their season.
Pittsburgh Smokes Kansas State
This game was competitive in the first half. Pitt only led by three points at halftime. In the second half, Pitt had a 73.9 eFG%, compared to a 28.3 eFG% for Kansas State. Things rolled out of control quickly. Kansas State finished the game with an abysmal 34.8 eFG%, their worst shooting performance since December 29th, 2012.
This result doesn't cancel out the Hawaii loss for Pittsburgh, but it helps. They have a very important road game at Indiana on December 12th, because after that they won't face another likely Tournament team until conference play.
Kansas State has been a solid team so far this season, but they're now just 3-3, with a loss to Long Beach State a more important result than the win over Purdue. They'll play some decent teams the rest of non-conference play (Tennessee, Texas A&M and Georgia), but nothing that will really move the needle. They'll need to pick up their big scalps in conference play, and they'll need to get to at least 9-9 in conference play to have a good at-large chance.
Oklahoma State Impresses
Oklahoma State came into this game a mystery, having blown out the cupcakes they were supposed to, but having not played a decent team yet. But they whipped a fairly good Tulsa team here, leading by 25 points late before cruising in for a 15 point victory. Le'Bryan Nash led the way with 21 points on 8-for-14 shooting.
Oklahoma State only has one non-conference game against a likely NCAA Tournament team: at home against Maryland on December 21st. The weak schedule is going to mean that the biggest unknown for this team entering conference play will be size and rebounding, a problem in every other Travis Ford season. Can the Cowboys finally handle a front line like Texas? We won't know for a while. But this team is good. Don't sleep on them.