Wait, what just happened here?
Yesterday was our first truly full day of Saturday college basketball, so there were a ton of important results. Out of necessity (and mercy for my readers) the game recaps are going to be shorter than they are the rest of the week:
New Bracket Projection
There were three changes to the BP68 this week. Notre Dame, Baylor and Green Bay all moved into the Field of 68, while Tennessee, Creighton and Cleveland St dropped out. That, plus the other seed movement and some explanation from me is at that link.
Arizona Wins A Thriller
Arizona is single-handedly destroying 1 seed hopes around the west coast. They took out San Diego State, and now they took out Gonzaga. And this is a heartbreaker for the Zags because it's their only game all season against a team likely to be in the Top 25 in March. And they had every chance in this game, which they led by around 2-to-4 points for almost the entire second half. In my opinion, Gonzaga got robbed on their final possession of regulation, where Domanatas Sabonis was absolutely trucked from behind by Rondae Hollis-Jefferson while going for an offensive rebound for a few seconds to go. But referee calls and pure randomness always dominate in very close games like this.
Arizona certainly had their referee calls that they didn't like also (including the three foul shots at the end of overtime due to contact initiated by Byron Wesley kicking his own legs out, though the ball didn't lie on those free throws), but they have certainly had a heart-pounding start to the season. All three games against likely RPI Top 100 opponents have been decided by four points or less, and all have been excellent basketball games.
The Zags will now basically need to win out to earn a 1 seed, though they still should hang in the 2-4 seed range all season long. This is a really good team, even if the media is going to continue running with the dumb "
can't beat elite teams
" narrative. Arizona, on the other hand, has done the non-conference work that they need for a 1 seed already. Avoid any more bad losses and sweep the Pac-12 titles and they'll earn one on Selection Sunday.
NJIT Pulls The Upset Of The Decade
The upset of the century? Michigan was a 24.5 point favorite, and the last team to lose as such a large favorite was Kentucky as a 26 point favorite against Gardner Webb on November 7th, 2007, though that game deserves an asterisk because that Kentucky team turned out to be not any good. We're already almost a month into the season and Michigan had already beaten Syracuse and Oregon, with just a 5 point loss in Brooklyn against a really good Villanova team. NJIT, on the other hand, had never even
played
a Top 25 team before. Their best win (via RPI) in history had been over #193 Rider on November 14th, 2006.
We all feel your pain, Sad Michigan Fan.
So how did Michigan get outplayed by a team like NJIT? Well, they didn't. NJIT just shot out of their freaking minds, hitting 11-for-17 behind the arc and finishing with a 70.7 eFG%. But this is why upsets happen - something you're going to shoot really poorly or your opponent will get white hot, and unless you dominate sufficiently the other factors of the game then you are going to lose.
This loss is going to be an anchor on Michigan's resume all season long. They still should be good enough that they won't have to worry about this loss costing them a Tournament appearance, but it will cost them two to three seed lines most likely.
Green Bay Upsets Miami
Green Bay was embarrassed in their last outing, losing by 24 points to Georgia State. But we knew that this was a good team that plays really tough defense along with the best player in the nation that casual fans don't know about - Keifer Sykes. Sykes only had 18 points here, but he hit seven consecutive clutch free throws in the final 90 seconds to put the game away. And Green Bay's defense completely shut down Angel Rodriguez (2-for-15 shooting, 3 assists) and held Miami to 0.81 PPP.
This was a game Green Bay had to have. It's their last game against a likely RPI Top 50 opponent, and it keeps alive their long shot hopes for an at-large bid. In the end, though, they're probably going to have to take the Horizon League. For Miami, this was something of a regression game after such a great start to the season. But there's never any reason to panic about a team after one bad game. The larger sample size still says that this is a borderline Top 25 quality team.
Virginia Handles VCU
This really shouldn't have been a surprise. VCU needs to turn teams over to win, and without turnovers they not only fail to score efficiently but their defense tends to struggle as well. Virginia tends to be very good with the ball, and even a season-high 16 turnovers weren't nearly enough here. Tony Bennett teams always play good transition defense, and they held VCU to just 4 fast break points. The Cavaliers, meanwhile, shot a 75.6 eFG%.
Virginia shouldn't be too tested again (except perhaps by Harvard) before opening ACC play. Their ACC schedule is also back-loaded, so it might be a while before we figure out whether Virginia, Duke or Louisville has the early upper hand in the ACC race. VCU, on the other hand, is at real risk of falling onto the Tournament bubble in a relatively weak Atlantic Ten. They have a very important game coming up next Saturday against a strong Northern Iowa team. That's one that they will really need to take care of business in.
North Florida Upsets Purdue
So it's not quite NJIT over Michigan, but this is a bad, embarrassing result for Purdue. And just like Michigan, Purdue was undone by a wide shooting disparity. North Florida shot 10-for-22 behind the arc while Purdue was 4-for-19. That doesn't excuse this performance, of course. And for a team with a real chance to finish on the bubble, RPI 100+ losses can be crushing. The Boilers still have a road game at Vanderbilt and a neutral court game against Notre Dame, but even with wins in both games they'll still enter Big Ten play staring up at the Field of 68.
It's worth noting that North Florida, while not a Top 100 team, is in contention near the top of the Atlantic Sun. It's easy to think that Florida Gulf Coast is going to run away with that league, but North Florida showed here that they have to be in that conversation as well.
Wisconsin Takes Care Of Business
Coming off allowing the best shooting day by a road team in the history of the Kohl Center, Wisconsin was clearly motivated to put on a strong defensive performance. They suffocated Marquette, who shot hit only 23% of their two-pointers, including just 2 fast break points and 0 second-chance points. Wisconsin shot an ugly 8-for-30 on threes, but they did enough damage on the glass and in the paint to hold onto a relatively comfortable win.
Despite losing, Marquette kept this game respectable, which is going to be a theme for them this season. Wojciechowski doesn't have a lot to work with right now, but they're playing hard and they're playing well enough to keep these games close against good teams. A .500 record in Big East play is still pretty unlikely, though.
After a difficult run of games, Wisconsin's schedule will ease up for the rest of December. A road game at California on December 22nd is their only real remaining test before Big Ten play.
Is Syracuse A Bubble Team?
You wouldn't think that the Johnnies are a team built to take on a zone like Syracuse. D'Angelo Harrison was able to do damage by attacking from the perimeter, but the real difference in this game was uncharacteristic shooting from St. John's (9-for-16 behind the arc). Syracuse has now lost three of four games this season against quality opponents, primarily due to the total dearth of perimeter offensive options. Rakeem Christmas is playing really well, but when he's on the bench their offense grinds to a halt. It would be a mistake to count them among the bubble teams quite yet, but they're getting there.
St. John's quietly has this victory along with a win over Minnesota, with only a close loss to Gonzaga. Take computer ratings for what they're worth early on, but their Sagarin ELO_SCORE is 14th. Is St. John's really this good? I think they're due for a little regression, unfortunately. Their defense has been their strength, yet they're among the Top 30 in the nation in both defensive 3P% and FT%, both of which are highly luck-based. But they have a couple quality wins, and if they can avoid any bad losses in non-conference play they'll be in good shape to earn an at-large bid if they can get to 10-8 in Big East play.
Paint Your Charge Circle
Idaho was assessed a technical foul against UC-Davis for not having their charge circle painted. You can see the refs staring at the problem below. But I see a few problems here. This was Idaho's fourth home game of the season, and the technical wasn't assessed in this game until midway through the first half. So... did nobody notice this before? Was it removed before the game? If so, why didn't the refs notice it during warmups or during the first half hour or so after the opening tip? The public wants to know.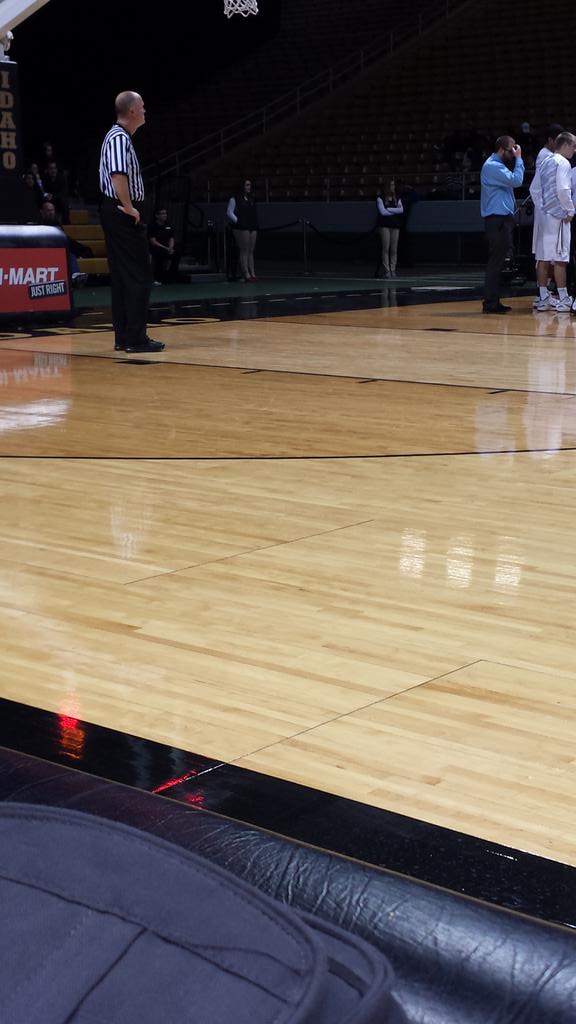 South Carolina Annihilates Oklahoma State
Oklahoma State came into this game popular in the computers (they were up to 15th in Pomeroy), but only because they had destroyed bad opponents. And there is value is destroying bad opponents, but the margin of error on computer ratings is pretty big until you show it against a quality opponent. And against their toughest opponent of the season, their offense fell apart. They had a 28.5 eFG%, including 12-for-53 (23%) on jump shots. The 0.70 PPP was their worst offensive performance since February 13th, 2006.
This defensive performance wasn't a fluke from South Carolina. Just one of their eight opponents so far has managed to crack 1 PPP (Baylor), and the 0.87 PPP allowed for the season is 18th best in the nation. So despite a bad offense, is South Carolina actually a bubble quality team? Probably not. Certainly we need to see them play this well more than once. Unfortunately, they have almost two weeks off before their next game, against Clemson.
Tennessee Escapes Kansas State
Marcus Foster had a
relatively quiet day... until the final minute. With 1 minute left in the game he had just 11 points, but in the final 57 seconds he hit
four
three-pointers, with the last one coming with just 0.2 seconds left. Tennessee managed to inbound the ball and run the final 0.2 seconds off to preserve their one point victory.
Coming off an ugly loss to Marquette, Tennessee managed to grab their first victory over a team likely to finish in the RPI Top 100. They'll get a chance to really claw their way back to the bubble next Sunday when they take on Butler. Kansas State is now just 4-4 after playing uncharacteristically poor defense. Bruce Weber has had a defense ranked in the Top 60 in the nation by Pomeroy for each of the past 11 seasons, but right now his team is hanging outside the Top 100. Five of eight opponents have scored more than 1 PPP. After a couple of cupcakes, their next competitive game will be on December 20th, against Texas A&M in Kansas City.