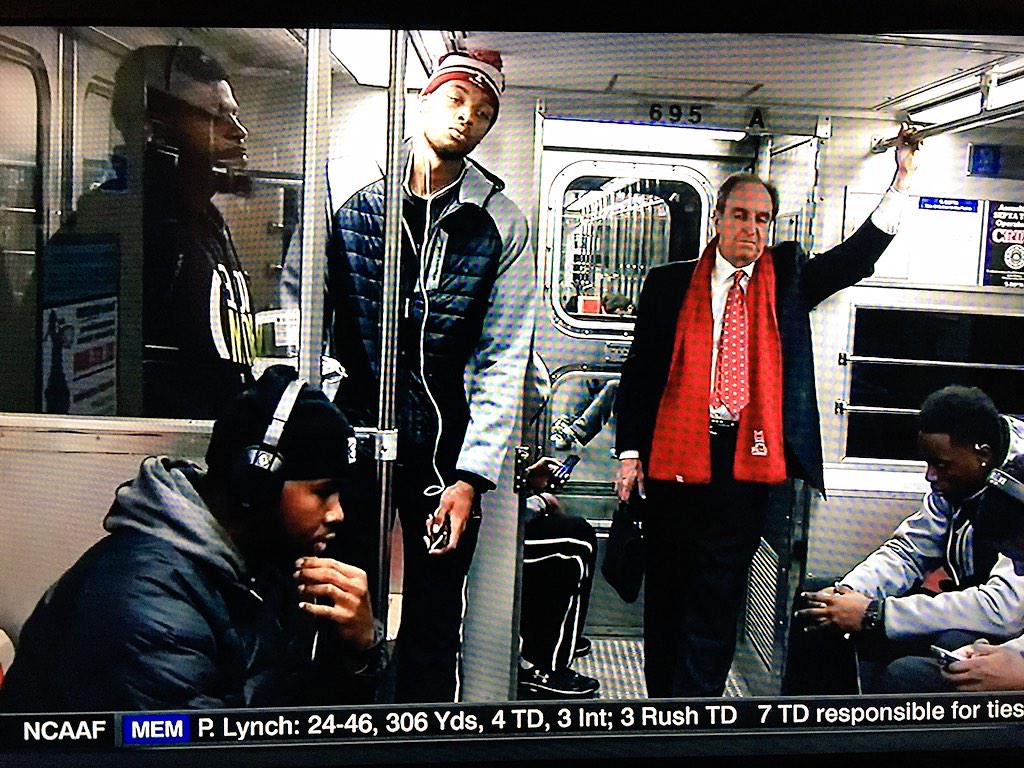 Fran Dunphy and Temple basketball about the drop the hip-hop album of the decade.
Temple Crushes Kansas
I talk often about precisely why major conference teams should avoid road games against mid-majors. The media and the Selection Committee simply don't properly value the difference between home and road, and our obsession with things like "Record vs RPI Top 50" doesn't take into account the fact that winning on the road vs team #101 is always going to be harder than winning at home vs team #49. In fact, coming into this game the Sagarin ratings had Temple as only the 134th best team in the nation, but equated a road game against them with a home game against St. John's, who are currently 17th in the AP Poll. Yet nobody would have freaked out about a home loss to St. John's like a road loss to Temple.
That said, it's one thing to lose to Temple on the road, and it's quite another to get absolutely run off the court. Temple dominated the paint, shooting 17-for-22 there while Kansas was an atrocious 9-for-32. Kansas wasn't quite as bad at the rim as they were against Kentucky but, of course, Temple isn't Kentucky. Kansas actually is an efficient offensive team for the season (1.08 PPP against the toughest schedule that any Power 5 team has faced), but they do lack a go-to scorer for when things get tough. In flashes, Cliff Alexander looks like he could be that guy, but he hasn't shown it remotely consistently.
As always, it's a mistake to overreact to single game samples. Kansas just beat four consecutive Top 25 quality opponents. This was a terrible game, but it's just a single game. After all, just two seasons ago Kansas lost to a TCU team that went 2-16 in Big 12 play and still went on to earn a 1 seed.
It's been a tough season for Temple, but it's worth noting that they just gained two very important transfers: Devin Coleman from Clemson and Jesse Morgan from UMass. It's only been two games so far, but Morgan in particular has looked like Temple's best all-around basketball player. Considering how weak the AAC looks, is it really crazy to think that Temple could make a run for 3rd or 4th place in the final standings now that they're at full strength?
Wisconsin Handles California
Wisconsin just sucked the life out of this game. They committed just 6 turnovers and 12 fouls while allowing just 5 offensive rebounds and holding California to 38% two-point shooting. While we expect this Wisconsin team to score, what has really impressed this season (aside from Duke's fluky jump shooting day) has been the Badgers defense. 10 of 12 opponents have been held below 1 PPP.
The Badgers have a very back-loaded Big Ten schedule, so don't be surprised if they don't lose a game for a little while. The final few weeks of their regular season are brutal, though, so if some team keeps it close in the standings throughout January than the Badgers will have to sweat out that Big Ten title.
Assuming that they beat Cal St Bakersfield, Cal will finish non-conference play 11-2, but an unconvincing 11-2. There's no shame in losing to Wisconsin or Texas, but their win over Syracuse is their only one over a likely RPI Top 50 foe. We just don't know much about how good this team really is. They open Pac-12 play with a very interesting home game against Washington on January 2nd.
Miami Continues To Regress
This game was actually tied at halftime, but Providence opened the second half on a 15-5 run and they eventually pulled away. More than anything, Miami just couldn't hit a jump shot. They hit 5-for-27 behind the arc, as their shooting has crashed back down to Earth. They hit 39% or better behind the arc in six of seven games in November, but 30% or worse in four of five games in December. As always, the truth is in the middle. They're not as bad as they've looked the last few games, but they're also not as good as they looked in November.
LaDontae Henton continues to be the best scorer in the nation that casual fans haven't heard of. He poured in 25 points on 10-for-19 shooting here. Providence is so much better when Kris Dunn is playing well, and he had a monster 15 point, 13 assist performance. Still, Providence has been inconsistent in non-conference play, and they enter Big East play with a lot of work left to do. It's hard to see them making the NCAA Tournament with anything less than a 10-8 Big East record.
Miami has crashed back to Earth, losing three of their last four games and plummeting in the computer ratings. They have wins over Florida and Illinois, but also losses to Eastern Kentucky and Green Bay. They open ACC play with Virginia and Duke making up two of their first three games, so if they don't get the ship righted soon they'll be in early trouble.
Nebraska Falls To Hawaii
It's always hard to play on the road at Hawaii (the other Power 5 to head to Hawaii this season, Pittsburgh, also lost), but Nebraska's run of putrid offense continued here. They've failed to score 1 PPP in four of their last five games, with the only exception being Incarnate Word. Once again it was ugly hero ball from Terran Petteway (4-for-12 from the field), as the team finished with just 7 assists on 20 made shots. As a team, Nebraska has assisted only only 47.4% of made baskets this season. Aside from Penn State, that's the worst in the Big Ten.
Now with two bad losses to certain RPI 100+ opponents and zero quality wins (unless you count Cincinnati), Nebraska's suddenly looking at quite the uphill battle just to get back to the NCAA Tournament. Considering the perception of the Big Ten (and the fact that the ESPN will apparently put up a graphic showing bad losses by Big Ten teams during every college basketball game all season long, even though the ACC and Big East have just as many)), it's hard to see the Cornhuskers getting in unless they get to 11-7 in conference play.
Hawaii has done a good job circling the wagons after all their offseason turmoil. This could have been a really ugly season and instead they should finish respectably in the Big West. But they're still a bit beyond the fringes of the conference title race.
Dwayne Polee Collapses
In probably the scariest moment of the season so far, San Diego State's Dwayne Polee was playing defense last night when he staggered a couple of steps and fell on his face. His parents rushed to the court while paramedics attended to him for close to 15 minutes. The good news was that he was awake and alert as they carted him off the floor, fist-bumping teammates along the way. I feel like it's in bad taste to include video of the incident in a post when I usually just show videos of buzzer beaters or dunks, but you can find it on the internet if you search. At this point it's too early to speculate on exactly what happened or how his health will be going forward. I'll try to provide an update when I get one.
Oklahoma Scores 39 Straight Points
Believe it or not (actually, it's not that hard to believe) the 39 straight points that Oklahoma scored against Weber State were a Division I record. The previous record was 37 straight points by Utah State against Idaho on February 15th, 2006. Now, Weber State only lost by 34 points, meaning that they won the portions of the game aside from the 39-0 run. So they've got that going for them, which is nice.