Sam Thompson made everybody lose their mind in Columbus.
New Bracket Projection
The biggest change in the new bracket is St. John's moving into the field and Colorado dropping out. For those wondering why Michigan is still in there, just scroll down to my Arizona/Michigan recap below.
Kentucky Smokes North Carolina
North Carolina matches up poorly with Kentucky in terms of personnel, and so the only way they were even going to have a chance to win this game was if they shot out of their minds on jump shots. Instead, it was Kentucky going wild and hitting 7-for-15 behind the arc to turn this one into a rout. North Carolina finished 6-for-13 behind the arc, but they did most of their damage after the game was already decided, and simply reduced the final margin. They hit only a single three-pointer in the first half.
Kentucky might get a tougher test from UCLA next Saturday, but probably not too much tougher. All of this is just an appetizer to the monster game at Louisville on December 27th.
North Carolina will look better against teams that they match up better against, but I'm still not a believer that they're in the top tier in the ACC. In my view, Louisville, Virginia and Duke are all among the ten best teams in the country, and those are the three true contenders. UNC also didn't get help from the ACC schedule makers, as they have a relatively difficult conference strength of schedule.
Arizona Embarrasses Michigan
Michigan has now lost three straight games for the first time since the 2010-11 season, and all three losses have been bad. They had the historic loss to NJIT, the upset loss to Eastern Michigan, and now this absolute throttling by Arizona. Michigan couldn't hit a jump shot, hitting an ugly 7-for-26 on threes, while Arizona dominated inside with a 42 to 16 advantage in paint scoring.
One of the keys to projecting future performance by teams is trying to determine what is real and what is not. This has been a horrific three game stretch for Michigan, and as early as we are in the season that's a significant part of their overall season performance. As such, the computers are not high on them. Pomeroy has them at 56th while Sagarin has them 110th (the ratings can vary a bit early in the season, but they'll converge by mid-January). If they keep up this level of play they won't make the NCAA Tournament.
But is this real? At this point, I think the answer is "no". The NJIT game had fluky shooting (NJIT shot 11-for-17 on threes) while Michigan couldn't hit anything against Eastern Michigan (4-for-21 on threes). And this was just an everything-that-could-go-wrong-went-wrong game against Arizona. Is it reasonable to think Michigan is going to see performances like this the rest of the season? I don't think so. They looked fine early in the season beating teams like Oregon and Syracuse, and preseason projections based on who they lost and who they added suggested that they were a borderline Top 25 team. The odds are that their level of performance will regress back to the mean. But obviously that regression has to come before the Wolverines dig too deep of a hole.
Kansas Escapes Utah
This game looked like a rout early on. Kansas went on a 33-7 run late in the first half and led by as many as 21 points early in the second half. But their offense went into a shell, and Utah clawed all the way back to actually grab a two point lead late. Kansas hit eight straight free throws in the final three minutes to pull this game out. Despite the Kansas win, Utah's Delon Wright (23 points on 9-for-13 shooting with 4 assists and 4 steals) was the best player on the court for either team.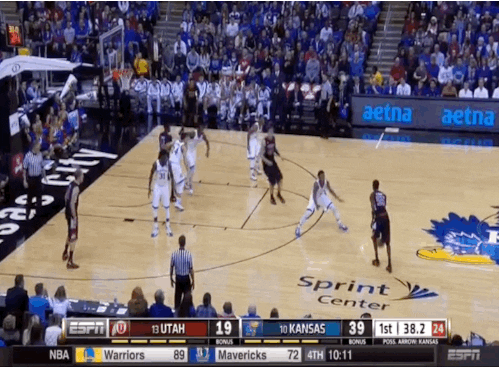 Delon Wright torching the Kansas defense.
Kansas definitely hasn't seen the production from the young players that they expected thus far. Bill Self seemed to lack confidence in Cliff Alexander down the stretch here, for example. But there's no denying that the team as a whole has looked impressive lately. They just defeated Michigan State, Florida, Georgetown and Utah in succession. By Pomeroy, Kansas has the toughest non-conference strength of schedule in the nation for any Power 5 team (North Carolina is the only team remotely close). Considering the fact that the Big 12 is probably the best league in the nation, Kansas is basically a lock to finish the season with the nation's #1 SOS. One thing to keep an eye on going forward is
the Devonte' Graham injury
, which looks like it will sideline him for at least a month.
Utah has seen three straight games be decided on the final possession and they took two of them. They'll look for a more relaxing stretch before Pac-12 game, with only a road game at UNLV being potential trouble. A three point loss in a quasi-road game at Kansas certainly doesn't change Utah's position as likely the top contender to Arizona in the Pac-12.
VCU Wins A Wild One Over Northern Iowa
This game was drunk. #HAVOC always generates sloppy, fun games, but both regulation and the first overtime ended in bizarre ways. In regulation it was Matt Bohannon hitting an incredible three-pointer for Northern Iowa, but UNI then totally botching their final possession with a chance to win. In the first overtime, Jordan Burgess took one of the dumbest shots of the season, taking a contested layup when all he had to do was dribble and get fouled, allowing yet another clutch Matt Bohannon three to send the game to overtime (this time it was VCU totally botching the final offensive possession). In the second overtime, Northern Iowa went scoreless for four straight possessions, and VCU hit enough free throws down the stretch to hang on.
Northern Iowa entered this game 9-0, but without a win over a likely RPI Top 50 opponent. Their final chance in non-conference play will come next Saturday against Iowa. They will get two shots at Wichita State in conference play, but it's going to be difficult for them to earn an at-large bid without a very gaudy won-loss record. They're going to have fewer RPI Top 50 wins than most other potential bubble teams.
VCU's best win before this game came over Oregon and they had a loss to Old Dominion, so with the Atlantic Ten down they really needed to take care of business here. Their final chance for a quality non-conference win will come next Saturday at Cincinnati.
Tyler Haws Injured
We should know later today what the actual extent of the injury is, but I'd be surprised if Haws doesn't miss at least a few games. With Stanford, UMass and Gonzaga coming up next, it's a really bad time for it, too. BYU fans can't expect to get a break from the Selection Committee if their star misses significant time. Despite all you hear about the "Kenyon Martin Precedent" in the media, the reason why everybody cites a 15 year old case is because they can't come up with a more recent example. History says that injuries to stars are ignored.
Oklahoma State Annihilates Memphis
Things are getting rough for Josh Pastner in Memphis. They came into this game 0-3 against non-cupcakes this season, and were just destroyed from the opening tip. They never seem to have a clue on offense (37.7 eFG% and 23 turnovers for 0.77 PPP here). In years past, they could make up for sloppy offense with pure talent, but they no longer are stocked with future-NBA players. Josh Pastner's seat has to be getting toasty, and it's just going to get warmer if the Tigers aren't at least in the vicinity of the Tournament bubble in February.
Gonzaga Handles UCLA
Gonzaga was led by Kyle Wiltjer (24 points on 9-for-13 shooting), but actually had most of their success around the paint. UCLA's defense just could not handle Byron Wesley or Kyle Dranginis on the perimeter, and got torched for 65% two-point shooting and 1.26 PPP. Even though the score disparity was never huge, Dick Vitale spent the entire second half talking about Kentucky basketball and musical acts he had seen because it just never felt like a real game.
The Zags will enter conference play with wins over St. John's, UCLA, SMU and Georgia along with (assuming they don't lose to any cupcakes upcoming) just a loss to Arizona. It's a good performance, but it's going to be hard for them to get a 1 seed on Selection Sunday unless they win out. More likely they're headed for a 2 or 3 seed.
UCLA has faced three Pomeroy Top 75 teams and lost to all of them. They have a chance to totally change the course of their season by knocking off Kentucky on Saturday. Without that, they're going to have to go at least 10-8 in Pac-12 play to earn an at-large bid.
Oregon Upsets Illinois
Oregon entered this game 0-3 against non-cupcakes this season, but they stole a win in a virtual road game vs Illinois. Down the stretch they made 9 straight free throws as well as 5-for-7 from the field. Rayvonte Rice (29 points on 9-for-16 shooting) did everything he could to keep Illinois in this game, but it wasn't enough. The Illini have other players capable of putting up points efficiently, but none of them showed up here.
This was Oregon's final chance to get something out of non-conference play. They have tricky home games against UC-Santa Barbara and UC-Irvine coming up, but if they can survive those then they'll end up surviving non-conference play without too much damage done, despite the poor start to the season. If Illinois can beat Missouri next Saturday then the Illini should head into Big Ten play 10-2 with a win over Baylor and no bad losses. It's a reasonable resume, and a 10-8 Big Ten record should send them Dancing.
Nebraska Wins Ugly Over Cincinnati
I can't emphasize the word "ugly" enough for this game. The offensive execution, particularly down the stretch, was awful. To pick an example, Nebraska's final full possession at the end of regulation involved dribbling for 30 seconds and ending up with a 28 foot off-balance three-pointer from Terran Petteway. Cincinnati took the ball out under their basket with more than 4 seconds to go and threw it all the way to the other side of the court without touching anybody. Nebraska got the ball back under their own basket but in more than four seconds couldn't get a shot off.
In the end, Nebraska won with 0.75 PPP, In four games against Pomeroy Top 150 opponents, they're scoring 0.84 PPP, and a change has to happen. Standing around and watching Terran Petteway play hero ball and take horrible shots just isn't working. It was practically a blessing in disguise when Petteway fouled out of this one, because it allowed players like Shavon Shields to have more of an impact offensively.
Cincinnati is 0-2 against likely RPI Top 100 opponents, and is heading into potentially an even uglier game against San Diego State on Tuesday. The first to 45 points will win that one. The AAC isn't going to offer a lot of opportunities for quality wins, so they really have to take care of business against the Aztecs.
St. Mary's Knocks Off Creighton
The WCC was desperate for some quality non-conference wins, and St. Mary's (potentially) delivered one here. I say "potentially" because we're not quite sure yet if Creighton is actually good. They did beat Oklahoma and won at Nebraska, but also dropped games to Tulsa and Ole Miss and needed double overtime to escape South Dakota. They don't look like an RPI Top 50 team now, and that's what St. Mary's needs.
The fact is that a road game against a team like Creighton is much more difficult than a home game against a team just inside the RPI Top 50, but the reality is that the RPI and the Selection Committee do not take that into account very much. There's a bias toward teams that can get home games against teams in the 30-50 RPI range, which St. Mary's can't get outside of conference play. And that's why the Gaels, even after this win, still have quite the uphill battle to earn an at-large bid.
Arkansas Routs Dayton
If anything, this game wasn't as close as the final score. Arkansas got out to a 20 point lead early in the second half and then just cruised in the rest of the way. And what made this game particularly impressive was that it wasn't done in the usual Mike-Anderson-At-Home style, by turning their opponent over and getting a bunch of easy buckets in transition. In fact, they only had 9 steals, and only 2 fast break points all game long. Instead they were efficient offensively, assisting on 67% of their made baskets and hitting 53% of their two-point attempts.
Arkansas heads off to Cupcake City until SEC play opens, so barring a stunning upset they'll finish non-conference play 11-2 with wins over SMU and Dayton to go with a loss to Clemson. With the SEC not looking particularly impressive, the Razorbacks probably need to go 11-7 in conference play to feel confident about an at-large bid. At 10-8 or 9-9 they'll have work to do in the SEC tournament.
Dayton's offense has struggled against quality opponents this season. All three games against Pomeroy Top 100 opponents have resulted in under 1 PPP. They went 1-2 in those games, defeating only Texas A&M. They have a key stretch coming up around Christmas when they play at home against Georgia Tech and Ole Miss. They'll be a small favorite in both games, and they need to take care of business in both to be on pace for an at-large bid when they enter Atlantic Ten play.