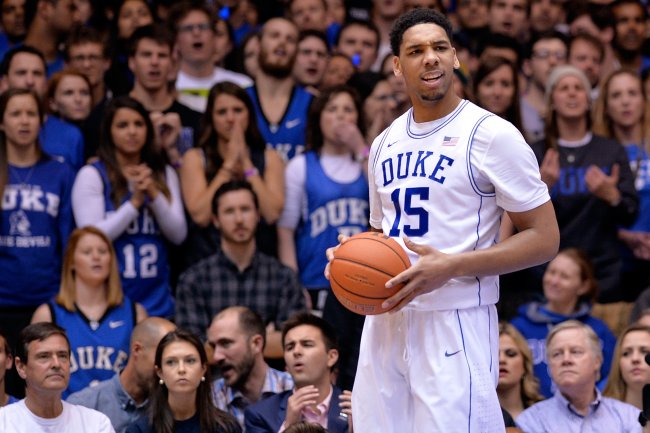 It had been almost two years since Duke fans experienced a home loss.
Duke Loses Again
Duke's defense hasn't been truly elite in quite a few years at this point, but it had been pretty good until NC State and now Miami went absolutely nuts. The best shooting performance all season against Duke was Michigan State's 54.2 eFG% until NC State and Miami both broke 60%. Now, part of this is obviously fluky luck. NC State shot 10-for-16 on threes while Miami shot 10-for-20 here. That will regress back to normal. But Duke can't only blame outside shooting. Miami was able to get to the rim almost at will here, shooting 18-for-28 (64%) in the paint compared to Duke's 19-for-34 (56%).
Is there reason for Duke to panic? I suppose it depends what your expectations are. Eventually teams are going to miss their threes. Duke is still a Top Ten team. But at this point, I think Virginia has to be the favorite for the ACC regular season title. Of course, Duke can totally change the narrative if they can steal a win on the road at Louisville on Saturday.
Miami might be the most up-and-down team in the nation. They started the season with an eFG% of 53% or better in each of their first six games, running past a team like Florida and climbing into the Top 20 of both human polls. But then went cold, losing four of six, with an eFG% at 46% or worse in every loss. But then they head into Cameron Indoor and start banking in three-pointers. Overall they are now 9-0 when they shoot 35% or better behind the arc, but just 3-4 when they shoot under 35%. If they can capture one more big scalp then a 10-8 ACC record will probably get them into the NCAA Tournament. They'll get a chance on Saturday when they head to South Bend.
West Virginia Smokes Oklahoma
The computers loved West Virginia (they were rated the 12th best team in the nation by both Sagarin and Pomeroy even before this game tipped off), but only had one win over an opponent likely to finish inside the RPI Top 50 (UConn). Their soft non-conerence schedule made them a question mark entering Big 12 play, but last night they seemed to validate the computers. They absolutely annihilated Oklahoma. They had 8 more offensive rebounds and 13 fewer turnovers, which has been their formula all season long (they're fourth in the nation in OR% and lead the nation in defensive turnover rate).
Is West Virginia a legitimate contender in the Big 12? In these early stages, I feel like they have to be. The question is that after these big wins, when the spotlight turns to them, do they regress. We'll find out soon, as they head to Austin to play Texas on Saturday.
Oklahoma's had an awful week, with the embarrassing loss to Kansas State followed up by getting absolutely destroyed by West Virginia. Every team is going to lose a bunch of games in the Big 12 because of how deep the league is, but the Sooners have to prove that this last week was a fluke. They take on their intrastate rivals at home on Saturday, and then go on the road to face Kansas and Baylor next week.
Zach Auguste Suspended
Assuming Auguste is actually gone for the season, this is a brutal blow to Notre Dame. Auguste was the one Irish regular who was a good rebounder and their best paint defender, and the Irish were running a pretty tight rotation with a big drop-off from the starting lineup to the bench. Mike Brey is going to have to hope that one of his young bigs takes a big leap (Martinas Geben seems most likely). This is the second year in a row that this has happened to the Irish, as last season fell apart after Jerian Grant was lost for the season to suspension over academics.
Jerian Grant and Demetrius Jackson are still maybe the best offensive backcourt in the nation, and the Irish are still going to be very efficient offensively as a team, but their defense could be really bad the rest of the way. Notre Dame will actually get a very interesting test tonight against a Georgia Tech team that is very good on the glass.
Kansas Wins A Messy Game
Neither Kansas or Oklahoma State fans enjoyed the reffing here. The game went a full 2:30 due to 49 fouls and 71 free throw attempts. Neither team could get anything going, but Oklahoma State's outside was particularly disjointed. The Cowboys shot 3-for-16 behind the arc and a combined 22.9% on jump shots. Kansas got a balanced effort, with nobody particularly standing out. Kelly Oubre had a nice game with 14 points, 6 rebounds, 3 assists and 2 steals.
Cliff Alexander had one of the few bright moments of Kansas/Oklahoma St
With the carnage atop the Big 12, Kansas is once again back to being the apparent Big 12 favorite, at least for the regular season. They may or may not be the best team, but they have the inside track. And they head out next for a crucial road game at Iowa State. The media really wants Iowa State to be the Big 12 favorite, and that will go into overdrive if they beat the Jayhawks.
Oklahoma State was coming off a win over Texas and a loss to Kansas isn't a "bad" loss. They're not going to win the Big 12, but they should pick off some more big scalps and end up fairly comfortably in the NCAA Tournament.
Butler Finds A Way
This game was fun, tight and physical the whole way. Sterling Gibbs went for 30 points (including 6-for-9 behind the arc), but Butler had more options. Kellen Dunham and Roosevelt Jones both scored 20+, while Kam Woods did the dirty work with 15 rebounds, including a massive offensive rebound and putback late in regulation, and then the game-clinching defensive rebound off a Jaren Sina missed three in overtime.
Butler is looking increasingly safe as an at-large team. They are 3-2 in Big East play and have wins over North Carolina, Georgetown, St. John's, Xavier and Seton Hall, along with a bad loss to Tennessee. A 10-8 conference record probably gets them in, and an 11-7 record would almost make them a lock.
Seton Hall is in a similar situation to Butler, in that they are 3-2 in conference play with big wins (Villanova and St. John's) that outweigh their bad losses (none). So again, 10-8 probably gets them in, and 11-7 would make them almost a lock.
Iowa Escapes At The Buzzer
DeAndre Mathieu thought he had sent the game to overtime with a layup at the buzzer, but a replay review confirmed that he got the shot off about a tenth of a second too late and Iowa escaped after blowing a 17 point second half lead. Jarrod Uthoff was the star for Iowa, leading all players with 22 points (on 7-for-10 shooting), including the big three-pointer to put Iowa back in front after the Gophers grabbed the lead, and then the game winner with six seconds to go.
Obviously Iowa isn't a significantly better or worse team because it took DeAndre Mathieu an extra tenth of a second to get that last shot off - that's "luck" in close games - but Iowa needed this win to settle down concerns of them missing the NCAA Tournament. They're now 3-1 in Big Ten play, still without a bad loss. They should be in reasonable shape for an at-large bid at 10-8, but might have to get to 11-7 to be safe. Their home game against Ohio State on Saturday is a crucial 50/50 game with a road game at Wisconsin looming.
Poor Minnesota can't catch a break. They're now 0-5 in Big Ten play with all but one loss coming down to the final 30 seconds. They're a solid team, but their at-large hopes are going to melt away unless they get on a winning streak soon. Their schedule does ease up over the next few weeks, though, starting with a home game against Rutgers on Saturday.
Indiana Loses Hanner Mosquera-Perea
Mosquera-Perea had been arguably the biggest bright spot for Indiana this season, but he'll be gone for 2-4 weeks now. They also
played a game
last night, which confirmed how much the Hoosiers will likely miss him. He's their one interior defensive presence, and Penn State absolutely dominated the paint here. The Nittany Lions hit 16 of 18 layups attempted and had a 46-to-26 scoring advantage in the paint. It took ice cold Penn State three-point shooting (4-for-24) for Indiana to hang on to an ugly three point win at home.
The margin of error for Indiana is small if they want to make the NCAA Tournament. They need to get to 10-8 in Big Ten play to be in decent shape, and they're 3-1 now but head into a nasty stretch. A road game at Illinois is up next, the first in a stretch where the Hoosiers will likely be underdogs in Vegas in five of six games.
Is Tulsa A Bubble Team?
Tulsa nearly blew this game late. They led by 16 points with under 8 minutes to go, but a Rodney Purvis jumper pulled UConn within 5 points with 1:42 to go. Tulsa then went into the Prevent Offense and got a terrible shot off with the shot clock running down, but the rebound took a funny bounce right to Shaquille Harrison, and that's when UConn became shell-shocked and forgot to foul. They allowed the shot clock to run down, basically ensuring their own defeat.
Tulsa has two horrible losses (Oral Roberts and SE Oklahoma State), but they've won six straight games and are now 11-5 overall and 4-0 in AAC play with wins over UConn and Temple. Is it possible that they could make a run at an at-large bid? It's unlikely, but possible. They need to get to at least 13-5 in conference play, and might even need to get to 14-4.
UConn drops to 9-6 overall and 2-2 in conference play, though it's come against a tough schedule. Their only truly "bad" loss was to Yale, and they have wins over Florida, Cincinnati and Dayton. They head on the road this coming weekend with one final chance for a good non-conference win over Stanford. With a win there and a 12-6 AAC record they'll be in decent shape for an at-large bid, but the AAC is not going to get a lot of respect on Selection Sunday, so the Huskies will want to win enough games in February to pull themselves off the bubble.
Tennessee Holds Off Arkansas
The reputation for Arkansas being unable to win road games under Mike Anderson is probably a little overstated, but I thought they impressed in the second half here, despite the defeat. They were sloppy at times, but in the second half all 11 of their made two-pointers came in the paint and they assisted on 80% of their made baskets. Michael Qualls was the second half spark. But Tennessee was a load on the glass, and that allowed them to build their lead, and hang on for dear life late.
In the end, it was Anton Beard of the Razorbacks who got fouled taking a three in a three point game with just five seconds to go (Tennessee had a foul to give, but the refs ruled that Beard got the shot off). But Beard then missed the first two free throws, and missed the third on purpose, but Armani Moore grabbed the board for the win. A bit of "ball don't lie", perhaps.
Arkansas is 13-3, but with no really big scalps (SMU and Dayton are the best) and a couple of bad losses (Clemson and Tennessee). Unless they steal a win at Kentucky they're going to have to go at least 11-7 in SEC play to earn an at-large bid, and might need to get to 12-6. The Vols are unlikely to make a bubble run, but they're playing hard for Donnie Tyndall and will steal some more big wins.