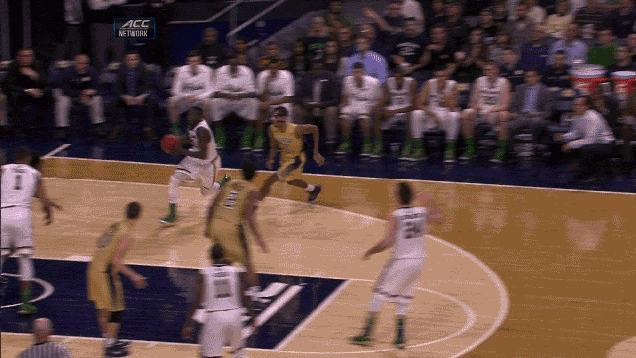 Jerian Grant. Goodness.
New Bracket Projection
A new week means a new bracket projection. There were three changes to the Field of 68 this week, with Seton Hall, Coastal Carolina and Texas Southern coming in, and with UCLA, High Point and Alabama State dropping out.
South Carolina Takes Down Ice Cold Iowa State
As the closing seconds were ticking away in this one, the CBSSN announcers were speculating on whether South Carolina had found a "blueprint" for beating Iowa State that could be used by other teams. As these conversations always go with tv analysts, it immediately delved into pointless cliches like "physical defense" (I'll believe that "physical defense" is something a team can do when somebody can point me to a team that teaches "finesse defense"). But the reality is that the "blueprint" that South Carolina found here was letting Iowa State shoot 1-for-18 on three-pointers.
To do some very simply math, if Iowa St had hit their season average on threes, they'd have hit five more, turning a 4 point loss into an 11 point win. Obviously you can't quite do the math that way, since some of those missed shots became offensive rebounds, but we can probably also add some points for Iowa State's 19-for-33 free throw shooting (if they'd hit their season average rate they'd have gone 24-for-33). Considering that the Vegas spread was only 6, it's silly to say that there's anything wrong with Iowa State because of this performance. They're still a dark horse contender in the Big 12 title race and they're still on pace for an NCAA Tournament seed in the 4-6 range.
Of course, the fact that South Carolina was only a 6 point underdog says something about this Gamecocks team that has played
awfully
good defense so far this season. They only had a win over Oklahoma State before this to go with bad losses to Akron and Charlotte, but that was due to poor scheduling and some bad luck in close games. While I wouldn't argue that South Carolina is the second best team in the SEC, you can
absolutely
make an argument with a straight face that they are. They're going to need to go at least 11-7 in SEC play to earn an at-large bid, but even 12-6 is plausible with the way they're playing right now. They open SEC play with a very important home game against Florida, on Wednesday.
Seton Hall Knocks Off Villanova
Seton Hall went 10-2 in non-conference play, but against a very soft schedule. They beat St. John's in their Big East opener on Wednesday, but there's only so much public attention they were going to get for that. But this win, over Big East favorite Villanova, suddenly puts them on the map. There's a good chance that they'll move all the way into the Top 25 on Monday.
Much was made of Isaiah Whitehead being out of the lineup, and now the media attitude is "They're playing this well
without
Whitehead, imagine how good they'll be with him!" But Whitehead played most of the season and they never played this well. The reality is, as talented as he is, that he's a high-volume, low efficiency player. I talked three days ago
about this
as well. But they won this game defensively more than anything, led by Brandon Mobley. Villanova shot a brutal 3-for-15 on layups. Just one more made would have helped in a game that went to overtime.
Is Seton Hall a Tournament team? They're going to need to get to at least 10-8 in conference play, and are now 2-0. The concern is whether this improved level of play is permanent or temporary, particularly with a back-loaded Big East schedule that is going to make it difficult to finish the season strong. They're still a bubble team, in my opinion.
As for Villanova, they can afford an overtime loss on the road against an RPI Top 50 opponent, but they can't afford too many if they want to be in position to earn a 1 seed on Selection Sunday.
Colorado State Finally Loses
And then there were just three undefeated teams left. This wasn't actually an "upset", technically, as the game was a pick'em in Vegas. As good as Colorado State's resume was, the reality was that they were lucky to get there. They were 5-0 in games decided by four points or less. So they were overdue for a loss like this. But still, this is a good Colorado State team that is on pace for an at-large bid in the NCAA Tournament. The lack of RPI Top 50 wins (the San Diego State games are really their only shot) will hold them back, but if they get to 25 wins in the Mountain West it's awfully hard to see them being left out.
New Mexico's season has not gone as planned, with injuries in particular holding them back from a realistic run at the NCAA Tournament. But they're not a bad team, and when they're at home in the Pit they're going to do some damage in conference play.
Oklahoma Holds Off Baylor
Baylor kept this game close the entire way, but Oklahoma kept them at arm's reach, led by TaShawn Thomas. The transfer has been a huge addition, and he led the Sooners with 24 points on 11-for-17 shooting here, along with 8 rebounds. And this Oklahoma team is very good - probably the most underrated "elite" or Final Four quality team. They absolutely are in the conversation with Texas and Kansas as the Big 12 favorite. In my personal opinion, Baylor is in the second tier of the Big 12, along with Iowa State and perhaps West Virginia.
Both of these teams are lacking in quality wins, but I don't think that RPI Top 50 wins are going to be a problem for any of the strong teams in the Big 12. There are so many quality wins to be had in league play that it won't be a problem. Of the two, Oklahoma did traverse a significantly more difficult non-conference schedule, and Baylor is more of a question mark. It will be very interesting to see them tested on Wednesday, at home against Kansas.
Butler Upsets St. John's
Butler hung onto this game with their fingernails. St. John's was applying a ton of defensive pressure and came really close to a number of turnovers (one even went to replay review) but Butler managed to hang onto the ball every time, and they hit 9 of 10 free throws down the stretch to hang on. In the end, the difference in this game was simply jump shooting. St. John's was 4-for-14 behind the arc as a team while Kellen Dunham went 6-for-7 himself, scoring a team-high 28 points.
This was Butler's first game with Chris Holtmann as the permanent head coach. Holtmann had been coaching this season as the interim head coach in place of Brandon Miller, who has an undisclosed health issue, but Holtmann has done enough to earn the permanent position. And having picked up their first quality wins since being in the Bahamas, the year 2015 is off to a good start for Holtmann and his squad.
St. John's is now 0-2 in Big East play, though neither loss was a "bad" loss. They head into a crucial home game against Villanova. A win will potentially put them right back into the Top 25 and give them a big time scalp. But a loss will drop them to 0-3 with a tough road game at Providence looming.
No Juwan Staten? No Problem.
The good news for pollsters is that they no longer have to pretend that TCU is one of the 25 best teams in the country. They were undefeated, but against a joke of a schedule. It was arguably the weakest SOS in the entire nation, with only one game against the Pomeroy Top 150 and only one on the road. West Virginia is a good team, but they were without star Juwan Staten, and TCU still lost by 11 points at home.
The question you always have with teams that have played crap schedules is how much of the strong statistics they put up is real, and how much will disappear once the competition gets more athletic. So TCU was allowing just 0.85 PPP, which is better than teams with elite defenses like Texas and Utah. But those latter teams have played significantly tougher schedules. And this is just one game, but even without their star and without shooting well, WVU still put up 1.10 PPP. One game isn't proof of anything, but it's evidence that TCU's defensive proficiency will disappear in Big 12 play.
West Virginia has played a soft schedule as well (though not nearly as soft as TCU), and so they entered Big 12 play with just wins over UConn and NC State to go with a loss to LSU. But the Big 12 will give them plenty of opportunities for quality victories, and they'll have plenty of chances to put together a strong, deep Tournament resume.
UConn Comes Back To Take Out Florida
The Huskies trailed by 13 points early in the second half, but the Gators went into a prolonged shooting slump at a bad time. Over one stretch, they went more than 8 minutes without hitting a shot from the field. Ryan Boatright still isn't 100% healthy, but down the stretch he made every big play for UConn, from defensive stops to assists to hitting four straight free throws as they were trying to close out the game. Florida did get Eli Carter back from his own injury, but he was mostly ineffective over 16 minutes (0 points, 2 assists).
This Florida team is hard to project. Even after this loss they are ranked 23rd in Pomeroy and 25th in the Sagarin PREDICTOR, and are still trying to get their full roster healthy and on the floor at once. But at the same time, they are 1-5 in games decided by six points or less and have a bad Florida State loss to go with zero quality wins. Their Sagarin ELO_SCORE is an ugly 106th. They're going to need to go at least 11-7 in SEC play just to make the NCAA Tournament. They should get there, but it's far from a lock. They
could
end up a really, really scary 11 or 12 seed in the NCAA Tournament, kind of like Tennessee last season.
UConn probably has to get to 12-6 or better in AAC play to earn an at-large bid, even if they beat Stanford. A home game against Cincinnati next Saturday is a key early season test between potential bubble teams.
San Diego State Falls To Fresno State
When you're a team with a great defense and a bad offense, you're close to unbeatable when you get a lead, but it can be incredibly difficult to come back when you're down. San Diego State is about as extreme as that gets, as Pomeroy rates them the 3rd best defense and the 219th best offense in the nation. Here, in the first 9 minutes here, they shot 1-11 from the field with 6 turnovers and trailed 19-3. They eventually trailed by 15 points at halftime. They fought hard in the second half and managed to briefly tie the game up, but they couldn't take a lead. It was just too big of a hole.
This is the first bad loss this season for San Diego State, but those wins over Utah, BYU and Pittsburgh all came before Thanksgiving and feel like an eternity ago. I still think they're the best team in the Mountain West, but as long as their offense is this bad they're going to suffer some more bad losses and their NCAA Tournament seed just isn't going to be very good. In case they lose the auto bid, they probably need to get to 12-6 in conference play to earn an at-large bid.
Cincinnati Stifles SMU
Mick Cronin will not coach the rest of the season, but his team still plays their same physical, aggressive, ugly style without him. Farad Cobb scored 15 second half points off the bench, while Cincinnati forced 17 turnovers and blocked 6 shots. The Bearcats are now 10-1 when holding opponents below 1 PPP and 0-2 when they don't.
Without a great non-conference performance and with the AAC down, Cincy has to go at least 11-7 in AAC play to earn an at-large bid, and really should aim for 12-6. Home wins over teams like SMU are crucial to that effort. SMU, meanwhile, hasn't gotten the big expected boost from Markus Kennedy's return. At least so far, Kennedy hasn't done a whole lot. Their best win coming over Michigan, it's going to be difficult for them to earn an at-large bid unless they reach 12-6 in AAC play. They should be able to get there, but that could change if they are upset at home by Memphis on Thursday.
Utah State Wins On A Buzzer Beater
The Utah State/Boise State game doesn't have any real bubble implications, but it had a wild finish. It was David Collette who hit the game-winner:
Marquette Overcomes LaDontae Henton
LaDontae Henton was 6-for-12 behind the arc and led all scorers with 28 points, but Kris Dunn again dominated the ball for Providence, and he can be so incredibly frustrating. He's so talented at his best, and he's an assist machine (7.4 per game), but he's also a turnover machine (3.9 per game) because he tries to do too much. He had 8 assists and 8 turnovers here. An interesting stat is that Providence is now 0-3 when Dunn has 6 or more turnovers, while they're 10-1 in games where he played but commits 5 or fewer turnovers.
Providence now has potentially three bad losses, with only one win over a team likely to finish in the RPI Top 50 (Notre Dame). So despite an 11-4 overall record, they're in trouble. If they can't win at Butler on Tuesday then they'll head into a crucial stretch with two tough home games in a row, against Georgetown and St. John's. As for Marquette, this is their best win of the season. They're not a realistic bubble contender, but they are playing better with Luke Fischer and will likely steal a few more quality victories before this season is done.
I, For One, Welcome DePaul As My New Big East Overlord
Yeah, I already made that joke on twitter. But come on, who predicted that a week into the Big East season we'd have Seton Hall and DePaul tied atop the Big East at 2-0. Now, DePaul did come into Big East play on a six game losing streak, and both of these wins have come at home, so they're still probably heading for something like a 4-14 or 5-13 Big East season... but still, it's nice to see DePaul showing some fight and looking better than they have the past few seasons. Myke Henry, the transfer from Illinois, was definitely their most important addition.
Xavier might be the early favorite for "best team left out of the NCAA Tournament". Horrible luck in close games will get you there, and they're now 0-4 in games decided by four points or less (all ten of their wins have come by double-digits). If they can get to 10-8 in Big East play and perform well in the Big East tournament that still probably gets them in, but they're 1-1 with a very important home game against Seton Hall coming up. After that they go on the road to face Butler and Villanova. So if they fail to take care of Seton Hall they'll be staring a 1-4 start in the face.
NC State Shuts Down Pittsburgh
NC State dominated the paint, blocking 9 shots and holding Pitt to 33% two-point shooting. They outscored Pitt 36-14 in the paint. It's an interesting performance coming off allowing 1.25 PPP to a poor Cincinnati offense, though I suppose that defense was the focus of attention from Mark Gottfried in practice the last few days.
NC State feels like the prototypical Power 5 team that goes 8-10 or 9-9 in conference play and earns a 3 seed to the NIT, but this win pushes them a bit closer to an at-large bid. Their road game up next at Virginia will be a tall order, but after that they return home for crucial home games against Duke and North Carolina. They've got to steal at least one of those two games. Pitt went 10-3 in non-conference play, but with zero quality wins and a bad loss to Hawaii. The ACC is strong enough that they could earn an at-large bid at 9-9, but they'll need some big scalps along the way. Also, they'll need to avoid losing games like their next one, on the road at Boston College on Tuesday.