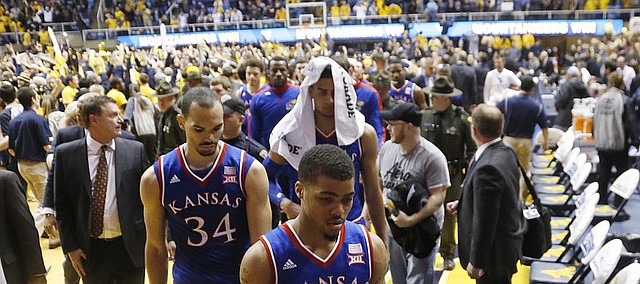 "Country roads, take me home..."
Juwan Staten Knocks Off Kansas
Juwan Staten struggled with cramps during this game, and West Virginia needed every minute out of him that they could get. He finished with 20 points on 9-for-18 shooting, including the fantastic game winner. And yes, he did travel (you can check out the video below), but no ref is going to call a travel in that situation. In defeat, Perry Ellis was fantastic for Kansas. He had 15 of their 31 second half points by himself, and was basically unstoppable in the post.
This was almost a must-win for West Virginia. They came into this game 6-0 against Texas Tech, Kansas State and TCU but 1-5 against the rest of the Big 12. They could earn an at-large bid at 8-10 in Big 12 play, but unless they want to sweat out Selection Sunday they need to get to 9-9. A loss here would have made 9-9 fairly difficult. Now? They should get there. Their remaining schedule is nasty, but they should win at least one of those remaining games.
Kansas remains a solid favorite for the Big 12 regular season title. They're also still in play for a 1 seed on Selection Sunday, though they're going to need some help. If they get to 14-4 in Big 12 play and win the Big 12 tournament, they'll have a fairly strong case for a 1 seed.
Sterling Gibbs Throws A Punch
A suspension will be coming for Sterling Gibbs after he punched Ryan Arcidiacono in the head while fighting for a loose ball yesterday. In case you're wondering whether or not it might have been intentional, the below angle confirms that it certainly was:
I'm sure Gibbs regrets what he does, and he doesn't have a history of bad behavior. There are some #HotTaeks going around calling for him to be suspended for the season, but I doubt that will come to pass. A two or three game suspension seems reasonable. The reality is that Seton Hall's season has already fallen apart, and they're not likely to end up on the Tournament bubble on Selection Sunday anyway. So whatever the suspension is, it probably won't be what costs them a Tourney bid.
Roosevelt Jones Helps Butler Escape
Butler was coming off a gut punch loss to Villanova and the news that Andrew Chrabascz would miss two to four weeks, and they got a strong effort from a Creighton team that isn't as bad as their Big East record would suggest. But Roosevelt Jones led all players with 6 assists and also scored 18 points, including the game winner with 1.9 seconds to go.
Butler is not realistically winning the Big East or falling to the Tournament bubble. They're basically just playing for Tourney seed from here until Selection Sunday. Now 9-4 in Big East play and 7-7 against the RPI Top 100, with an RPI and Sagarin ELO_SCORE inside the Top 20, they'd likely be a 5 seed if the season ended now.