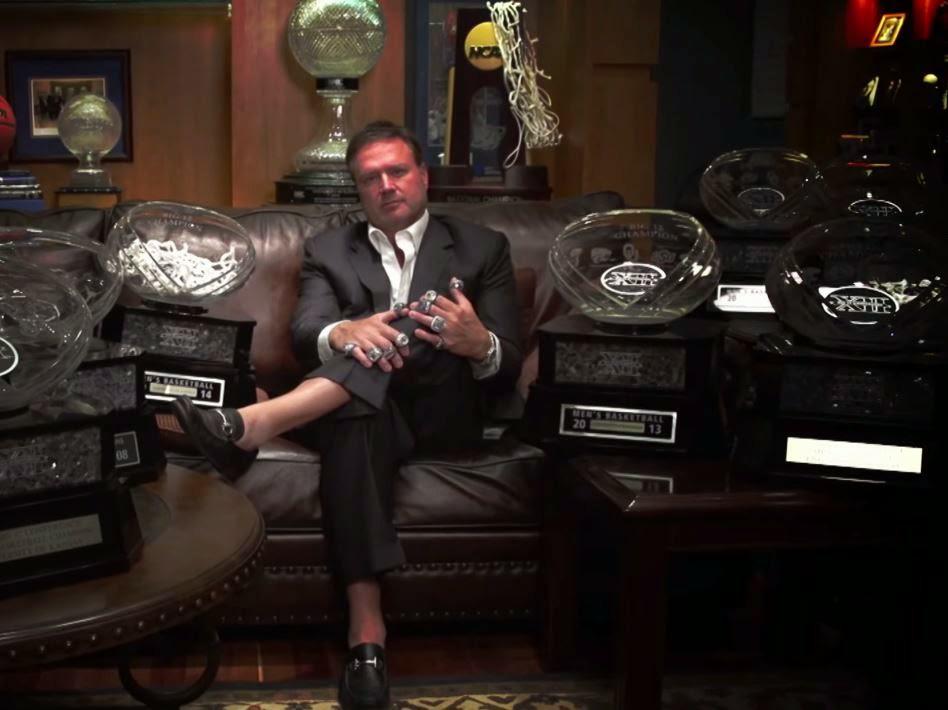 Nice photoshop work by @mweber5 on twitter.
Bubble Watch
With their loss, Indiana drops to the bubble. Temple moves off the bubble in the right direction without playing. The bubble remains 18 teams for 11 spots.
Kansas Wins A Wild One
The Jayhawks won the outright Big 12 regular season title in style. They were at serious risk of losing their first Senior Night game since 1983, trailing by 18 points at one stage in the game, and still trailing by eight points with two minutes to go. But West Virginia scored just two points over their final seven possessions, including three missed free throws. Tied in the closing moments they still had one last chance to win in regulation but failed. In overtime, Frank Mason was the star, hitting a big layup to put the Jayhawks up by four and then nailing six straight free throws down the stretch to seal the win.
The question about Kansas earning a 1 seed if the season ended now, I think, misses the point. If Kansas wins out and takes the Big 12 title, they will probably earn a 1 seed. But there's a far greater chance that they're going to lose a game than that they'll win out and fail to earn that 1 seed. They will be underdogs at Oklahoma on Saturday, and then will likely face three difficult tests in the Big 12 tournament. It goes without saying that they need a healthy Perry Ellis, who injured his knee in this game and might have to miss some time.
What West Virginia did in the first half of this game, without Juwan Staten or Gary Browne and without any fluky shooting, was one of the most impressive halves of basketball played by any team in the nation all season long. But it was all for naught, and now there will be real concerns about West Virginia's Tourney seed sliding if those two can't come back soon.
Indiana Is In Trouble
Even when Indiana was 5-1 in Big Ten play, the peripherals all said that they were a .500-quality Big Ten team, and their luck has turned late in the season. After going 4-0 in their first four Big Ten games decided by seven points or fewer, they are 1-3 in four such games since. This game wasn't quite so close, of course. Iowa dominated inside here, holding the Hoosiers to an awful 11-for-30 on layups, blocking 6 shots. The Hoosiers hit just 37% of their two-pointers overall.
Now 9-8 in Big Ten play with an RPI that has dropped out of the Top 50, Indiana is in trouble. Their final regular season game will be at home against a Michigan State squad fairly desperate for a win as well. Even a win in that game won't safely put Indiana into the NCAA Tournament. They'll probably need to win at least one game in the Big Ten tournament.
With five straight wins, Iowa appears to have pulled themselves off the bubble for good. They are 11-6 in Big Ten play with four RPI Top 50 wins and an RPI up to 37th. One more win between now and Selection Sunday should be enough to secure a bid.
Kentucky Comes Back Again
We've all seen this movie before. Georgia pushed their second half lead as high as nine points, and they still led by six with under five minutes to go. But after that, their offense just fell apart. Over the next five minutes, nothing they shot went in the hoop, including the front end of all three one-and-ones. Some of that is Kentucky locking down and some of it is just bad play by Georgia. They had their chance and just couldn't hit enough shots.
In the end, this game meant far more for Georgia than for Kentucky. The Wildcats are worried about the undefeated season, of course, but they're headed to a 1 seed in the NCAA Tournament regardless of this result. Georgia could have really firmed up their at-large spot with a big scalp. The Bulldogs are still 37th in RPI, but they lack a single win over a Top 40 RPI opponent, and they're just 10-7 in SEC play. A win at Auburn might be enough to safely keep them in the NCAA Tournament, but they probably want to avoid a one-and-done in the SEC tournament as well.
Georgetown Beats Butler
Sometimes a game is just about hitting free throws. Here, Georgetown hit 13-for-15, while Butler hit only 10 of 22. And that's how Butler ended up losing despite finishing with nearly as many offensive rebounds (17) as Georgetown had total rebounds (18). In fact, even when Georgetown missed free throws it kind of worked out. One of those misses was by Josh Smith with Georgetown up by 2 points with around 12 seconds left. Kam Woods rebounded it, but D'Vauntes Smith-Rivera snuck in behind to swipe the ball away. He hit his two free throws to seal the game.
Neither of these two teams was at realistic risk of missing the NCAA Tournament, so they're just playing for seed at this point. They're also playing for seed in the Big East tournament. If Georgetown beats Seton Hall and Providence loses a game to somebody, the Hoyas will lock up second place in the Big East. Butler is now at real risk of finishing in just fourth place, setting up a potential semifinal game against Villanova.
Texas A&M Goes Down To Florida
Florida's season has gone up in flames due primarily to injuries and bad luck in close games, but they're still a good team. They were actually 4.5 point favorites here, so they didn't even cover the spread in winning this game, though they probably should have. The Gators made the end of this game more difficult than they needed to, hitting just 8 of 18 free throws over the final two minutes. The Gators played strong defense all night, though. Only two SEC teams have held Texas A&M to worse than the 41.5 eFG% that Florida held them to here, and one of them was Kentucky.
Texas A&M is still 11-6 in SEC play with an RPI inside the Top 50, but their highest RPI win is RPI #47 LSU. If the season ended now, I think Texas A&M probably would be in the NIT, though they certainly would have an at-large NCAA case. They need to take care of business at home on Saturday against Alabama, and then need to win at least one more game. The target for them is a Top 40 RPI, The lack of quality wins make them the type of team the Selection Committee won't like to take, but history says that major conference teams which get into the RPI Top 40 almost never get left out.