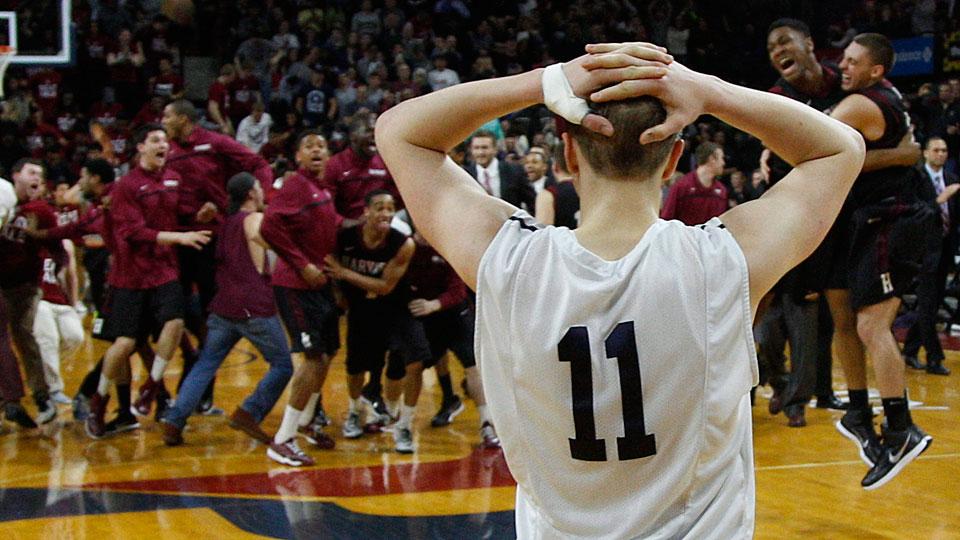 March.
This will be my last Morning News post of the season, but there's going to be plenty of content coming up in the next few weeks, from my complete NCAA Tournament preview, to daily looks at every tourney game against the spread, to my 2015-16 conference previews. So stay tuned.
Bubble Watch
A slew of auto bids push us to 50 locks. Include auto bids and teams that are safe and 59 spots are, realistically, taken. The bubble has shrunk to eight teams fighting for four spots.
Iowa State Comes Back To Win, Again
Iowa State won their second straight Big 12 tournament title, and they did it in what is becoming familiar fashion. They have won five straight games, and overcome double digit deficits in all of them. It's not the way you want to start a game, but they're not going to be too concerned by early deficits in the NCAA Tournament, for sure. They had a 34-11 run at one point, and scored 1.42 PPP in the second half. George Niang led the way with 19 points and 5 rebounds.
The top four teams in the Big 12 were very even all season long. Kansas, Oklahoma, Iowa State and Baylor all finished with between +0.08 and +0.11 PPP efficiency margins in conference play. And you can make a reasonable case that all four of them should be three seeds, though at this point I think Kansas hangs onto their 2 seed. But while all of those teams will have a great shot to make the Sweet 16, I don't think any of them is quite in the top tier. And so if Kansas gets that 2 seed, they'll be the weakest 2 seed. The 9-5 record Kansas has in games decided by six points or fewer suggests that they're not quite as good as their resume.
Notre Dame Takes The ACC
Notre Dame has a lot of defensive problems, but they are probably the most explosive offense in the nation. And they put on a show in the second half here, going on a 24-2 run that took only 6:06 of game time. They hit three consecutive threes during that stretch, while the Tar Heels committed six turnovers. Pat Connaughton finished the game 4-for-5 on threes while Jerian Grant had a double-double with 24 points and 10 assists.
Notre Dame will likely be a 3 or 4 seed now, but as good as they looked here it's going to be hard to pick them to reach the Final Four when their defense is this bad. The media seemed to be trying to start a narrative that their defense has improved late in the season, but there's no statistical evidence for that. They allowed 1.05 PPP in ACC play, and allowed 1.19 PPP to North Carolina here, as well as 1.12 PPP a week ago against a bad Clemson offense. The Irish will be a scary opponent for anybody because of what we saw during that 24-2 stretch, but at some point they're likely going to go cold, and they're likely going to lose that game.
Wyoming Steals A Bid
We didn't have a single NCAA Tournament bid "stolen" last season, but we will have at least one this season. Wyoming was a potential bubble contender until Larry Nance, Jr got hurt and their season fell apart (including an ugly 23 points loss to Air Force). But with Nance back they're playing much better basketball, and they're going to be a very difficult out in the NCAA Tournament. This game was tight, though, as San Diego State forced a physical, low-scoring game, like they often do. But it was Josh Adams who hit the shot that ended up being the game winner with just over a minute to go:
Wyoming is heading for a 12 or 13 seed most likely. San Diego State finished with an RPI that is 26th, and four RPI Top 50 wins. They're likely looking at a Tournament seed in the 7-9 range.
Villanova Seals A 1 Seed?
Villanova dominated this game. They led by as many as 16 points in the first half, quickly pushed the lead over 20 early in the second half, and were never challenged after that. Xavier's 2-for-15 three-point shooting was part of that, though Villanova also neutralized Xavier's bigs. Matt Stainbrook scored just four points. Dylan Ennis led Villanova with 16 points and 3 assists.
Is Villanova a lock for a 1 seed? I wouldn't go quite that far, but I'd be very surprised if they didn't get one. They had only two losses, lead the nation with 13 RPI Top 50 wins, and are up to second in RPI. And while the media likes to bash them as unproven, as if they're in a mid-major conference, the fact is that the Big East was as deep as the ACC or Big Ten was, and Villanova annihilated it by 0.21 PPP. Sleep on them in your bracket at your own risk.
Xavier finishes 31st in RPI with eight wins against the RPI Top 50. They're likely looking at something in the 5-7 seed range, though their resume is one that will be a good test of Committee philosophy, and just how much those Top 50 wins are weighed against their bad losses.
Arizona Annihilates Oregon
Oregon was blown out the first two times that they played Arizona, and this time was no different. Oregon even shot threes slightly better here, but they were dominated inside (Arizona shot 64% on two-pointers, compared to 38% for Oregon) and on the glass. And with this impressive win, Arizona makes a good final impression as they go for a 1 seed. They have three bad losses, but the Selection Committee worries more about big wins. Arizona went 16-0 against the RPI Top 100 with wins over Gonzaga and Utah (twice) among others. Combined with the sweep of the Pac-12 titles and it's going to be very difficult to drop them to a 2 seed, though it will be possible if Wisconsin wins the Big Ten tournament title.
Oregon is still safe for an NCAA Tournament bid. Their RPI is 27th and they went 13-5 in Pac-12 play, with wins over Utah (twice) and UCLA. They're likely looking at an NCAA Tournament seed in the 7-9 range.
Stony Brook Loses A Heartbreaker
Stony Brook just cannot get over the hump in America East title games. They have now lost in the title game in four of the last five years, having actually won the regular season title three of those seasons, but
still
have never made the NCAA Tournament. In fact, the only time in the last five years they failed to make the America East title game was a year they won the regular season title but had to play a true road game in the semifinals against the 4 seed and lost. Stony Brook basketball is just incredibly snake bit.
The Seawolves were powered for the third straight year by the physically imposing Jameel Warney, who dominated both ends of the court with 20 points, 14 rebounds and 3 blocks. But Warney missed a pair of free throws late, opening the door open a crack. Then when Carson Puriefoy missed another free throw, Albany got the ball back down by just two points, and did this:
The core of this Stony Brook team, Carson Puriefoy, Jameel Warney and Rayshaun McGrew are all juniors, which means that they get one last chance next season to finally break through. And it will be hard as a neutral to not root for them to break through. Albany, for this season, is likely heading for a 14 or 15 seed.
Maryland Finally Loses A Close Game
Maryland had been 11-0 in games decided by six points or fewer before losing this one. Though that luck in close games is why this actually wasn't an upset - Michigan State was a four point favorite in Vegas at tip-off. Michigan State had to crawl out of a 23-7 deficit here, and the second half star for them was unexpectedly Matt Costello (10 points on 4-for-4 shooting).
Maryland is looking at a 3 or 4 seed on Selection Sunday most likely. Michigan State could also slide up to something like a 5 seed if they can knock off Wisconsin for the Big Ten tournament title.
UConn, Again, Of Course
Even though Tulsa led this game almost the entire way, and had an 8 point lead with 3:30 to go in a game in which neither team could score, it always felt like UConn was going to find a way to steal another win. And Tulsa seemed to feel it, too, because they collapsed down the stretch, from bad passes to stagnant offense to defensive breakdowns. Ryan Boatright, of course, hit the biggest shot, the three-pointer that tied up the game with 1:46 to go. He also hit four straight free throws down the stretch to seal the win. UConn finished the game on a 16-2 run.
UConn has to beat SMU to make the NCAA Tournament, but who wants to bet against them at home? Tulsa, on the other hand, is now very much on the bubble. They went just 5-8 against the RPI Top 100 with just a couple of wins over Temple to brag about. That said, they went 14-4 in AAC play and have an RPI that is 45th thanks to that loss to SE Oklahoma State not counting. In my opinion, they probably should go to the NIT, but if the Selection Committee gets fooled by that RPI then they definitely could still sneak in.
Hot-Shooting VCU Trounces Davidson
The #narrative that VCU is starting to rediscover their confidence is based on the mistaken #narrative that they ever went away. VCU struggled while Treveon Graham was out, but since he's been back they've been fine. Way too much was made of a three-game losing streak that included an insane 2OT loss to Richmond and a final possession loss to Dayton. Davidson is a team that has given them a lot of trouble in the past, but VCU shot out of their minds in the first half here, hitting 8-for-14 behind the arc. Davidson pushed within five points in the second half, but then hit just one of their final eight three-point attempts.
VCU will just be playing for an A-10 tourney title and NCAA Tournament seed against Dayton, but Davidson should be reasonably safe as well. A soft schedule meant that they only won seven RPI Top 100 games, which is light compared to most other bubble teams, but they went 14-4 in Atlantic Ten play and have an RPI that is 34th, with wins over VCU and Dayton. That should get them in with something like an 8-10 seed.
Wisconsin Bulldozes Purdue
Purdue put up a fight in the first half here, taking advantage of an ice-cold Wisconsin. But Wisconsin poured in 1.15
PPP in that first half despite just 4-for-16 jump shooting. When the shots started falling in the second half, it became a rout. They scored 1.52
PPP in that second half. No stat sums up the Wisconsin offense more than this: Wisconsin had 18 assists and just 3 turnovers despite getting only a single assist from their only healthy point guard.
Wisconsin will get a chance to (likely) earn a 1 seed by winning the Big Ten title game against Michigan State. There's a myth that the Selection Committee doesn't take the Big Ten title game into account because it finishes too late, but it's just not true. They'll make two brackets if they have to.
Purdue is just 54th in RPI with just nine RPI Top 100 wins to 12 total losses, but with a 12-6 Big Ten record and wins over BYU, NC State, Ohio State and Iowa, I do think at this point they're on the right side of the bubble. They are going to have to sweat out Selection Sunday, though.
Temple Loses, Waits
SMU trailed by ten points early in this game, but Temple couldn't really hit a shot after that. The Owls were an ugly 2-for-16 on three-pointers in the second half. SMU, in contrast, was able to get to the rim. Markus Kennedy was dominant inside with 17 points and 9 rebounds.
SMU will have a chance to earn a 4 or 5 seed with an AAC tourney title, while Temple goes home to wait. They are going to be a test of just how much more the Selection Committee weighs recent games vs earlier games. Temple was not good at all without Jesse Morgan, but with him they went 13-5 in the AAC with wins over Kansas and Cincinnati, and an RPI that is 33rd. In my opinion, that will be good enough to keep them in the Tournament, though there will be some nervous Temple fans until they see their name announced.
Arkansas Handles Georgia
The Razorbacks had a drama-free win over Georgia. They led by 8 points at the half and pushed their lead to 17 in the second half before cruising in for an 11 point win. And they did all of that despite a 1-for-14 shooting day from star Bobby Portis. If they can hit their shots, they are capable of stunning Kentucky in the SEC title game.
Georgia's RPI is 38th, and if they stay in the Top 40 then history says that they should make the NCAA Tournament. While a couple RPI Top 40 teams miss out each year, it hasn't happened to a major conference team since Cincinnati in 2005-06. But Georgia's resume is soft, with zero RPI Top 50 wins and only an 11-7 record in SEC play. So they probably make the NCAA Tournament, but they could easily end up in Dayton.